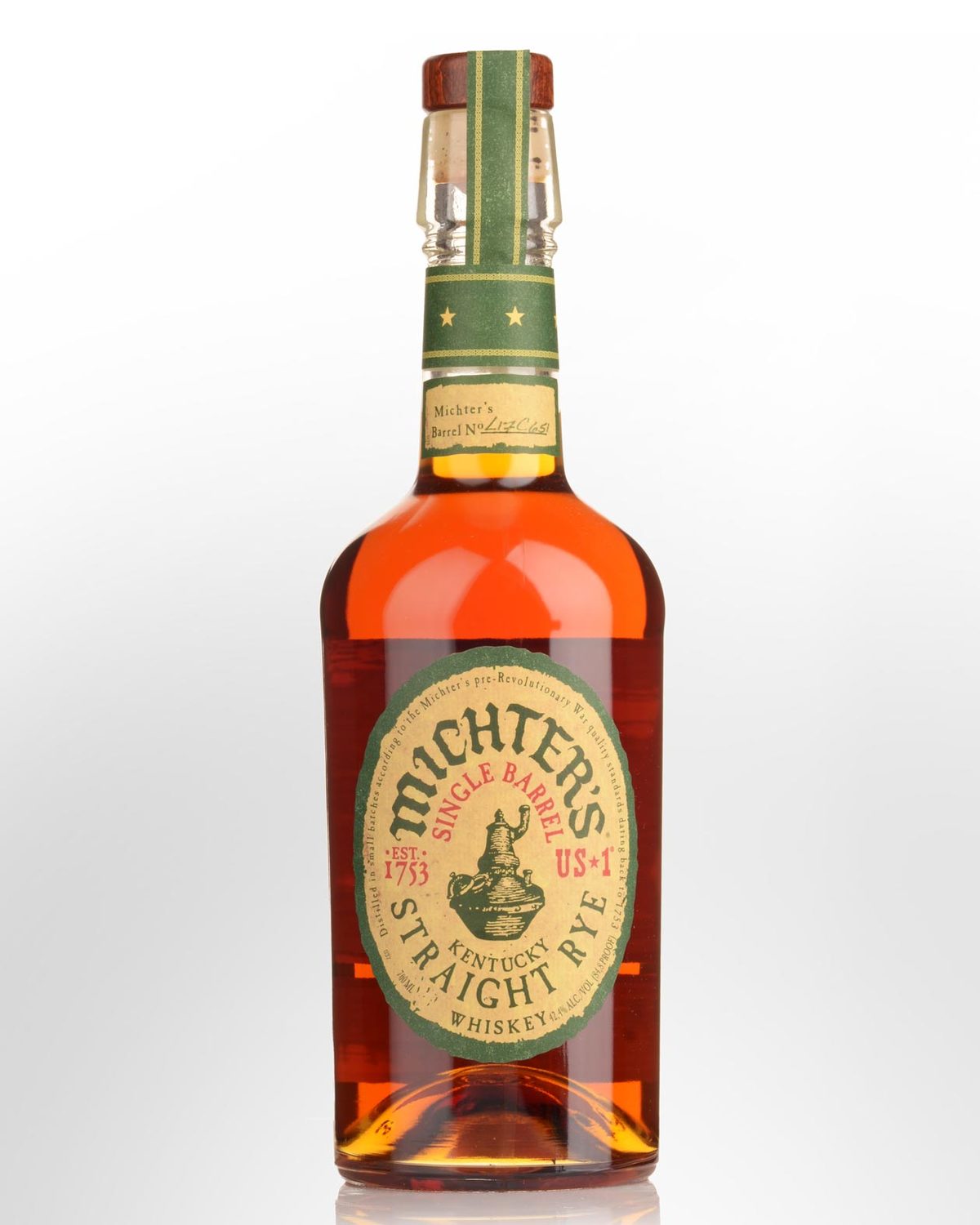 Michter's US*1 Single Barrel Straight Rye Whiskey (700ml)
On a short list the most desirable, super premium American whiskeys, Pappy Van Winkle is usually near the top – if you can find it. But there's another name in town: "Michter's", with roots going back to the 18th century. For scarcity, reputation and market value, Michter's is now outdoing Van Winkle on every score. The ultra-aged releases are periodic and therefore actually far rarer than Pappy's which are annual. Many consider older Michter's superior to the equivalent Van Winkles, especially if you prefer your whiskey to not be overly oaky. To top it off, a Michter's 25 Year Old Rye has reached $8000 / bottle. Or there's a 25 Year old for US $10,000 at Wally's Liquor in the States. Take your pick. That's the direction this brand is headed. The modern Michter's was created in the 1950s (then owner, Lou Forman combined his son's names – Michael & Peter). Later in 1989, the company declared bankruptcy, abandoning the original Pennsylvania operation. In the 1990s, two entrepreneurs filed for the Michter's trademark and relocated the brand in Louisville, Kentucky. The "New" Michter's whiskeys come with a swag of 5 Star / Highest Recommendations from respected critics that's confirmed by a strong following amongst bartenders (now number two in top-trending American whiskey brands globally). There are four tiers in the range - which is a little confusing at first. The "US*1" expressions are the entry level, so named to honour Michter's heritage, harkening back to America's first whiskey company in 1753. Then come the limited releases (toasted barrel finishes and cask strength), then the age statements, and finally, there's a selection of ultra-aged 25 year old+ super limited bottlings. Master Distiller, Pam Heilmann, has extensive experience including time as manager at Booker Noe Distillery in Boston and 15 years with Beam Global. She's helped out by Andrea Wilson, whose role is Master of Maturation. These ladies are very specific about the seasoning and toasting regimes of the wood they employ. They toast barrels before charring, which helps to make the wood's sugars more accessible. They insist on barreling at a lower proof (103 instead of the standard 125), a practise which is claimed to get the sugars in oak to dissolve more readily into the distillate as it cycles in and out of the wood. Chill filtration is undertaken but customised to each whiskey's style. All Michter's whiskeys are either 'single barrel' or 'small batch'. Because "Small batch" is not a legally defined term in US whiskey regulation, many respected "small batch" brands are actually composed from hundreds or thousands of barrels, which helps to 'lose' sub-quality barrels in the blend. At Michter's, the maximum "small batch" size is twenty full barrels. It explains why Heilmann and Wilson are more than a little fanatical about quality control, and you can sense it in the taste.
Tasting note: [Lot L146456 tasted] Brassy gold. Opening aroma is peppery and true to style with lovely whiffs of dark rye bread; Further air contact draws out wax, dried apple, cinnamon and vanilla. Third pass finds suggestions of herbal tea - think peppermint and chamomile. Great complexity. A somewhat hollow entry leads into a powerful, peppery rye attack with ryvita biscuit, dried apple and peppermint tea flavours carried by vibrant spices. Hints of vanilla and toffee apple in the drying fade. Solid, text-book styled rye. 42.4% Alc./Vol.
Other reviews...The opening nosing passes detect soft scents of spicy rye; aeration adds notes of black pepper, marmalade and plum preserves. The oily palate entry makes the tongue tingle pleasantly; at midpalate this whiskey's youth is accentuated by racy tastes of alcohol, spicy grain and light caramel. Finishes as sprightly and carefree as it starts. A straight rye with attitude. 90-95 points [tasted 2004] - www.wineenthusiast.com