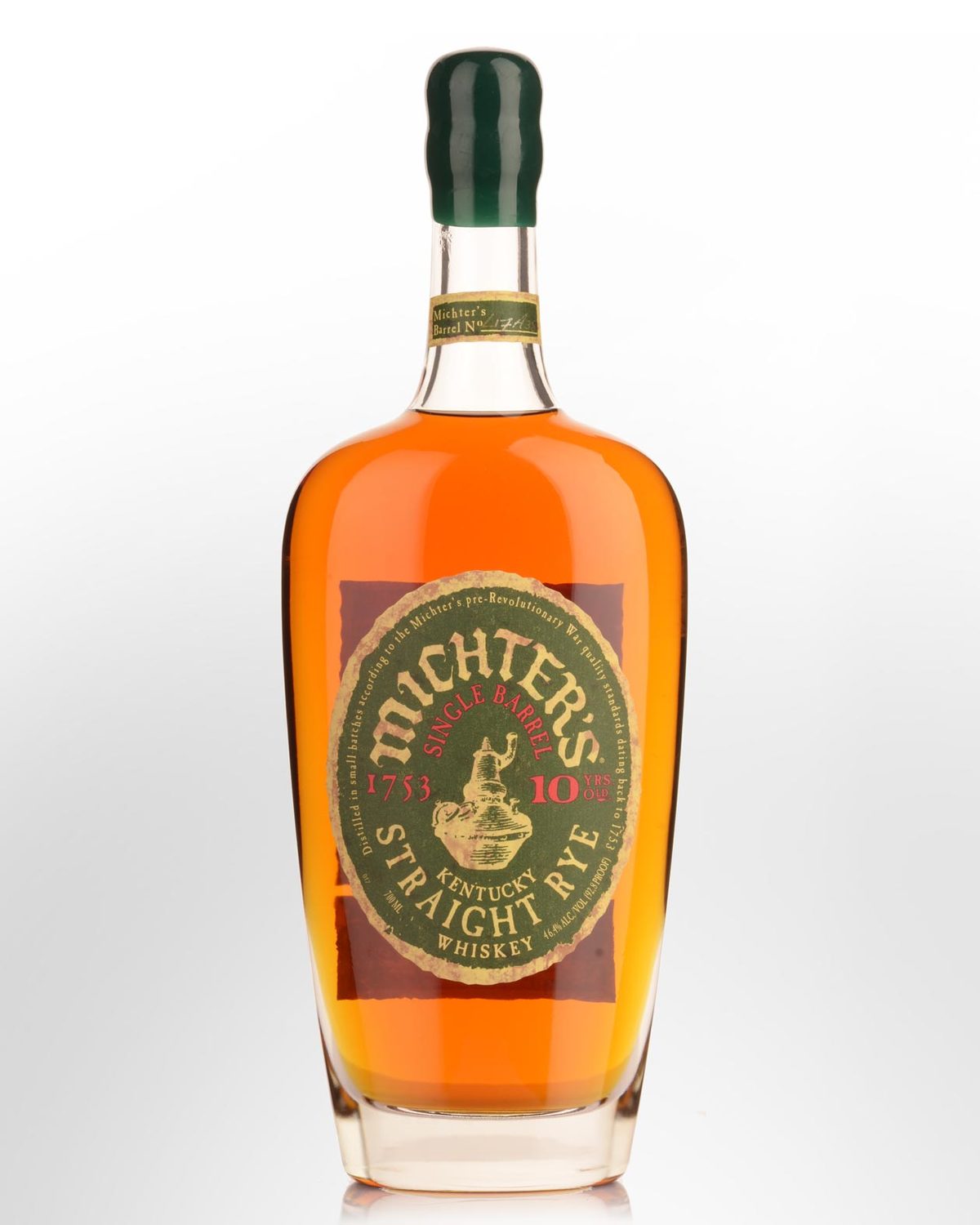 Michter's Single Barrel 10 Year Old Straight Rye Whiskey (700ml)
Limited to one bottle per customer.
The man behind this classic and now rejuvenated American whiskey brand (est.1753) is Willie Pratt. His 40 years in the industry has included a spell at Brown-Forman where he was involved in detailed studies of barrel maturation and the optimisation of distilling and ageing environments to maximise whiskey flavour. Referred to as "Dr. No" by the Michter's salespeople, Willie is known for refusing to release whiskey for bottling until he feels it's just right, even though the whiskey may already be significantly older than the age stated on the label. Additionally, he insists on storing Michter's barrels in not commonly found heat-cycled warehouses, which increases evaporation rates and gives the accountant headaches. He's helped out by Pam Heilmann whose extensive experience includes time as manager at Booker Noe Distillery in Boston. Together they're very specific about the seasoning and toasting regimes of the wood they use. They also insist on barrelling at a lower proof (103 instead of the standard 125), a practise which is claimed to allow the sugars in the toasted oak to dissolve more readily into the distillate as it cycles in and out of the barrel. Chill filtration is undertaken but customised to each whisky's style. In short, this duo are more than a little fanatical.
There are three tiers in the Michter's range - which is a little confusing at first. The "US*1" expressions are the entry level expressions, so named to honor Michter's heritage harkening back to America's first whiskey company. Washington and his troops drank Michter's while they were hunkered down in Valley Forge. Then come the age statements, 10-20 years, and finally, there's a selection of ultra-aged 25 year old+ super limited bottlings. Those who have followed this brand for longer than we have should also note one further clarification with regard to the provenance of the current bottlings. Joshua Feldman from www.cooperedtot.com explains:-
"I love Michter's. But which Michter's? There are two. There is what we'll call "old Michter's" the Pennsylvania distillery in Schaefferstown that people known as Michter's - and which marketed itself as Michter's but was actually named Pennco for most of the recent past and Bomberger's Distillery before that. That distillery has been closed since 1990. It is most famous for one particular 1974 contract run of Bourbon made for a guy named Hirsch and aged for a heck of a long time.
Meanwhile, there is a brand of Bourbon, whiskey, and rye sold in many stores called Michter's which is made by an unrelated company... We'll call that "new Michter's". New Michter's has extensive distribution for a company producing small quantities - and an excellent reputation for quality offerings at the high end of their line. You frequently see particular issues highly sought after in the Bourbon enthusiast community".
Tasting note: [Lot L14B96 tasted] Deep polished copper colour. Heavy and compelling opening aromas of apple strudel and vanilla with a ginger and herbal tea edge. Unravels slowly over 3-4 minutes, coaxing out rock lolly and hints of menthol, followed by rye bread and dilute honey in the final pass. All the elements of its younger sibling are here, only extra time has mellowed the spices in a beautiful way. Unfolding dried apple and cinnamon flavours with a honey accent on the finish carried by mild tannins in the fade, this goes long. A rye classic that's delivered with a soft touch. Bound to impress. 46.4% Alc./Vol.
Other reviews... The first aromas are strong, nutty, and mocha-like; further sniffings pick up deep-seeded scents of walnut, new leather, flax-fiber and soft cheese. The sweet and honeyed flavor profile bursts onto the tongue in the entry stage, then turns drier, grape seed-like, and woodier at midpalate. Ends up incredibly honeyed. A tour-de-force rye whiskey that delivers at every level. — (6/1/2005) 96-100 points