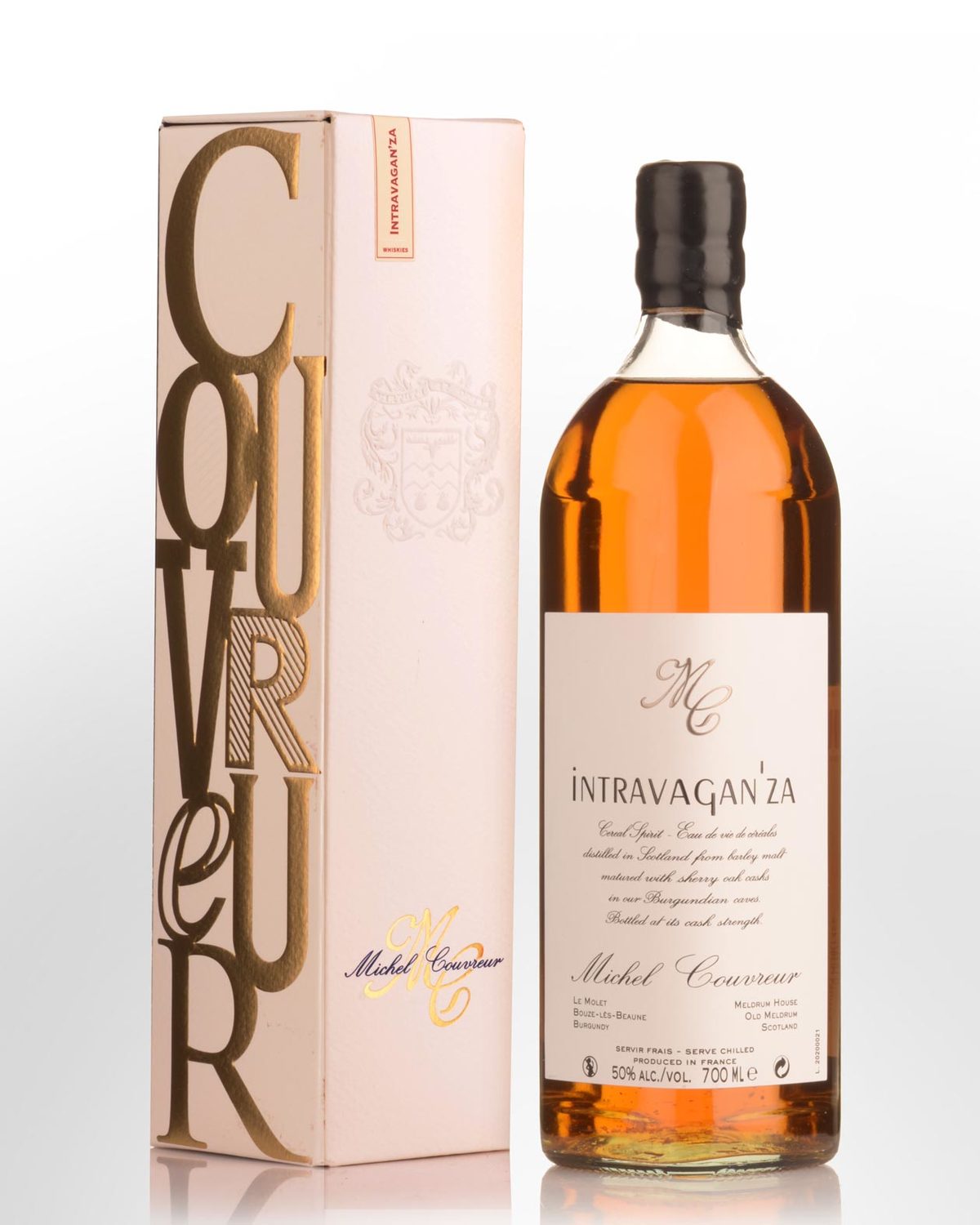 Michel Couvreur Intravagan'za Cask Strength Malt Whisky (700ml)
Tasting note: Matured for 3 years in Moscatel and Oloroso casks. The pale gold amber colour has some small particles floating in it. Opening sniffs are mildly prickly, waxy and furniture polish-like. Second phase releases vanilla wafer, caramel and sweet cereal notes in a bouquet that's akin to youthful grain spirit with an Irish softness. The palate follows suit with a straightforward vanilla, caramel burst. Youthful spiciness. The finish is a little hollow and detracts from the overall balance. 50% Alc./Vol.
Burgundy is a place full of personalities at the high end of the passion scale, especially when it comes to food and drink - perhaps none more so than a Belgian who began maturing Scotch Whisky in the heart of the famous wine region. The fellow in question is Michel Couvreur. He had already established a business in the early 1950s in Scotland selling Burgundy wines when in 1978, French friends suggested that he add a top quality Scotch to his portfolio. So began Couvreur's interest in whisky from which he developed his ultra-traditionalist perspective on oak. He maintains (more radically than others in the industry) that 90% of a whisky's quality comes from the cask, and only 10% comes from the distillation process. In the 1970s, American bourbon casks gradually replaced port and sherry casks for the maturation of Scotch, a great tragedy, according to Couvreur, as it changed the essence of a product that had European barrels at its core. In something of a personal crusade, Couvreur settled in Bouze-les-Beaune (close to the Burgundian town of Beaune, France), where he opened a customs bonded cellar and began selecting his own Spanish sherry casks (Pedro Ximenez and Palomino). Some readers will be aware, since the 1970's, sherry ceased to be shipped to UK in wood. Whisky producers have now to go and select their casks at sherry bodegas, paying a premium on top of transport costs. It's partly for this reason that Couvreur's cellar is located in Burgundy, half-way between Scotland and Andalusia, with straight motorways from Jerez de la Frontera to Beaune. Courveur's "Scotch" starts out in Scotland as bulk a.k.a."clearach" (a high proof distillate) which is transferred to his humid cellars to be aged in small sherry casks that have been impregnated with 25 years aging via traditional soleras. Although Couvreur passed away in 2013, his son-in-law Cyril Deschamps and his Cellar Master Jean-Arnaud Frantzen, with the invaluable help of Michel's devoted wife Marthe and his daughter Alexandra, continue to follow to the letter the original philosophy of the house. Constantly on the search for novel casks (they've recently started working with Jura Vin Jaune), total production is about 50,000 bottles annually. All required dilutions are accomplished with bottled water from Scotland and every bottle is hand-corked, hand-waxed and hand-labelled. These artisan whiskies are invariably interesting, sometimes quirky and occasionally magical.