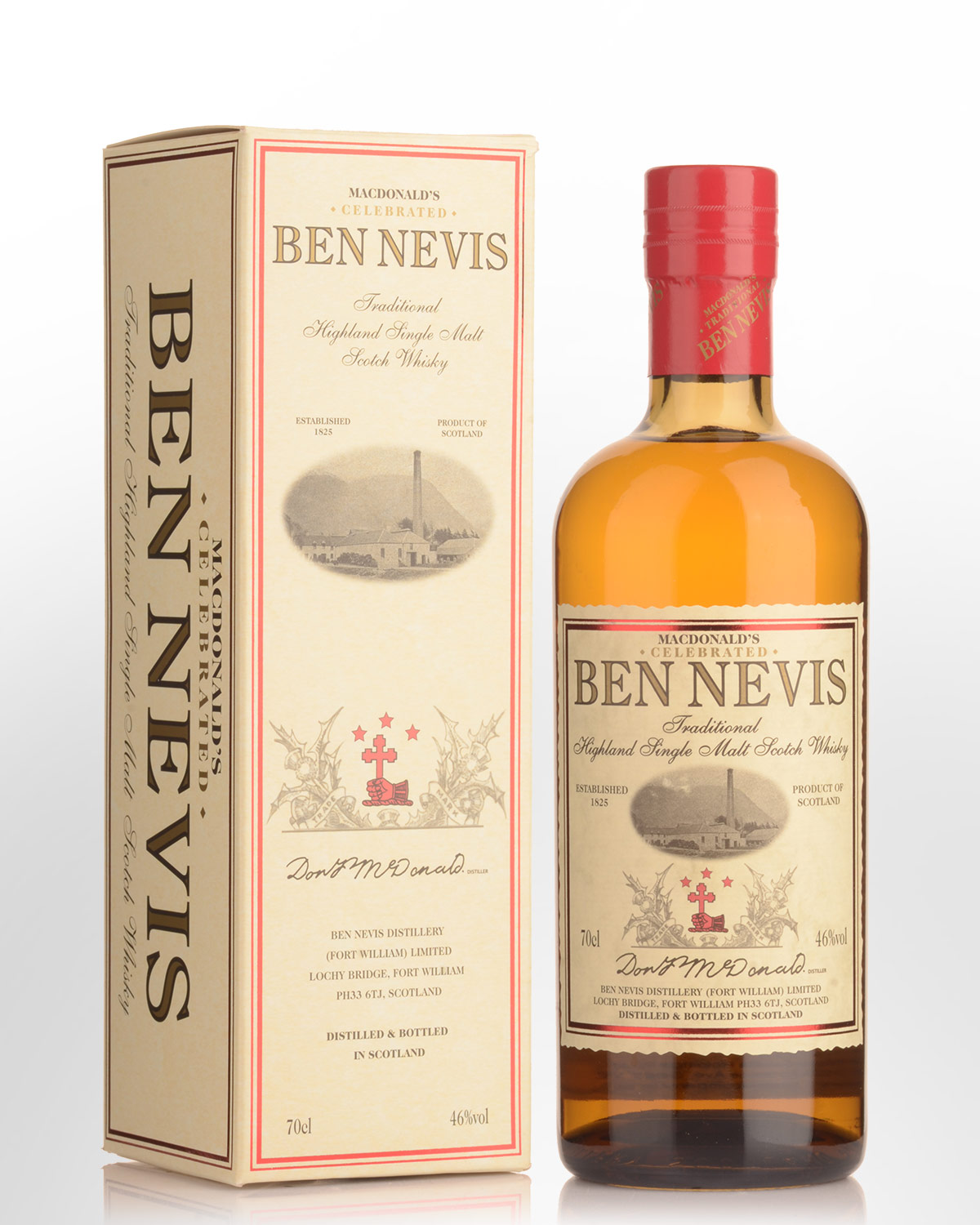 McDonald's Celebrated Traditional Ben Nevis Single Malt Scotch Whisky (700ml)
A 'replica' Highland whisky and one of the smokiest Ben Nevis to date.
A distillery that's garnered a quiet cult following, especially as its whiskies have become harder to find... Owned by Japanese giant, Nikka, it's no secret that Ben Nevis has been shipping large volumes to Tokyo for use in 'Japanese' blends - hence the lack of ten year old and the steady run of indie expressions to fill the vacuum.
Initially launched as a limited edition, the first McDonald's outturn amounted to roughly 700 bottles and featured an historical label. It quickly sold out with demand far exceeding supply. Realising it warranted a wider release, Ben Nevis followed through. And according to the blogosphere, many tasters prefer this bottling to the official Bennie 10.
Majority matured in Sherry casks (the remainder x Bourbon), reports have this to be at least 5 years old, but with material up to 13 years of age. Self described as an attempt to replicate the spirit produced at Ben Nevis in 1882, malt is sourced from Port Ellen Maltings on Islay (peated to around 35ppm) - which means this is smokey, but in an ashy/sooty way rather than a maritime way, and it's also non chill filtered. To reflect its heritage, the label refers to a time when Ben Nevis was producing peated malt under the directorship of Donald Peter McDonald (son of the famous Long John McDonald) for use in the then world famous 'Dew of Ben Nevis'. Typically it was bottled as a relatively young whisky. Putting it all together you get a faithful replica of an 'old-Highlands' style, starting with a beaming polished copper colour showing considerable legs, and thick malty aromas, developing hints of dried apricot, hazelnut chocolate, chimney soot and trace lanolin. And it's repeated in a chewy, oily delivery; Spices fan out in a sultry burst of malt and sooty peat, with smoke and fresh oak rounding out the mid palate richness. Nicely balanced uncut, a small amount of water accents the latent fruitiness and sweetens the profile. Either way it's tasty stuff. 46% Alc./Vol. Non chill filtered.
Other reviews... Liquid Gold Award - 2014 Jim Murray's Whisky Bible