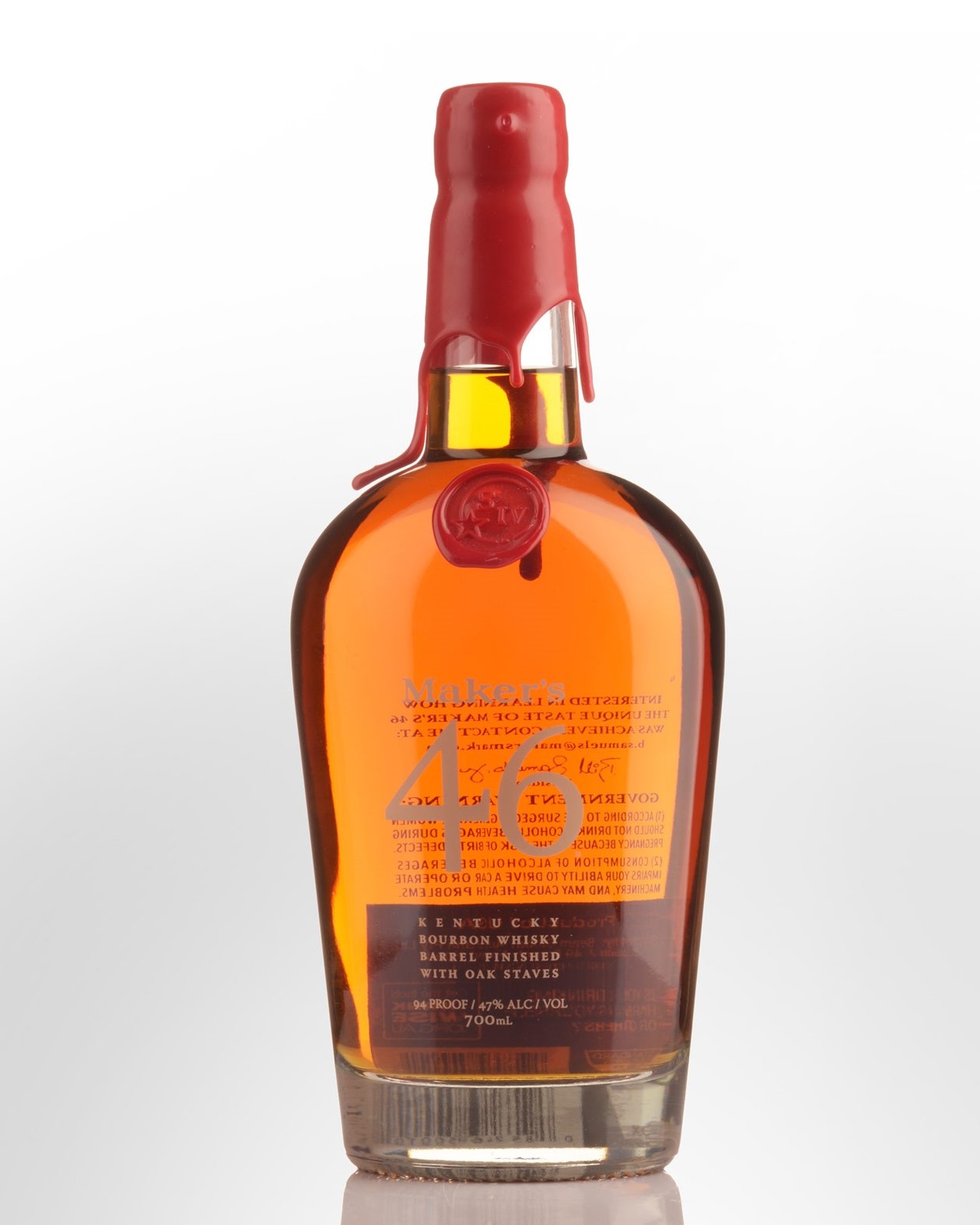 Makers Mark 46 Bourbon Whisky (700ml)
Surprisingly, this is Makers Mark's first new product since the distillery was founded more than 50 years ago.
Maker's '46' is essentially a variation on traditional Makers Mark, whereby the finished product is transferred in just–emptied barrels containing a series of heavily seared French Oak staves – the number '46' refers to the stave profile utilized, not the ABV - which is left to interact, and season the Bourbon for an additional 2-3 month period.
The searing eliminates any tannic bitterness within the oak, contributing a series of spicy notes otherwise non-existent with traditional wheat Bourbon profiles.
Other Reviews...(95 Points) - (n23.5) crushed toasted hazelnuts dappled with honeycomb and delicate hickory; beautifully even and well mannered; (t24.5) quite superb: an initially thick, intense delivery which fans oak in directions; excellent weight as those honeycomb notes go into overdrive; a dotting of wheaty and oaky spices but it's the way the softest of silky and highly complex flavours crash feather-like into the taste buds which cranks up the points; (f23) surprisingly light and simplistic with the accent firmly on vanilla; (b24) some people have a problem with oak staves. I don't: whisky after all, is about the interaction of a grain spirit and oak. This guy is all about the nose and, especially the delivery. With so much controlled honey on show, it cannot be anything other than a show-stopper. Frankly, magnificent. I think I've met my Maker's. 47% (94 proof) - Jim Murray's Whisky Bible 2013
This is original "Red Wax" Maker's Mark bourbon that received additional aging in barrels containing internal "seared" French Oak staves. The original Maker's Mark, being a wheated bourbon (instead of rye, which is typically used), is a rather mellow, easy-to-drink bourbon. The French Oak staves in "46" add firm, complex, dry spices (lead by warming cinnamon, followed by nutmeg and clove), herb (a suggestion of Green Chartreuse liqueur, perhaps?), and some polished leather "grip", which dovetails well with Maker's trademark layered sweetness (caramel, vanilla, a hint of honey). I'm also picking up some dried fruit in the background. The seared oak stave influence is somewhat aggressive but never to the point of being excessive... Rating: 90 Points- John Hansell -www.whiskyadvocateblog.com