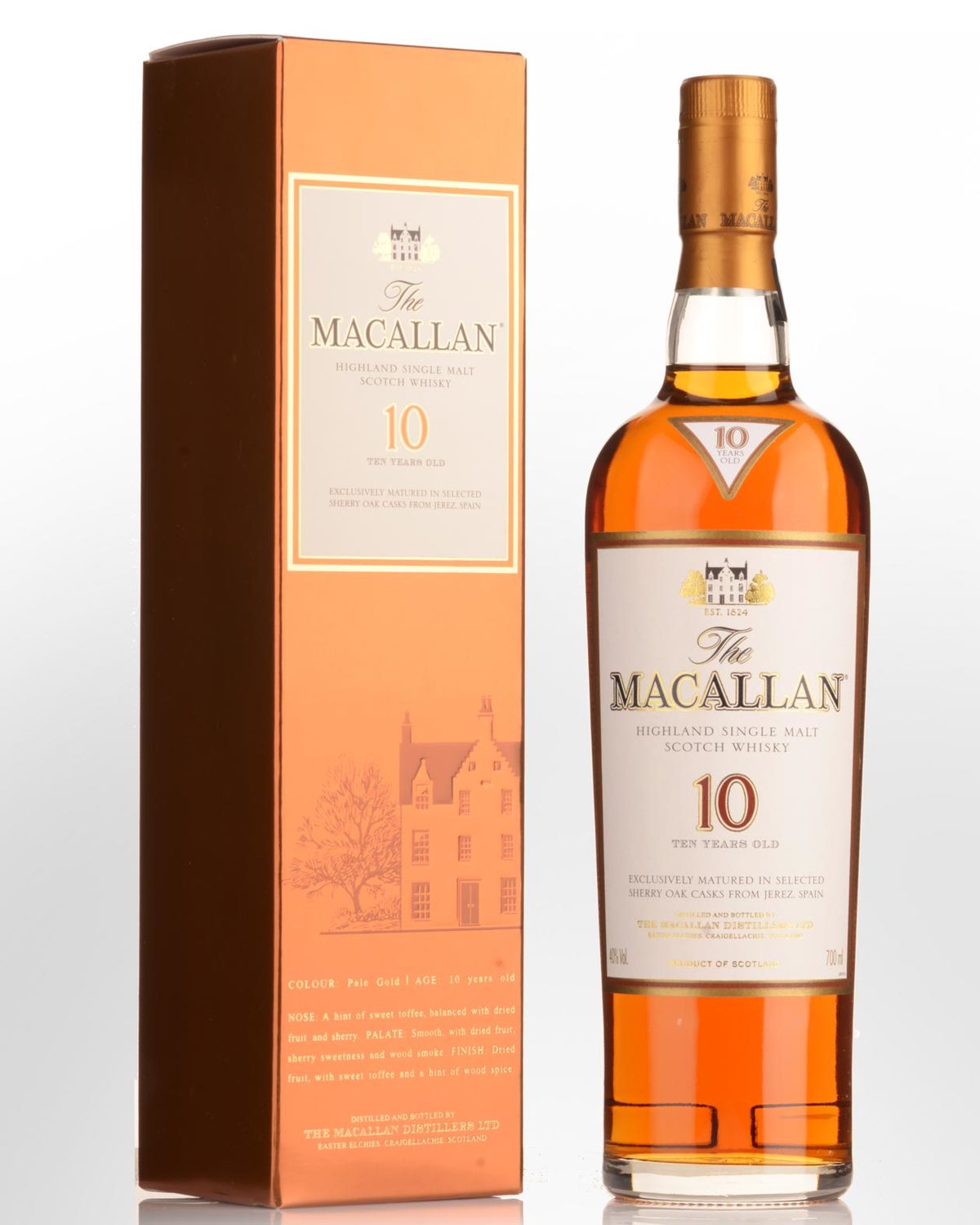 The Macallan 10 Year Old Sherry Matured Single Malt Scotch Whisky (700ml)
Speyside, Highlands,
SCOTLAND
Officially discontinued back in 2013, we've seen the asking price for these recently hit

£

199 in the UK. Snap it up!
Any one following the price path of old and discontinued Macallans knows that this is a blue chip distillery when it comes to investor upside. Even younger age statements have out-performed expectations. Given the emphatic praise for the 10 year old from all quarters and its 100% Sherry cask credentials, this is a no-brainer. Expect to be paying much, much more for these historical curios in the years to come - if you can find them at all.
Tasting note: Bright copper colour. Aromas are soft and sweet - delicate scents of honey, dried fruits, orange peel and cocoa merge with subtle toasty/ cereal notes. Off-dry palate has good concentration with sherry input supporting toasty cereals and spice followed by a juicy back palate burst. Clean, drying aftertaste of honey, malt and soft spice. A perfect introduction to an increasingly rare genre. 40% Alc./Vol.
Other reviews... Nose: Bewitching balance of heady sherry, spice and wood. Subtle rhubarby and smoky suggestions. Palate: Big, creamy nutty and spicy. An obvious rich sherry character prevails. Finish: Lingering and soothing with wood spices and soft peat. Comment: A king-pin malt which never disappoints. 40% Alc./Vol
Rating: 90- www.whiskymag.com
...Oloroso appears to be the big noise here, but clever, almost meaty, incursions of spice offer an extra dimension; fruity, yet bitter-sweet: dense yet teasingly light in places; chewy fruit and the old Macallan silk is back; creamy cherries and mildly under-ripe plum ensures a sweet-sour style; traces of vanilla and barley remind us of the oak and the barley, but the fruit reverbrates for some while, as does some annoying caramel. For a great many of us it is with the Mac 10 our great Speyside odyssey began. It has to be said that in recent years it has been something of a shadow of its former great self. However, this is the best version that I have come across for a while. Not perhaps in the same league as those bottlings in the 1970s which made us re-evaluate the possibilities of single malt. But fine enough to show just how great this whisky can be when the butts have not been tainted and, towards the end, the balance between barley and grape is a relatively equal one.
91 points- Jim Murray's Whisky Bible 2019