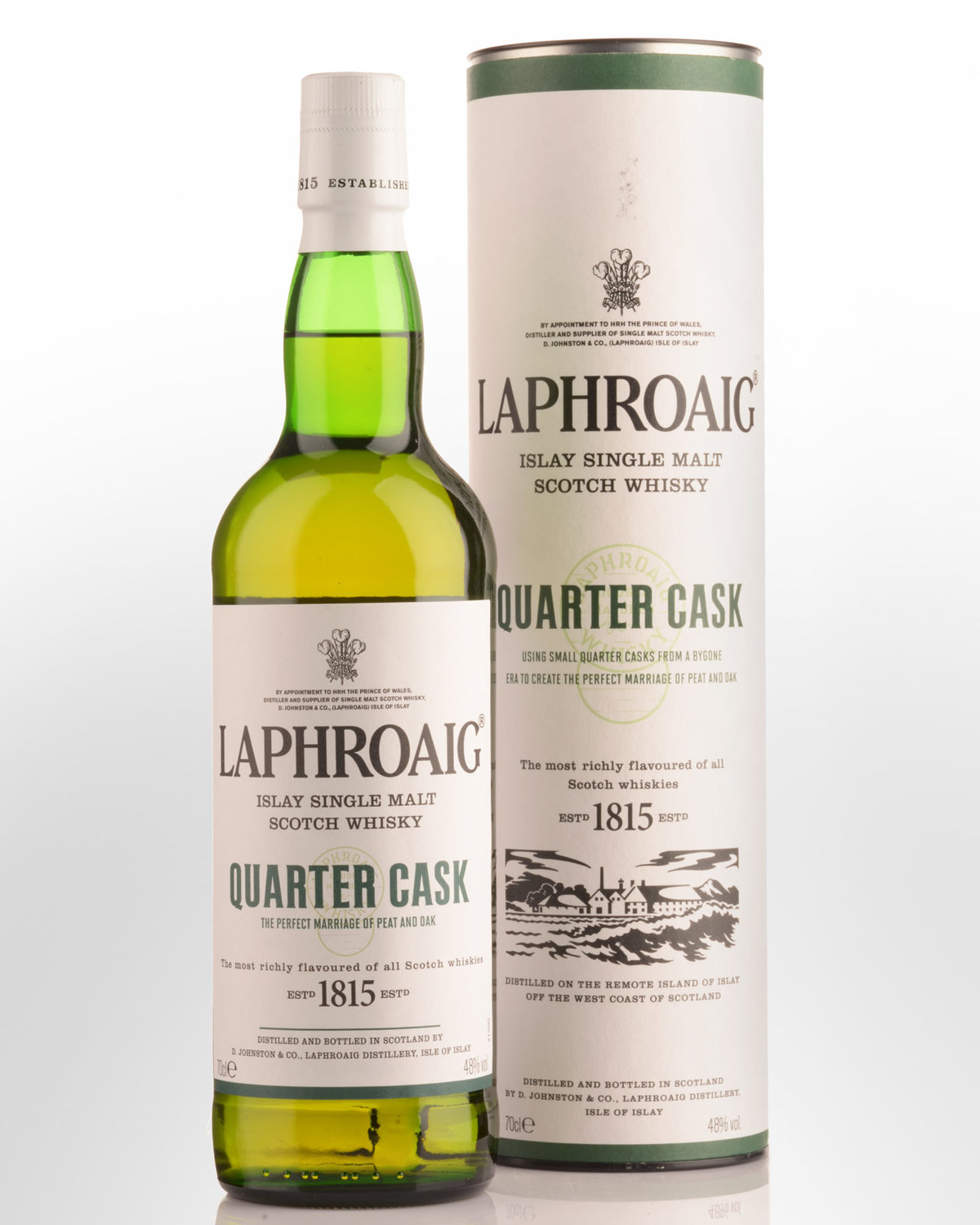 Limit Six per customer

Nick's Import

Reduced
Laphroaig Quarter Cask Single Malt Scotch Whisky (700ml)
Pay $135+ elsewhere!
"Hits mega malt status" - Jim Murray
Two hundred years ago, when the Scotts began moving whisky around the country in smaller barrels (aka quarter casks) they were improving more than methods of logistics. The smaller vessels made it easier for mules to carry and for the distillers to smuggle (what better way to inspire innovation than a ploy against the tax man!). In more recent times, with the rise of the micro distiller, smaller casks have played an important part by rapidly speeding-up the maturation process, increasing the whisky to oak contact ratio, in theory making it more palatable, at a faster rate.
For this release, after an initial period in American Oak x-bourbon barrels, the whisky was then transferred into new, specially produced Quarter Casks for a final seven-to eight-month period. It's also bottled at a higher ABV to keep inline with older traditions.
Tasting note: Bright gold colour. First passing reeks of choc fudge and vanilla laced peat. After aeration, the bouquet loses a little of its perfume and becomes more seaweedy and oceanic. A subtle peppermint note combines with a touch of bandaid - outstanding aromatic complexity. Soft slightly oily entry builds into a typically robust, mouthfilling Laphroaig experience as waves of sweet smoke, salt, pepper, iodine and vanilla are delivered with a creamy, warming mouthfeel and a gentle spirit tingle. Finishes refreshingly dry and long with cocoa, peat and subtle baked citrus notes lingering. Impressive. 48% Alc./Vol.
Other reviews... "Nose: Burning embers of peat in a crofter's fireplace; sweet intense malt and lovely, refreshing citrus as well; Taste: mouthwatering, mouthfilling and mouth-astounding: the perfect weight of the smoke has no problems filling every crevice of the palate. , builds towards a sensationally sweet maltiness in the middle; Finish: really long and dries appropriately with smoke and spice. Classic Laphroaig. Balance: a great distillery back to its awesome, if a little sweet, self. Layer upon layer of sexed up peatiness. The previous bottling just needed an extra complexity on the nose for this to hit mega malt status. Now it has been achieved" 96 points - Jim Murray's Whisky Bible 2015