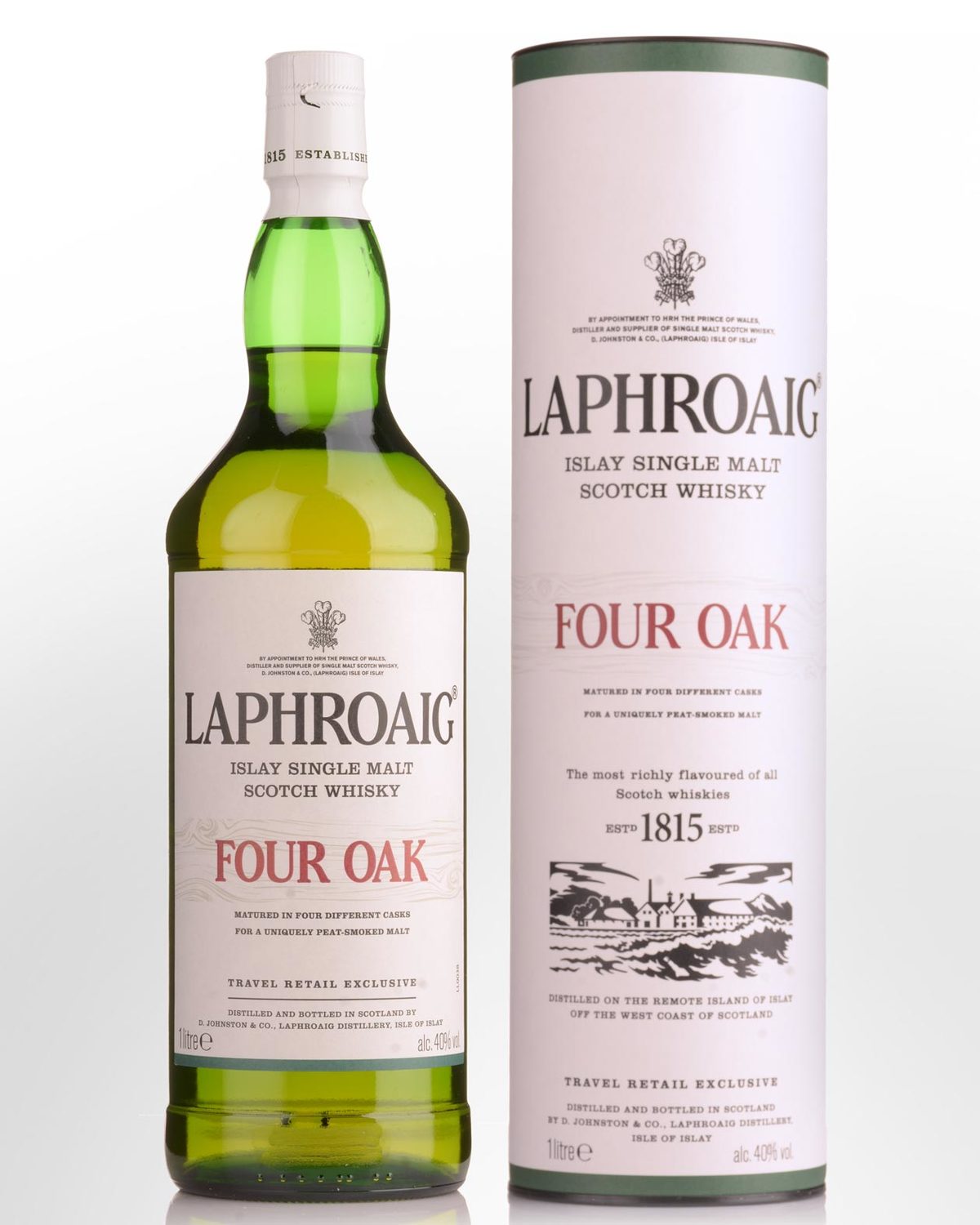 Laphroaig Four Oak Single Malt Scotch Whisky (1000ml)
Remarkably domesticated for this distillery. Laphroaig in black tie.
Followers of our direct import Laphroaigs will know that this distillery has been very keen on experimentation when it comes to different wood regimes – including everything from Port barrels to a 'Triple cask' bottling. This one tops the lot! As the name suggests, four different casks are used in the maturation - ex-bourbon barrels, small quarter casks, virgin American oak barrels and larger European Oak hogsheads. According to the distillery, the result is an extraordinary fusion of flavours including
"…sandalwood, pine, fir and willow."
Launched in 2017 as a travel retail exclusive.
Tasting note:
Brilliant gold. Whiffs of mezcal with suggestions of damp cedar and mechanic's workshop; later inhalations find the bouquet steeped in vanilla and char, soot and baked citrus. Some menthol too. Nice complexity. Light and creamy on entry with a burst of vanilla, peppermint and sweet maritime smoke (peaty ice cream?) Feather-weight towards the finish, with delicate mint and menthol infusions through the peat. Remarkably domesticated for this distillery. Laphroaig in black tie.
40% Alc./Vol.
Other reviews…
a different style of Laphroaig, thinner in weight with the phenols loitering around rather than ganging up...attractive, but the smoke seems a little in awe of the oak as it is unusually quiet.
40% Alc./Vol.
88 points
- Jim Murrays Whisky Bible 2018
4.5 Stars
- diffordsguide.com