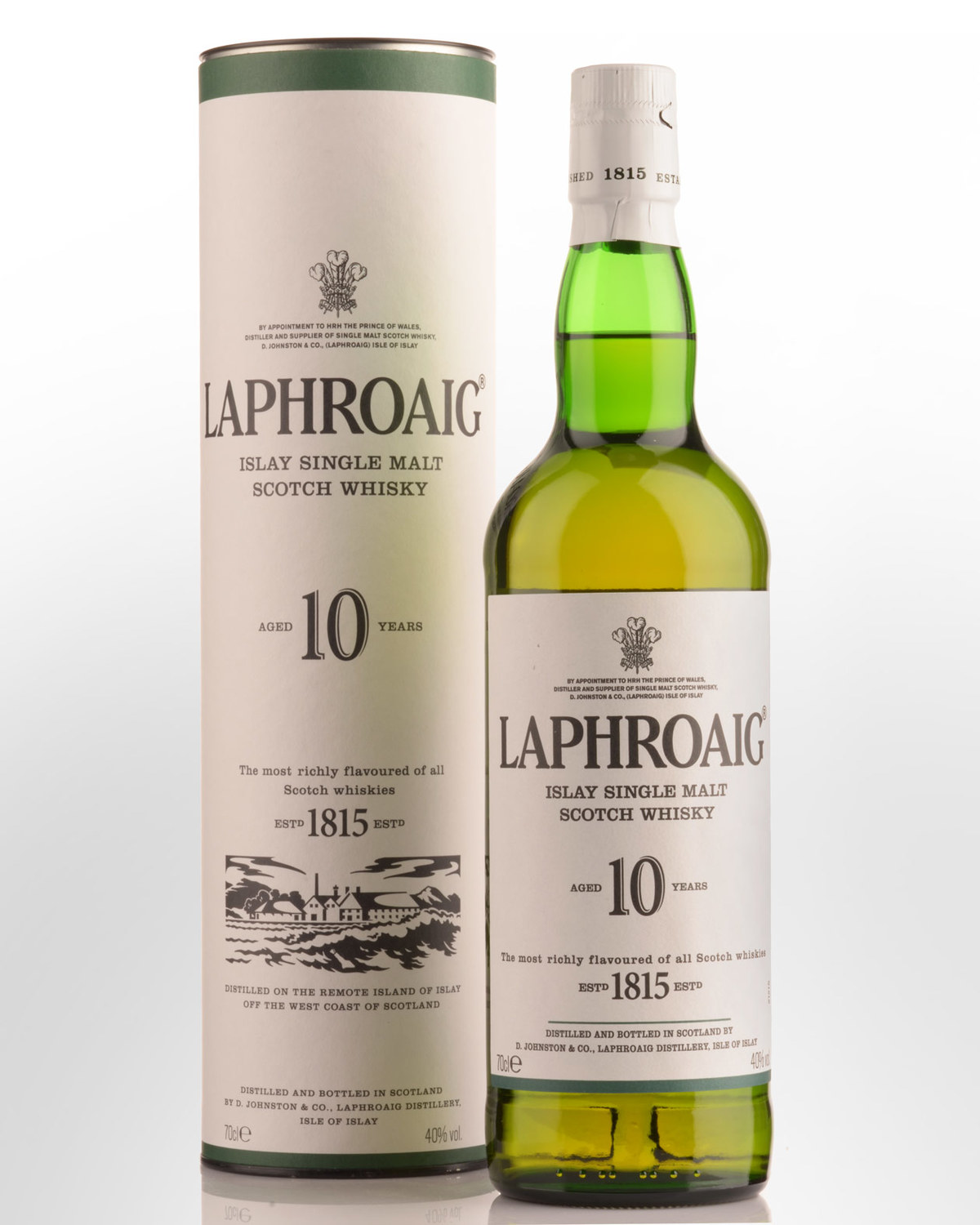 Limit Six per customer

Nick's Import

Reduced
Laphroaig 10 Year Old Single Malt Scotch Whisky (700ml)
"So consistent is the Laphroaig 10, that this is one of the whiskies I test myself each day with to check that my nose and palate are on song". 95 points - Jim Murray 2022

From the remote island of Islay in the Western Isles of Scotland. Laphroaig, pronounced 'La-froyg', is a Gaelic word meaning 'the beautiful hollow by the broad bay'.
The full history of Laphroaig seems to be lost in the mists of time. It's clear that the Irish had been distilling on Islay for many years and that the locals picked up the skills when they left, but because it was illegal the small stills on the farms were rarely discussed - just a nod and a wink in the right direction!What is known, is that the family called the Johnstons started farming there around 1800, and that soon after messers Charles and Willie Doig were asked to do some 'work on a distillery' at Laphroaig. By 1815 Laphroaig's reputation had spread and the tax man was getting suspicious so they 'officially' established 'Johnston & Johnston' - the legend of Laphroaig had begun.
Laphroaig is a malt to either love or hate. Full of the smoke and iodine, seaweed character Islay has become famous for, it has spurred some commentators to describe it as 'mouthwash', 'hospital gauze' or at best, 'medicinal'. Suffice to say, this is not a whisky for the faint hearted. Take Laphroaig neat like a stalwart, or with a splash of soft water. Roll it around on your tongue, release the pungent earthy aroma of blue peat smoke, the sweet nuttiness of the barley, the delicate, heathery perfume of Islay's stream and either swallow or spit. The final judgment on Laphroaig must always be left to the individual.
Tasting note: Brassy gold. Seems a little tamer than previous incarnations, earthier too with a farmyard edge. Less iodine / elastoplast than before, more peppermint, baked citrus, kipper and lanolin, creaming up towards the finish, trailling off with hints of Fisherman's Friend. 40% Alc./Vol.
Other reviews... 95 points, Jim Murray's Whisky Bible 2022
...An essay in voluptuousness. The oils speak volumes here, gathering the two-toned phenols and gathering them in all corners of the palate and ensuring they stick there... The finish is not so much enormous as controlled and long, with a sublime bit of mocha moving in for the last blissful moments. Glorious still, after all these years. 40% alc./vol. 94 points - Jim Murray's Whisky Bible 2019
...This expression offers an uncompromising note of brine-laden peat and iodine, with charcoal and sweeter fruit notes also present. The palate is equally out there, with old-fashioned fabric Band-Aids, bladderwrack seaweed, black pepper, smoldering peat, vanilla, caramel, and sweet oak. The finish is as big as everything else, with barbecue, iodine, and asphalt. Still a classic!
92 points - whiskyadvocate.com, reviewed by: Gavin Smith (Fall 2018)