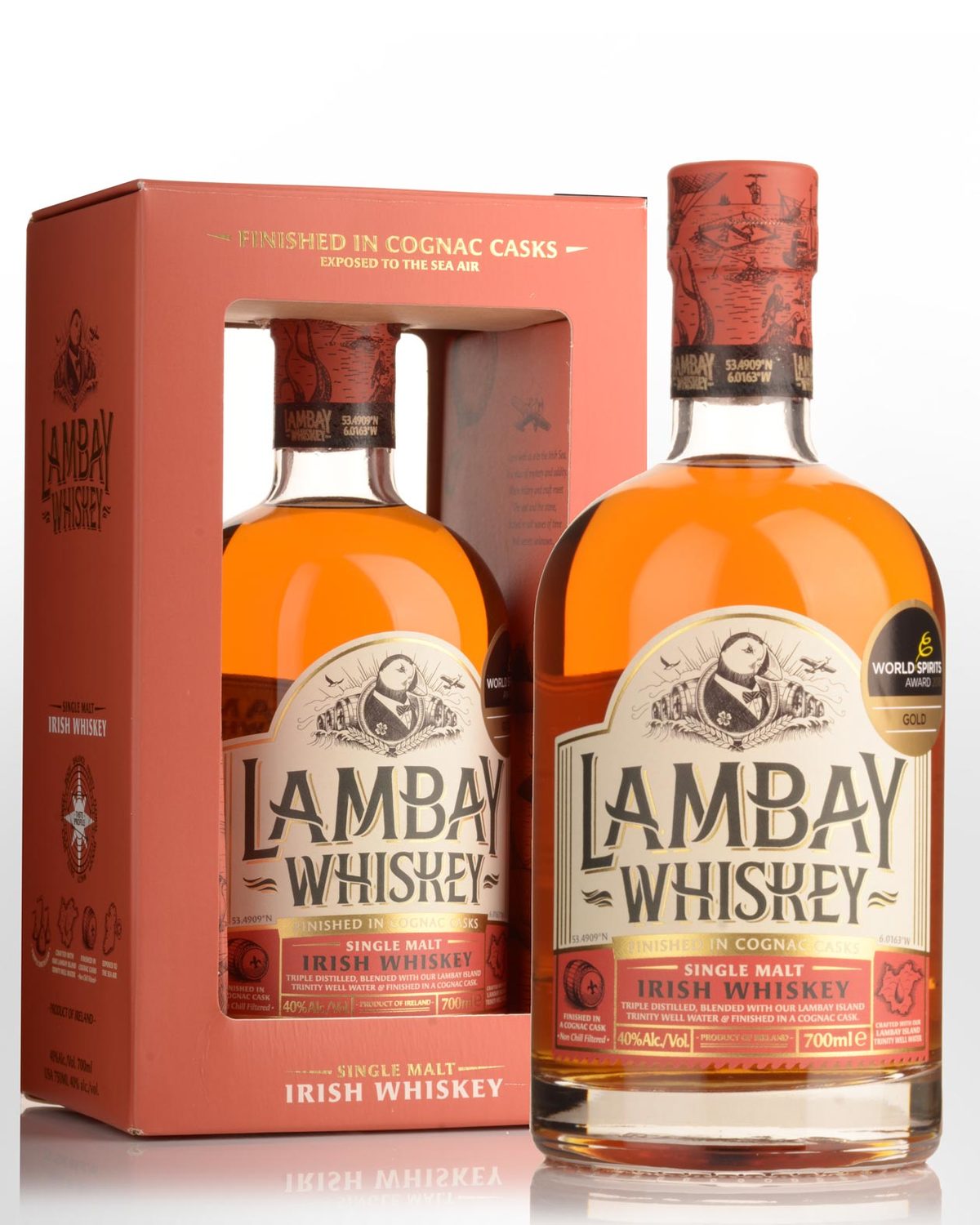 Lambay Single Malt Irish Whiskey (700ml)
IRELAND
Like Lambay's Small Batch Blend, this whiskey is independently sourced, triple distilled and first matured in ex- Bourbon casks before being finished in hand-selected cognac casks from the famous cognac house 'Camus'. Produced from 100% unpeated Irish single malt from one single distiller, these casks spend a longer time (up to 4 months) in the cognac cask absorbing a deeper concentration of cognac notes to add fruit and spice. On Lambay Island casks lay exposed to the sea air on the western shore and producers claim that here, the whiskey picks up notes of iodine, seaweed and salt via the maritime winds and sea spray, adding a subtle briny / salty note to the spirit.
Tasting note: Brilliant gold. An attractive mix of ripe fruits (peach, pear, banana?) Further air contact draws out hints of cinnamon doughnut, beeswax and vanilla. Fuller, richer and more rounded than the blended Lambay, this is deliciously creamy through the mid palate with stewed apple and sweet spice flavours followed by hints of dried banana and milk chocolate in the aftertaste. Length, balance and texture all nicely captured here. Lovely Irish. 40% Alc./Vol.
Other reviews…
Brilliant delivery... arrives in a myriad of waves. Excellent juiciness and gristy sugars leading into a delicate fruit note. The oak and barley balance can hardly be bettered... Magnificent up until the point of the late finish when things become a little too bitter for their own good. That apart, stunning.
92.5 points
- Jim Murray's Whisky Bible 2021
Spicier and darker than their blend, this delivers heather honey, banana peel, cashew, pepper, ground coriander, and bay leaf. Quite light-bodied and delicate to begin with, but the Cognac cask adds fruitiness and greater complexity. Sugary sweet, with tingly spices, honey, cracked black pepper, clove-studded oranges, and tangy marmalade. A finish of bitter orange, pepper, and fondant cream makes this a worthy addition to the Cognac cask revival.
90 points - maltadvocate.com, reviewed by: Jonny McCormick (Spring 2018)
Gold Medal – World Spirits Awards 2018
92 Score – Ultimate Spirits Challenge 2018
Silver Medal – Whiskies of The World USA 2018
Silver Medal – Spirits Business 2019
Gold Medal – Wizards of Whisky 2019
Gold Medal – Spirits Selection 2019
Best International Whiskey 2019 -Germany