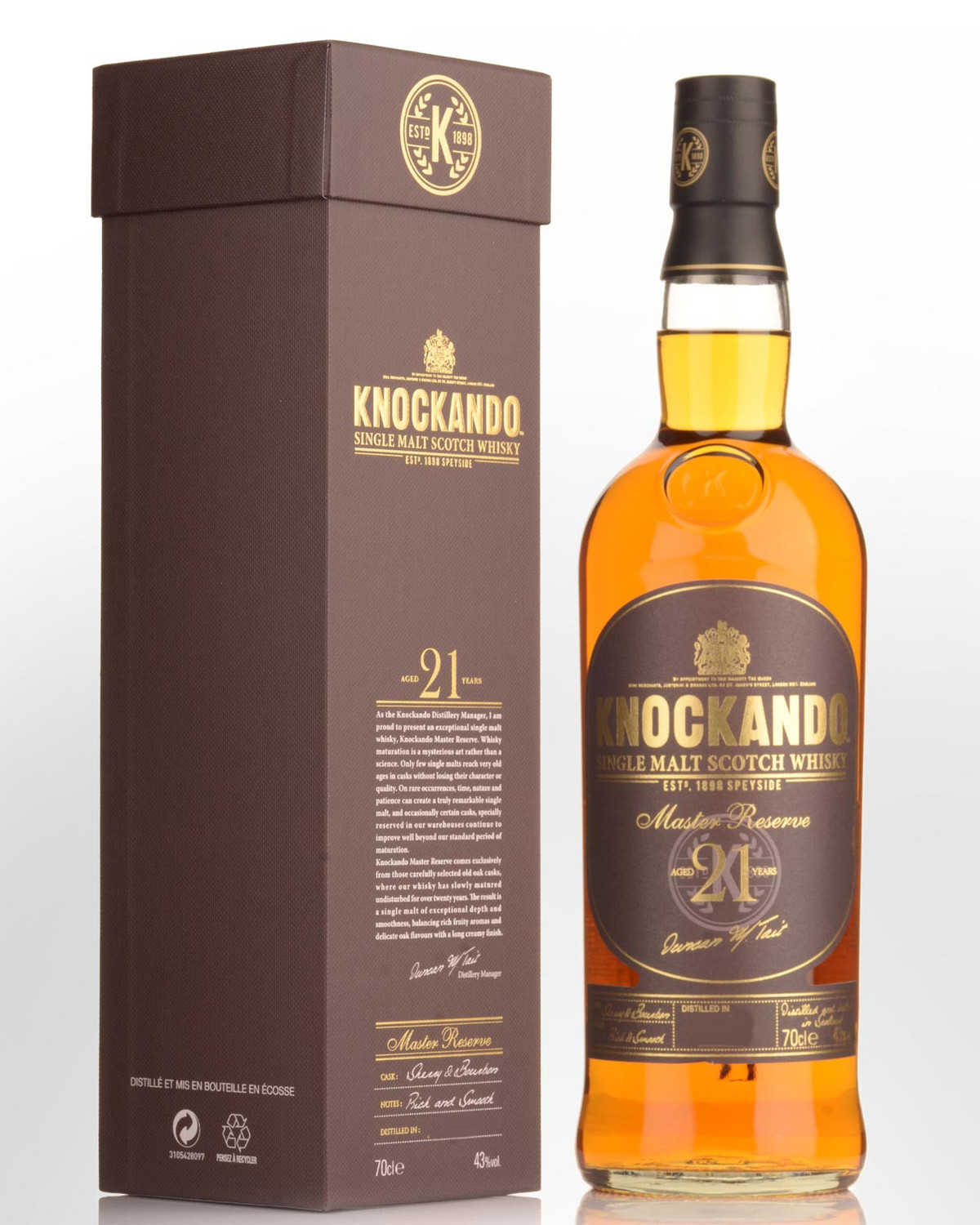 Knockando Master Reserve 21 Year Old Single Malt Scotch Whisky (700ml)
Speyside, Highlands,
SCOTLAND
"100% sulphur free...100% barley rich...100% a treasure". 96.5 points.
- Jim Murray's Whisky Bible 2021

"Probably not for the average malt freak but we've seen many bottlings for malt freaks that weren't as good as this rather humble Knockando." So writes Malt Maniac, Serge Valentin. The Master Reserve 21 year old is a high point in the Knockando range, sourced from x Sherry and Bourbon casks lying in the coolest part of the warehouse. According to distillery manager, Duncan Tait, these take longer to mature and the resulting malt is 'extra smooth'. In this case we've struck gold with a very small parcel that almost hooked the biggest prize of the world whisky year: 96.5 points from Jim Murray. The full review extends to 20 lines in his latest Bible. Read part of his gushing commentary below. We may (or may not) be able to secure more in the near future. Limited to two bottles per customer.
Other reviews... this is how a Speyside at this age should be: the malt is firm yet lively enough to allow the sugars in a controlled, crystalline attachment; almost beautiful enough to bring a tear to my eye... The salivation levels are something almost to be astonished at; the malt rumbles on with a high degree of class and continued salivation the way that it attaches to the oaky vanillas without demur...but then moves into a richer, more chocolate infested world.... 100% sulphur free...100% barley rich...100% a treasure. 96.5 points - Jim Murray's Whisky Bible 2021
In Gaelic, Knockando (Cnoc-an-dhu) means "little black hillock". Neighbouring big names like Cardhu and Glenfarclas, Knockando is situated on an isolated bend of the Spey River. It's another Diageo dark horse distillery, with the major component going into the J&B blends. It was founded in 1898 by John Thomson in the early 1900s, and was the first Speyside distillery to use electricity. Closed two years after its creation, it was then acquired by W&A Gilbey Ltd, the famous Gin producers from London. The distillery was rebuilt in 1969, when it doubled its production capacity. More recently it became part of the Diageo group. The whiskies are not always available on Australian shores. Only 8% of the production is marketed as single malt, typically bottled with a vintage statement. They persist with a long-standing practice of bottling the casks only when they are deemed to be at their peak maturation, as opposed to bottling them automatically at certain ages. Lightly smoky, fruity, nutty whiskies like Knockando complement the savoury notes in vegetarian dishes such as tapenade or vegetarian haggis.