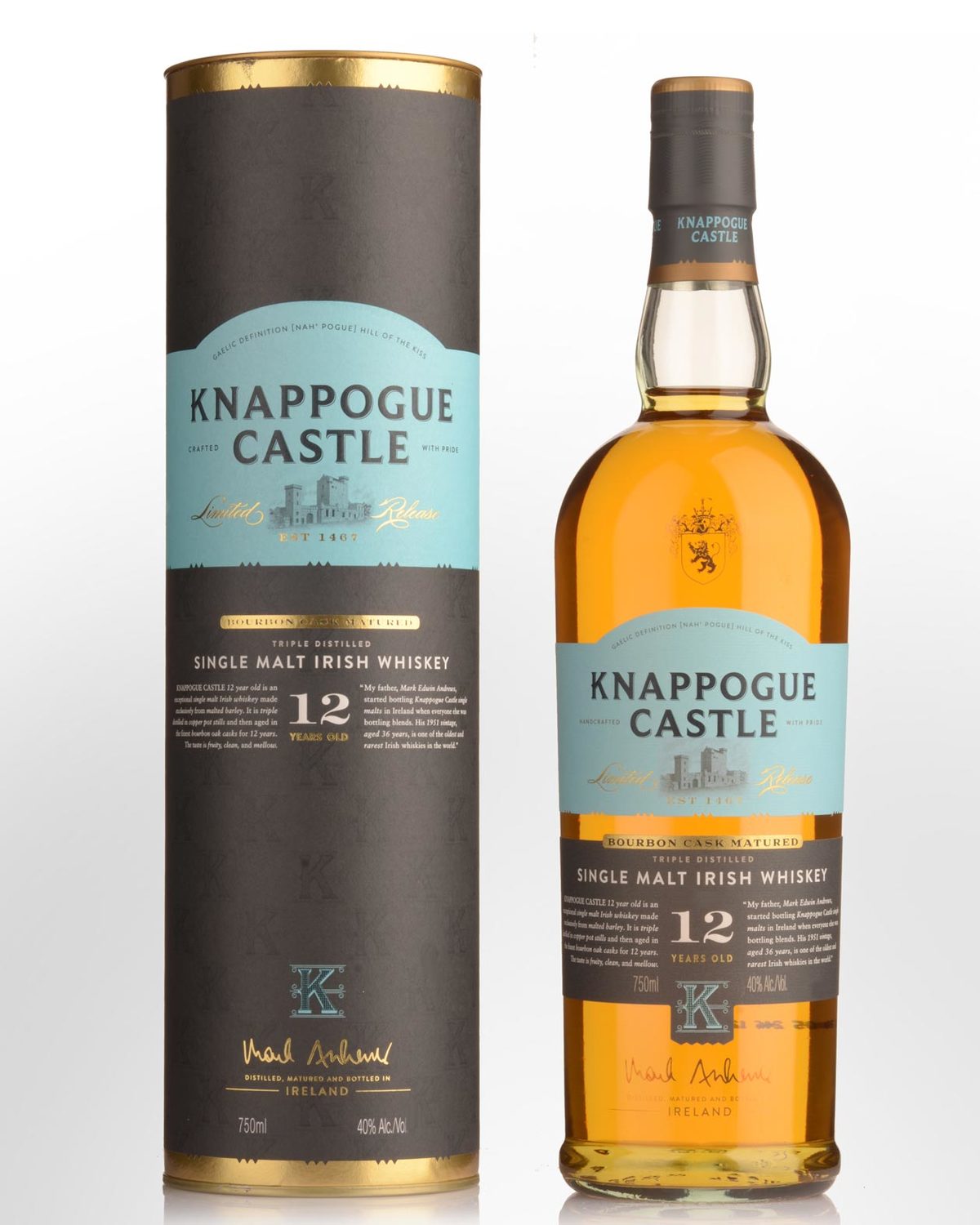 Knappogue Castle 12 Year Old Single Malt Irish Whiskey (750ml)
Whisky Advocate's Value Pick in the Irish Category.
In the early 1900's, the finest whiskey in Ireland was often sold in casks rather than in bottles. Spirits merchants bought the filled barrels, aged them and bottled the whiskey under their own brand names. In the 1960's, Mark Edwin Andrews, an American with strong ties to Ireland, began buying casks of fine pot still whiskey from the top distilleries in Ireland. He aged them and bottled them under the 'Knappogue Castle' label, named after the castle in Ireland that he owned. The Andrews family has carried on the Knappogue Castle legacy with both vintage dated and, more recently, age statement releases like this 12 Year Old. Their brand is typically distilled at Cooleys or Bushmills.
Other reviews... Old gold color. Rich aromas of honeyed raisins, blossoms, and buttery fruit custard pastry with a silky, fruity-yet-dry medium-to-full body and a long, grainy, nut, pepper and dried fruit driven finish. A lush, flavorful Irish whiskey that will shine with cigars.
International Review of Spirits Award: Gold Medal
94 points (Exceptional) - tastings.com
...Triple distilled and fully matured in bourbon casks, this single malt has a sweet, soft, and inviting nose of crisp green apples, vanilla custard, and lemon butter biscuits. Soft lemon meringue pie on the palate. Sweeter orange breaks through with a little spice on the fringes, then hits its stride with dried fruits and baked apple. A final flourish of spice and candied peel rounds off this excellent whiskey. Value Pick.
92 points - whiskyadvocate.com, Reviewed by: Jonny McCormick (Spring 2017)