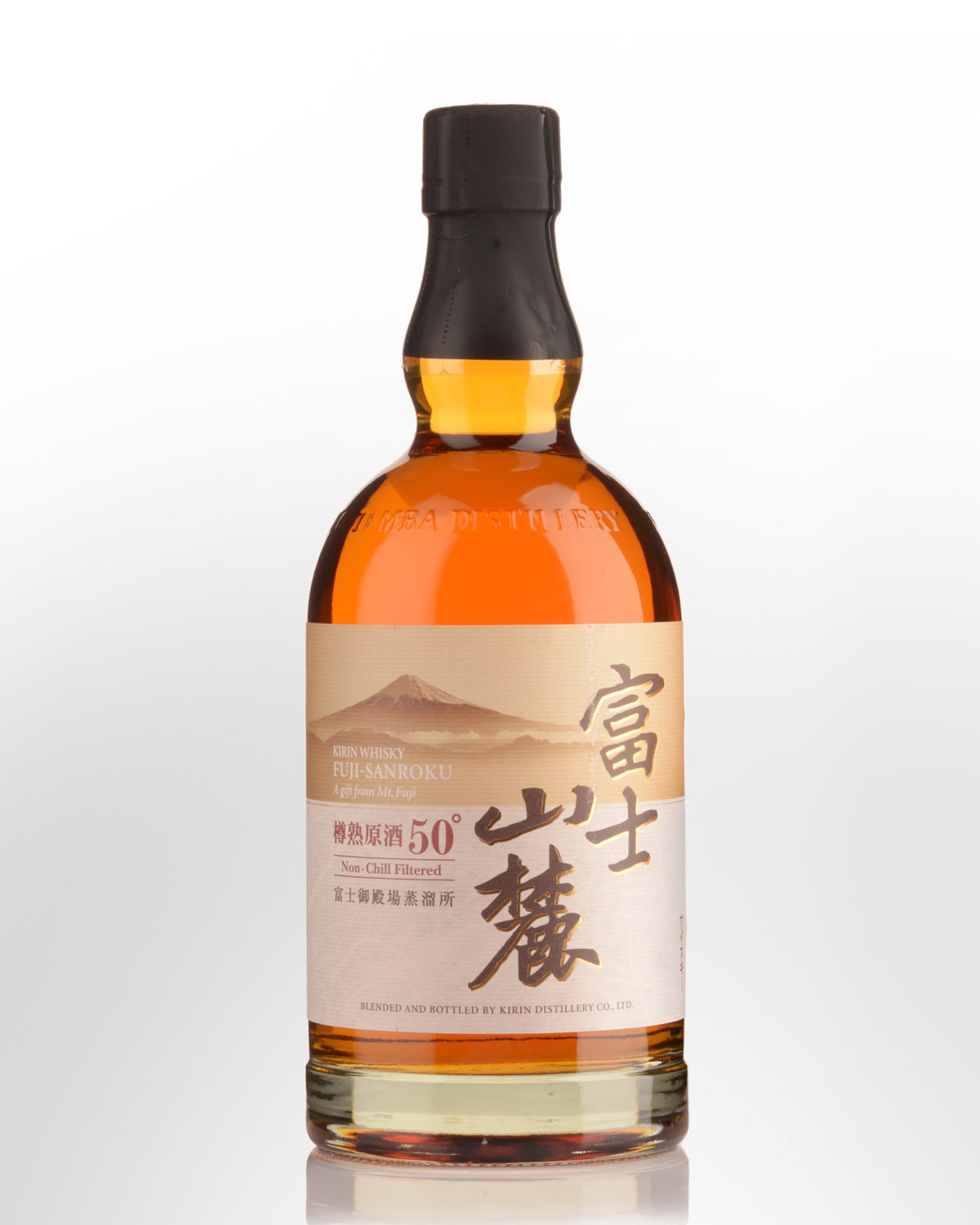 Kirin Fuji Sanroku Tarujuku 50 Blended Japanese Whisky (700ml)
JAPAN
Officially discontinued.
This is likely to be our last shipment, so get it while you can.


Note: Labels have some minor scuffing.
"Sales of this whisky have been so strong that Kirin now says that it will run out of stock following its upcoming late-March shipments to suppliers. The company has stated that this will not be a temporary hiatus, but an official retiring of the product due to a lack of raw materials, so if you're keen to score a bottle, now is the time... Sales of the more expensive substitute will continue as normal."- soranews24.com
A Japanese exclusive, this high ABV bottling from Kirin was launched in March 2016. The blend features medium and heavy-type grain whiskies combined with a minor peated malt component. Chief blender, Jota Tanaka also decided to bottle this non-chill filtered and at 50%. According to Nonjatta, "The new 'Fujisanroku 50°C' is the first generally and permanently available, entry-level NC Japanese blended whisky that is not chill-filtered. A bold move but one that, we are sure, will pay off. It sure does for us drinkers… the first sip you take, you know!"
Almost unknown outside of Japan, Fuji Sanroku which means "at the foot of Mount Fuji", is produced in Fuji Gotemba distillery, opened in 1973 and owned by the Kirin Group. As iconic locations go, it's hard to beat this distillery's picturesque environ. The water source is rain and melted snow from the top of Mount Fuji. Maturation typically takes place in x-Bourbon barrels. While the focus is on grain whisky, a quantity of malt whisky is also produced and marketed under various labels (Gotemba & Sanroku), as well as making up a component of the Kirin blended whiskies.
Tasting note: Brilliant deep gold. Opening sniffs suggest apple strudel, stewed pear, bubble gum and vanilla. Air contact adds hints of ripe corn / mixed grains. Understated on entry building to a juicy, vibrant, bourbonesque profile with creamy flavours of toffee apple, salted corn cob and pepper. Concludes semi-sweet, spicy but well balanced with orchard fruits, gobstopper and lingering creaminess. 50% Alc./Vol.
Other reviews... A blend not afraid to make a statement and does so boldly. A sheer joy!
93 points- Jim Murray's Whisky Bible 2017
...Jota Tanaka, Kirin's chief blender, utilizes all the versatility of the complex production at Fuji Gotemba Distillery to create this truly superb non-chill filtered whisky. The dark vanilla, toffee brittle, macadamia nuts, heady incense, and singed oak have instant appeal. Sweet popcorn smothered in milk chocolate rotates through cherry, damson, and red apple, settling on a palate of toffee apple spiked with pepper and licorice. Tingling spices on a drying finish. 92 points
- whiskyadvocate.com, reviewed by: Jonny McCormick (Fall 2017)