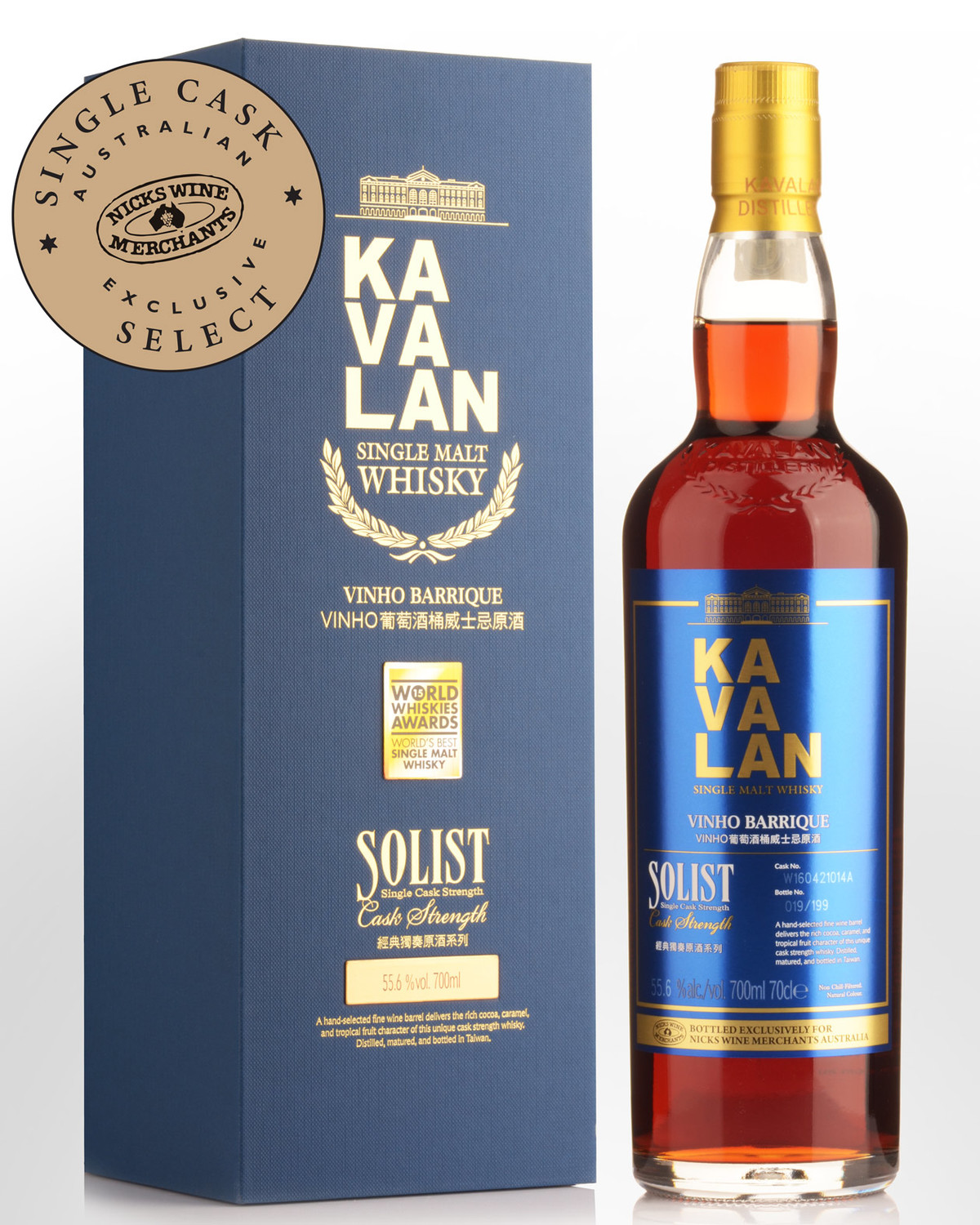 Kavalan Solist Vinho Barrique Nicks Wine Merchants Australian Exclusive Cask Strength Single Malt Taiwanese Whisky (700ml)
TAIWAN
A winner on all sensory accounts, delivering just what you'd expect from this distillery. 199 bottles for Australia only.
Limited to two bottles per customer.
Kavalan continue to confound critics and purists, proving that lengthy maturation is no longer the rule when it comes to great whisky. Master Blender, Ian Chang concedes that he will almost certainly never release anything older than ten years. If he waited that long, most of the liquid would have evaporated anyway, making it both physically and financially unviable. So long as Kavalan remain obsessive about quality wood - which they do - age doesn't seem to matter. It explains why their exceptional 'Vinho' label single cask program is now so highly sought after.
Jim Murray rightly observes, "Kavalan has that very rare talent for brilliance without apparent effort" - a statement borne out by the barrel in question. Of the half dozen Kavalan single casks sampled in the last twelve months, each differed slightly in terms of bittersweet balance, prickle and tannin. W160421014A had the noticeably sweeter profile. It's also one of those whiskies where the colour really says it all - it's about as deep and dark as single malts get.
Once past the whiff of alcohol, there's that distinctive 'caramelised' character to the aroma which seems to be a signature of these expressions. Chocolate, coffee cake and rancio develop in the opening pass along with dense wood spices, in particular cinnamon. Burnt orange and old balsamic add an acetic lift, while further air contact draws out notes that are borderline tropical. At natural strength, the palate is initially chewy and shows some expected heat, giving way to a rush of dates, raisin chocolate, mocha, roasted nuts and dried coconut. Framed by tongue tingling spices, the finish leaves you with more dark chocolate, bittersweet oranges, figs and vanilla. The balance is very good at 56%, so yes, you can enjoy this uncut. But what's remarkable is the way this whisky 'floats' (or handles water). One dash significantly ripens the aromatics and unlocks a profile you'd expect from twenty year old Scotch equivalents (think sherried Glengoyne, Glenfarclas or Glendronach). Even at near 50/50 dilution, it still has energy in reserve. While there are many distilleries that routinely turn out gargantuan malts, there are few on the planet offering young casks that combine raw power with so much complexity and nuance. Cask 014A is a flat out winner on all sensory accounts. It will continue to unfold with extended time in the glass and represents a 'no-brainer' buying opportunity given the price, which falls well under the regular Solist release. 199 bottles for Nicks Wine Merchants Australia only. Non chill filtered. 55.6% Alc./vol.