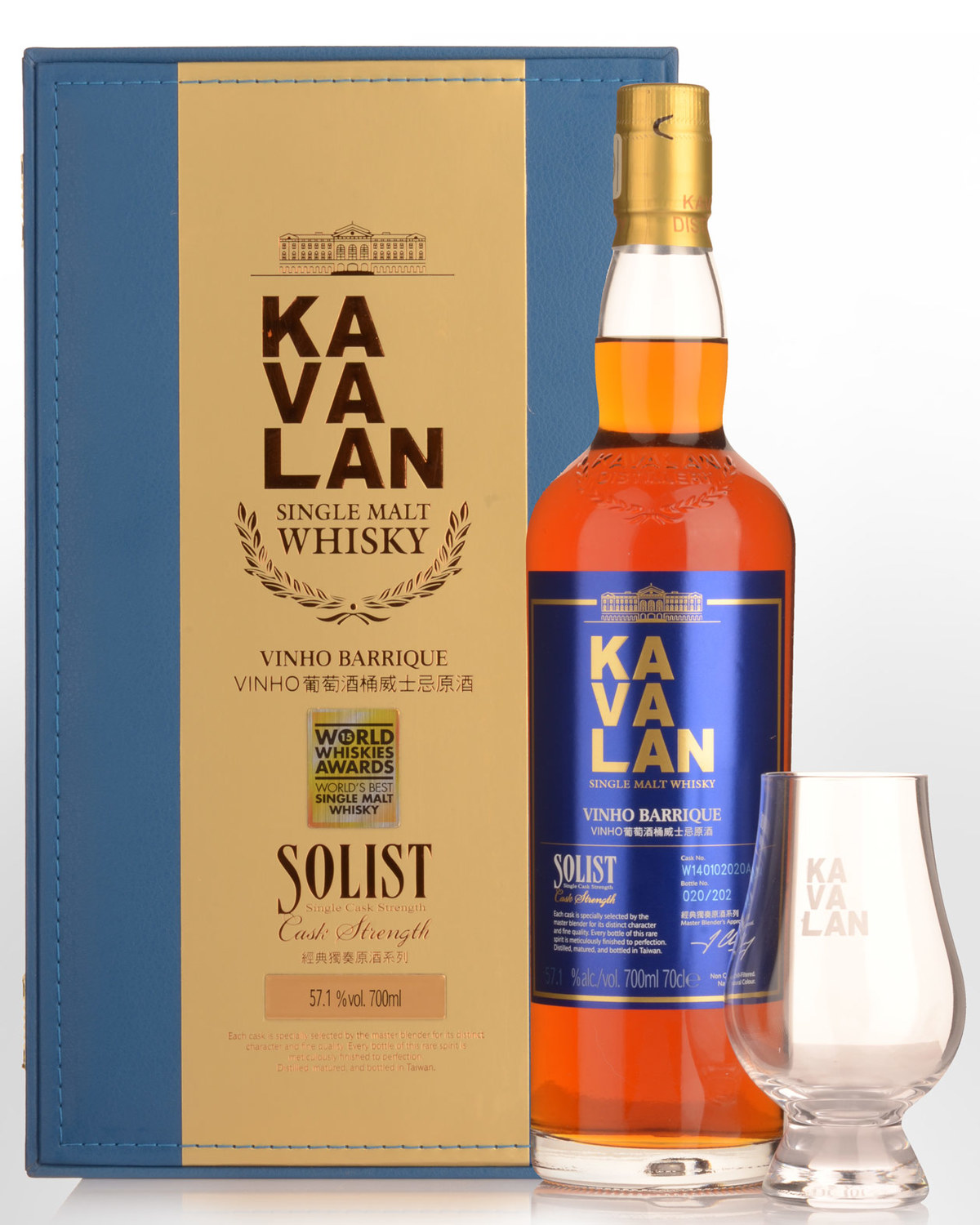 Kavalan Solist Vinho Barrique Cask Strength Single Malt Taiwanese Whisky (700ml) - 57.1% ABV Bottling - Gift Pack
TAIWAN
*This product has been puchased from a collector - One only.
Where does the World's Best Whisky come from?
Last year it was Australia, when Sullivan's Cove French Oak took the prize.
In 2015 it's the Kavalan Distillery. It's official. Taiwan now offers one of the World's Best Whiskies.

We were fortunate enough to have Kavalan's Master Blender; Ian Chang visit us at the store just last month (May, 2015). Tasting the range with Chang revealed a collection of young, precocious malts that demonstrate age isn't everything. Taiwan's tropical climate pushes these whiskies towards maturity at a phenomenal rate, but the overall quality has continued to defy the skeptics.

Named for the ancient Yi-Lan county in the northeast , where the venture is located, Kavalan is Taiwan's only distillery at present, but that may soon change.
In a market previously dominated by Cognac, Taiwan is now one of the world's biggest consumers of whisky. Scotch has become an aspirational status symbol and marketers have responded with numerous brands offering special releases exclusively for Taiwan. It's one explanation behind the country's changing drinking habits. There are others. Jens Kastner, writing in the Asia Times, notes that, according to industry sources "From the late 1990s on whisky gradually took over, after Scottish whisky makers, among those most prominently The Macallan, started sophisticated promotion campaigns. Face-to-face, small-group brand-training engagement activities were conducted all over the island."
Chang believes there's also a more mundane factor at play. "Unlike Cognac, Scotch doesn't taste sweet. So Taiwanese don't think it makes you fat."

Putting it all together paints an attractive argument for a local industry, especially given Taiwan's proximity to the lucrative Chinese market.
Kavalan is owned by the King Car group, a family company with business in several fields including beverages, food, biotechnology and aquaculture. The brainchild of King Car's chairman, Mr. TT Lee, who always wanted his own high-quality whisky distillery, it was only conceivable after Taiwan joined the WTO in 2002, ending the country's alcohol monopoly system. Mr. Lee is a man who likes to control his own destiny and insists the company will never be floated.
The distillery which was completed in 2005 is one hour train ride from Taipei and a 10-15 minute ride out of Yilan proper. It's an expansive, highly automated barn-like complex with a conference and visitor centre, situated beside the 'Snowy Mountain' (which, incidentally has no snow, but there's an abundant supply of pure spring water here).
The first bottle of Kavalan was released in 2008. Chang who spent two years studying whisky production in Scotland, takes his lead from Dr. Jim Swan, the world's foremost independent consultant on whisky production and maturation.
Like Glenmorangie and other industry benchmarks, his wood policy is obsessive - all the more critical in these climes. The maturation process is 'forced' due to the higher than average tempratures. Everything is accelerated. As whisky writer, Charles MacLean, adds, "You've gotta have the right casks to do the job in such a short time. The expressions I have tasted have clearly demonstrated good wood."
Chang concedes that Kavalan will almost certainly never release anything older than 10 years. If they waited that long, most of the whisky would have evaporated anyway, making it both physically and financially unviable. The quick maturation cycles have spurred a recent counter-campaign from at least one Scotch Whisky producer - namely, Chivas's "Age Matters" campaign. However, Maclean, a long time Scotch whisky evangelist admits, "it doesn't when you have the right spirit in the right casks for the right length of time! Go figure!"

The casks, including ex-bourbon refill barrels, fresh sherry butts, and x Port casks as well as Kavalan's own dechar/rechar casks designed to a special recipe to complement the spirit's flavour, are stored in an unconventional five-story maturation warehouse.

Stylistically, Kavalan's whiskies cross a remarkable breadth. Their flavour profiles range from traditional Speyside through to more robust expressions reminiscent of many recent Australian efforts. They have already confounded many critics and a cask strength release breached the mythical 3 digit barrier, rated 100 points by the highly respected 'Beverage Testing Institute in Chicago. The 2015 World Whisky Award is just one in a steady stream of commendations, proving that nowadays, lengthy maturation is no longer the rule when it comes to great whisky.
Winner of 'World's Best Single Malt Whisky' (58.6% ABV) -
World Whiskies Awards (WWA) 2015
This instalment from the already famous Taiwanese upstart has been fully matured in open air seasoned American oak barrels that, after holding either red or white wine, have been toasted and recharred.
Tasting note: [NB - 57% batch tasted 5.08.2014] Brilliant deep amber colour. Issues a gentle nose prickle. The aroma builds through the initially muted stage revealing vague suggestions of cereals, cocoa and grape. Further air contact fails to stimulate more aromatic excitement. Contrasts on the palate with a stunning explosion of juicy fruit and sweet malt supported by assertive yet well balanced tannins. Finish is bittersweet while the malty, vanilla aftertaste demonstrates excellent persistence. Some fruitiness returns late. Bipolar whisky let down by the nose - otherwise a stand out. 57% Alc./Vol. 90 points
Other reviews... [NB- 55.3% ABV batch tasted] Deep amber color. Aromas of butter pecan gelato, chocolate raisin, vanilla yogurt, and pound cake with a supple fruity-yet-dry full body and a mango chutney on raisin toast and peppery spices finish. With water, chocolate coconut macaroon and roasted nut notes emerge. A delicious and satisfying sipper.
International Review of Spirits Award: Gold Medal
RATING: 95 points (Exceptional)- www.tastings.com
Previous batch tasted: [56.9% ABV tasted Sept 2013] Deep gold ochre / polished copper colour. Volatile and spiritous opening sniffs are mildly balsamic like before settling to reveal a medley of dates, dried apricots and brandy cream along side traces of sulphur. Entry is bittersweet; mid palate is intense, tongue tingling and spicy with the bitterness subsiding to aged brandy-like flavours and Christmas fruit cake. Ends long and rich with a semi-sweet vanilla, Christmas cake and dried fruit aftertaste. 56.9% Alc./Vol.