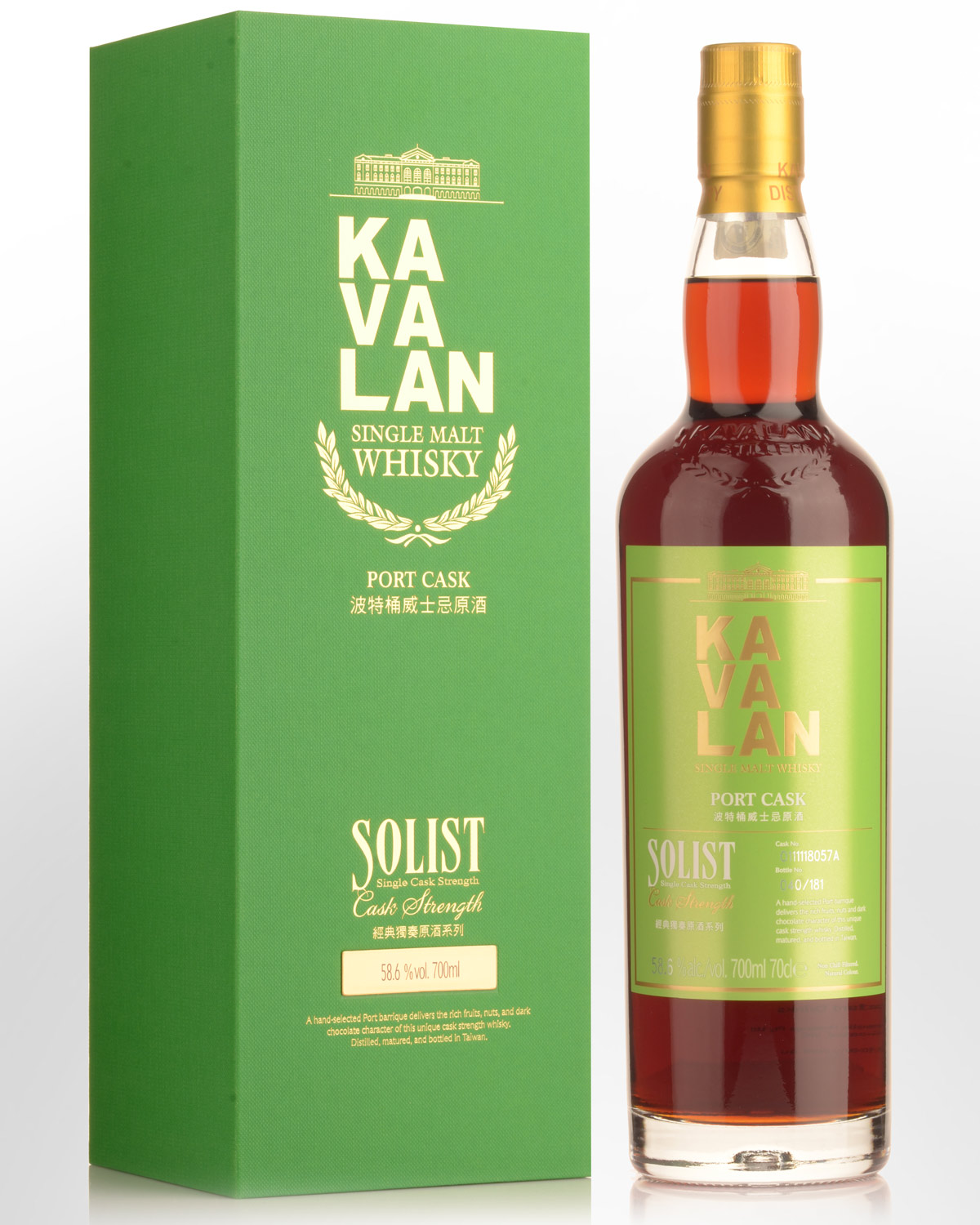 Kavalan Solist Port Cask Cask Strength Single Malt Taiwanese Whisky (700ml)
TAIWAN
Fully matured in Portuguese Port barriques under a subtropical climate. Expect multiple fruity flavours such as plum, blueberry, blackberry and strawberry to name a few, with chocolate as the background note.
Tasting note: [ 59.4% ABV batch tasted c.2019] Spectacular deep sienna brown colour. A fruit'n'nut choc-fest with some high pitch nougat and vanilla moments. Huge port input with fabulous cask integration and a bittersweet attack that turns to a fortified saturate at the finish. Hints of unripe passion fruit add an extra twist late in the aftertaste. Another very exuberant Kavalan, and style wise, just what you'd expect from this distillery.
Other reviews... Admirably, they go to all the trouble of bottling single casks individually for their Solist range at Kavalan Distillery. This single cask has the most gorgeous, deep ruby color and a very fruity nose: pomegranate, fresh orange, plum, walnut jam, macadamia, and some zestier elements. At full strength, it's mouth drawing; warm, fruity, with stewed plums, young rhubarb, pepperpots, and fine-quality dark chocolate. A clean finish, with the fruit and wood spices remaining fresh to the end.
87 points- whiskyadvocate.com, reviewed by: Jonny McCormick (Winter 2016)
...Very much a Kavalan house style... 95 points - Jim Murray's Whisky Bible 2022
Named for the ancient Yi-Lan county in the northeast, where the venture is located, Kavalan is Taiwan's only distillery at present. Stylistically, Kavalan's whiskies cross a remarkable breadth. Their flavour profiles range from traditional Speyside through to more robust expressions reminiscent of many recent Australian efforts. They have already confounded many critics and a cask strength release breached the mythical 3 digit barrier, rated 100 points by the highly respected 'Beverage Testing Institute in Chicago. The 2015 World Whisky Award is just one in a steady stream of commendations, proving that nowadays, lengthy maturation is no longer the rule when it comes to great whisky.