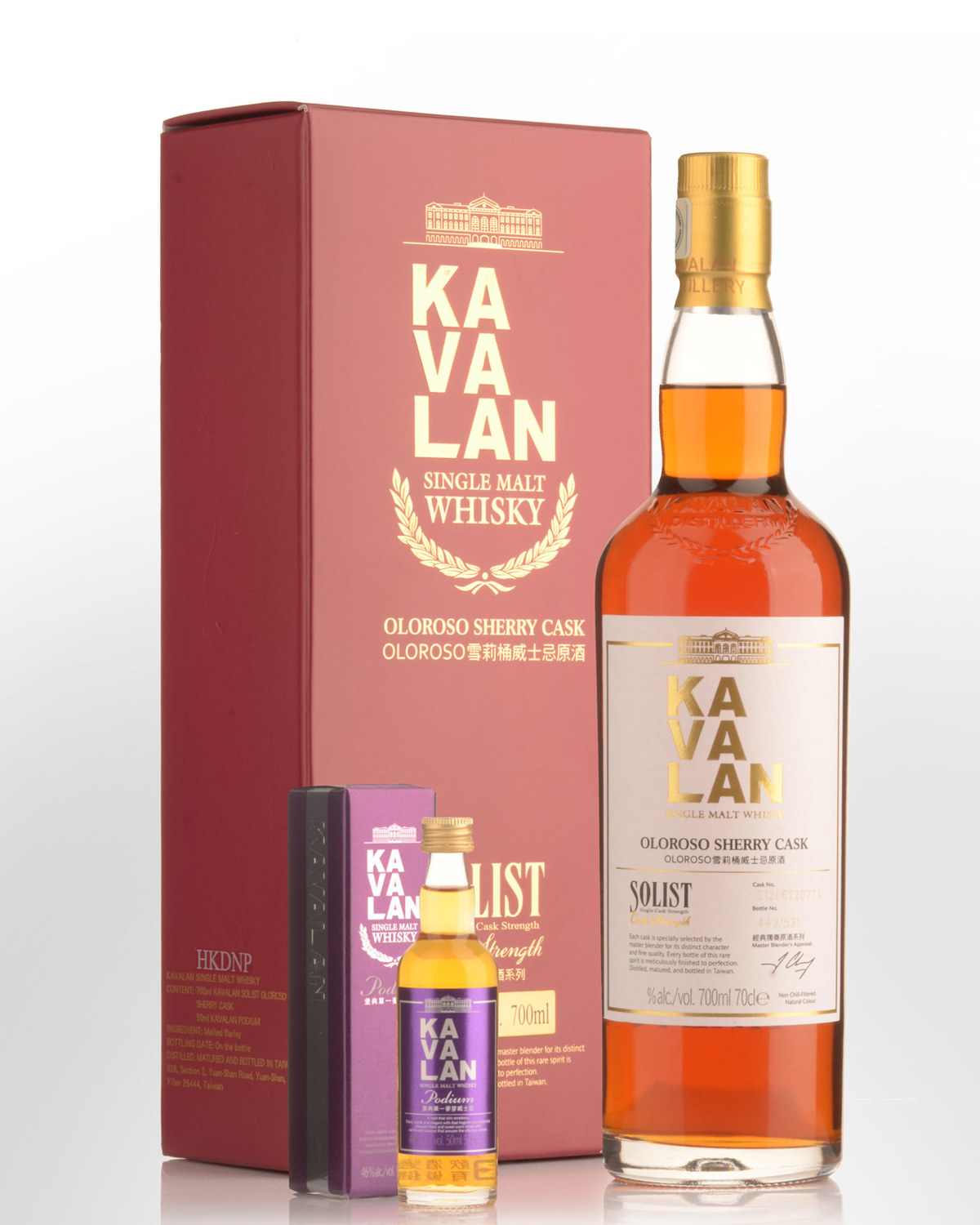 Kavalan Solist Oloroso Sherry Cask Strength Single Malt Taiwanese Whisky (700ml) - Plus Bonus Kavalan Podium Boxed Miniature
TAIWAN
Note: Box has come from a private collection and as such may have some minor scuffing/scratches/handling marks. Also Alc./Vol. may vary from batch to batch.
Kavalan Solist Oloroso Sherry Cask Strength Single Malt Taiwanese Whisky (700ml)
In a market previously dominated by Cognac, Taiwan is now officially one of the world's biggest consumers of whisky. Soaring consumption amongst the island's population of 23-million, is eclipsed only by the United States, France, Singapore and Spain.The young and newly affluent are driving sales, with consumers willing to shell out top dollar for a bottle of whisky in fashionable bars and clubs. Local expert Ivan Chang, comments "Here, a night out typically starts with a group of friends and a bottle of whisky at a restaurant. From there, it's moved to a KTV or nightclub where it's time for the second bottle. At each new location, a further bottle is well likely to follow."
Chang also concedes that Scotch has become an aspirational status symbol for many Taiwanese. Scotch whisky marketers have responded with numerous brands offering special releases exclusively for Taiwan. It's one explanation behind the country's changing drinking habits. There are others. Jens Kastner, writing in the Asia Times, notes that, according to industry sources "From the late 1990s on whisky gradually took over, after Scottish whisky makers, among those most prominently The Macallan, started sophisticated promotion campaigns. Face-to-face, small-group brand-training engagement activities were conducted all over the island."
Chang believes there's also a more mundane factor at play. "Unlike Cognac, Scotch doesn't taste sweet. So Taiwanese don't think it makes you fat."
Putting it all together paints an attractive argument for a local industry. So it comes as no surprise that Taiwan has now unveiled its very own distillery, "Kavalan" - the ancient name of Yi-Lan county in the northeast part of Taiwan, where the venture is located. It is owned by the King Car group, a company with more than 2000 employees, and with business in several fields including beverages, food, biotechnology and aquaculture. The brainchild of King Car's chairman, Mr. TT Lee, who always wanted his own high-quality whisky distillery, it was only conceivable after Taiwan joined the WTO in 2002, ending the country's alcohol monopoly system.
Completed in 2005, Kavalan is one hour train ride from Taipei and a 10-15 minute ride out of Yilan proper. It's an expansive, highly automated complex with a conference and visitor centre, situated beside the 'Snowy Mountain' (which, incidentally has no snow, but there's an abundant supply of pure spring water here). The first bottle of Kavalan was released to a skeptical public in 2008.
Respected spirits writer, David Broom, recalls, "When the news arrived that a distillery was being built in Taiwan, the whisky world pretty much dismissed it. When Kavalan appeared at a precocious 42 months, it sat up and took notice….with blender Ian Chang at the helm and a hotline to consultant Dr. Jim Swan. Taiwanís tropical climate pushes the maturation cycle along at a ferocious rate, but the key here is its complexity."
The casks, including ex-bourbon refill barrels, fresh sherry butts, and x Port casks as well as Kavalan's own dechar/rechar casks designed to a special recipe to complement the spirit's flavour, are stored in an unconventional five-story maturation warehouse. Like Glenmorangie and other industry greats, Chang has an obsessive wood policy. No doubt this attributes much to the stellar quality already on offer. Stylistically, Kavalan's whiskies cross a remarkable breadth. Their flavour profiles range from traditional Speyside through to more robust expressions reminiscent of many recent Australian efforts. They have already confounded many critics and a cask strength release recently breached the mythical 3 digit barrier, rated 100 points by the highly respected 'Beverage Testing Institute in Chicago.
These new Jewels of Taiwan have just arrived in Australia and come highly recommended.
Other reviews... [Earlier Batch tasted] Dark reddish mahogany. Dense aromas of cherry-raisin compote, chocolate nuts, leather, teriyaki jerky, and coffee liqueur with a supple, fruity full body and a long, warming fruit cake, white pepper, spice, nutshell, cedar, and Coleman's fuel accented finish. Amazingly concentrated; add a little water to round out and balance.
International Review of Spirits Award: Platinum Medal
98 points (Superlative)- www.tastings.com
Kavalan Podium Single Malt Taiwanese Whisky (700ml)
Created from whiskies matured in brand new American oak as well as refill casks.
Tasting note: Bright amber / brass appearance. A little underwhelming in the initial pass with toasted marshmallow followed by hints of white pepper and a muted maltiness. Expands with further air contact as oatmeal biscuit and stone fruits are added to the mix. A concentrated and peppery delivery offers biscuity malt flavours over background fruitiness. Finishes with fruit chocolate and mildly tingly spirit that skews the balance slightly, followed by cocoa and attractive stewed pear notes lingering. Shows excellent freshness. 46% Alc./Vol.
Other reviews... Amber color. Nutty aromas and flavors of grilled fruits, toffee and brown spices with a supple, dry-yet-fruity medium-to-full body and a nutty, honeyed raisin toast, peppery spice, and mineral finish. A vibrant, fruit driven whisky that will please whisky novices and connoisseurs alike.
International Review of Spirits Award: Gold Medal
93 points (Exceptional) - www.tastings.com
...The mark of a good distillery is consistently producing 85 points-plus whiskies, and with this batch Kavalan's going into double digits. If the distillery has a weakness, it's that sometimes it overstates its case and makes even the Aussies look subtle and nuanced. Not here. This is a delicious dessert whisky, with vanilla and toffee in abundance and some sugar candy. But having made its case, it steps back and is surprisingly gentle. Kavalan with subtlety? Scary!
90 points - whiskyadvocate.com, reviewed by: Dominic Roskrow (Summer 2013)