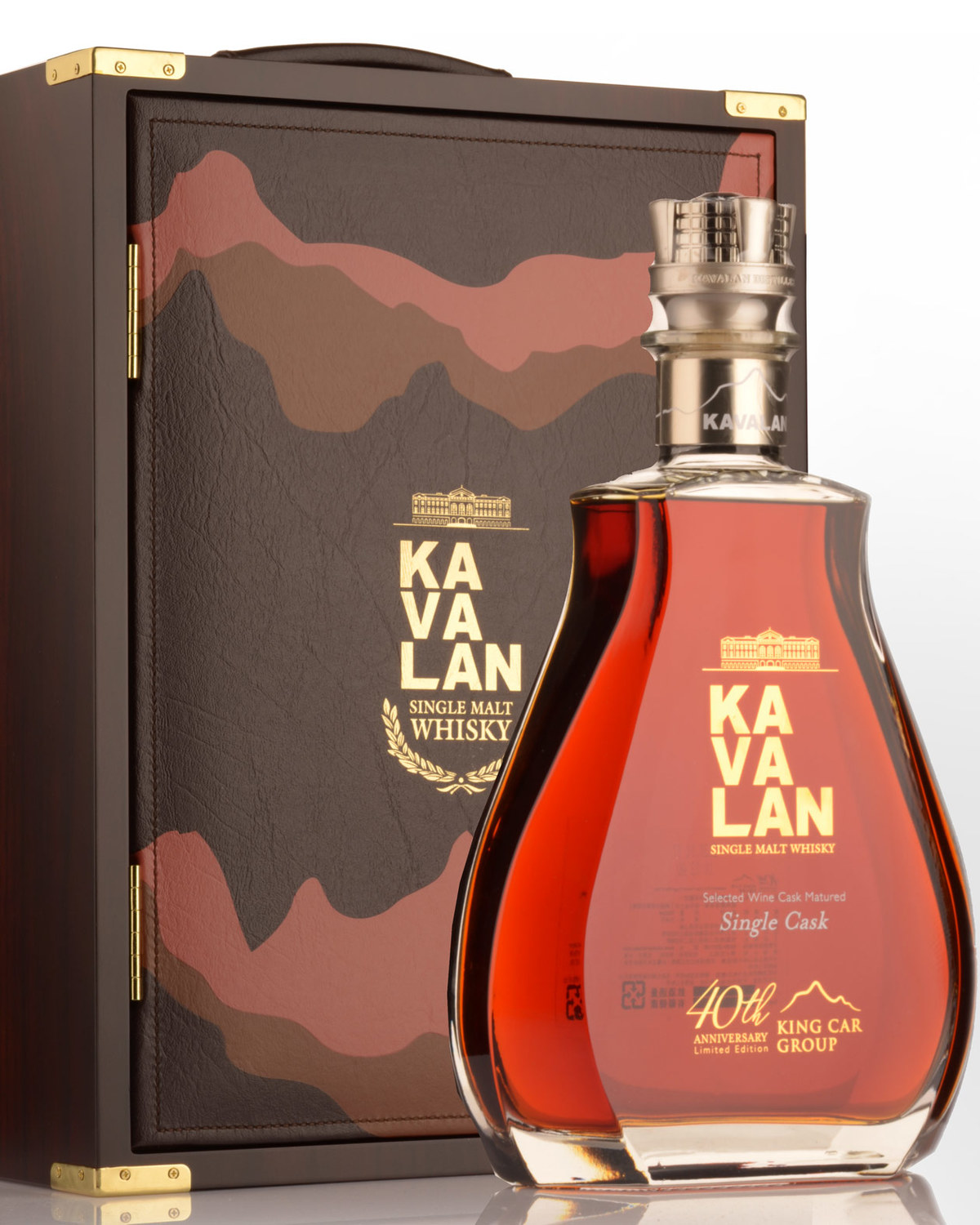 Kavalan King Car Group 40th Anniversary Cask Strength Single Malt Taiwanese Whisky (1500ml)
TAIWAN
"One huge and shapely bottle for one huge and shapely whisky... out-voluptulates anything I have encountered so far this year." 96 points - Jim Murray's Whisky Bible
We have received a small second allocation of this landmark single cask release created to celebrate a milestone by the owners of Kavalan Distillery.
Aged in a 'secret' red wine cask sourced from a winery of 'world-class standing', it signifies 40 years of the King Car Company and comes packaged to show their pride: A super-sized decanter adorned with a crown-inspired cork, studded with world-renowned Swarovski crystals pays homage to the group's name. The decanter is housed in an impressive leather bound wooden box with a 'Snow Mountain' design acknowledging the land that King Car has become a part of. The box also contains a stunning Kavalan branded whisky glass. The sheer scale of the presentation is spectacular.
As to the whisky itself, Master blender Ian Chang comments, "It's been aged in a very rare red wine cask whose majesty transfers to a richly intense whisky, delivering very distinct berry flavours and luxuriant toffee." (The cask is believed to have held Cabernet Sauvignon, so one could speculate the provenance might be a First Growth Bordeaux).
The number of bottles available has not being declared although the distillery confirms the whisky is "extremely rare" with other reports stating it's limited to 10,000 bottles globally. An obvious acquisition for collectors to consider, from the liquid inside to its physical largess, everything about this offer oozes magnificence.
Other reviews... One huge and shapely bottle for one huge and shapely whisky. I think the cask was still dripping with wine when this was filled because the voluptuousness of the grape out-voluptulates anything I have encountered so far this year. 96 points - Jim Murray's Whisky Bible 2022
Notes from Kavalan... Colour: Royal auburn. Nose: Powerful and dense with rich notes of red wine exuding dark-skinned Cabernet Sauvignon fruit, with strawberry, bilberry, spice and flourishes of fresh charred oak. Palate: Thick, mouth-drawing layers of toffee-rich berry fruits, enlivened with flares of spice, notably pepper, clove and tobacco, all brought together with a magnificent wine character. Finish: Long and sensuous, yielding a gentle mix of signature fruits and soft spices. 56.3% Alc./Vol.