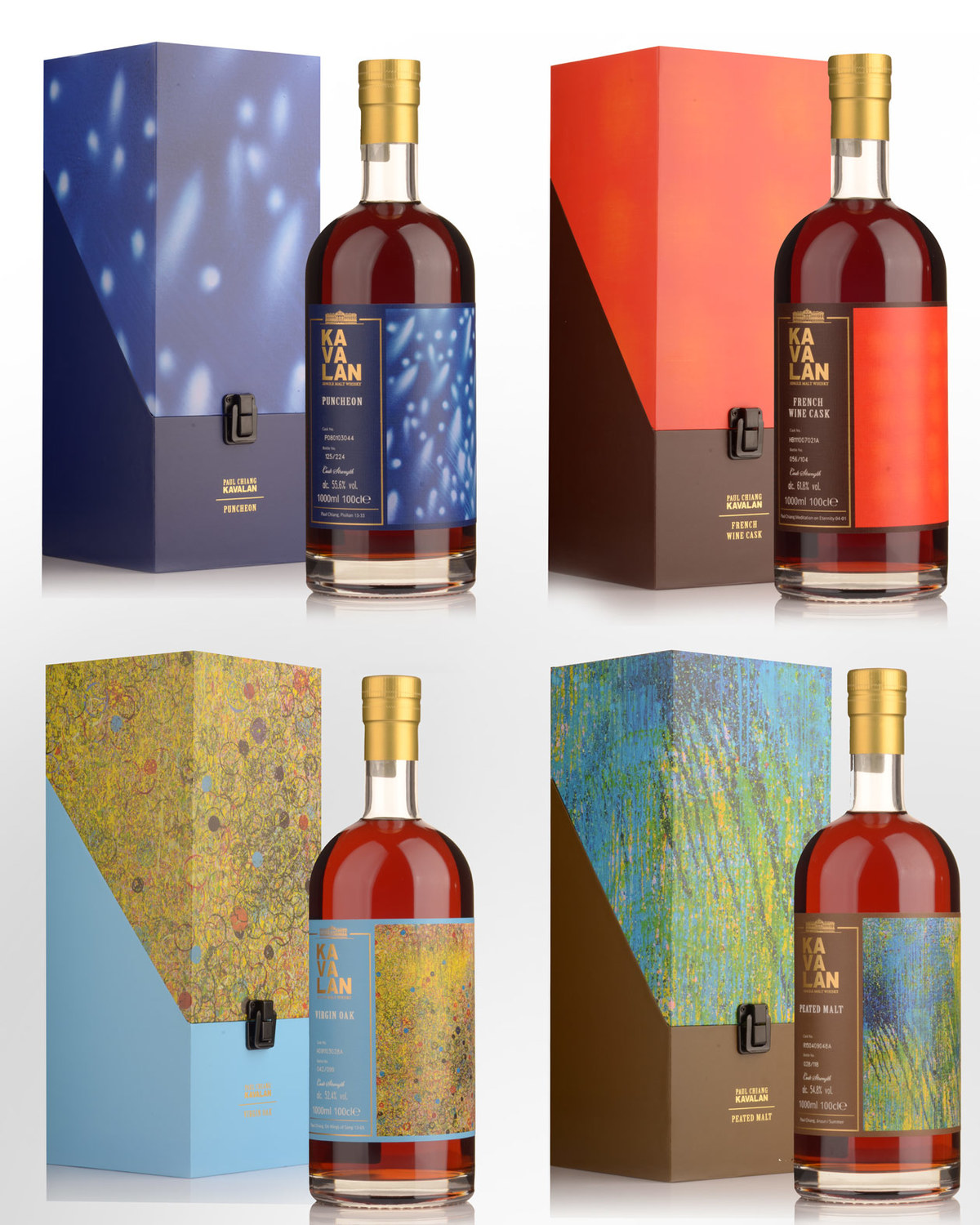 Kavalan Artist Series: Paul Chiang Cask Strength Single Malt Taiwanese Whisky (4 x 1000ml)
TAIWAN
Kavalan are celebrating their 15th year of operations with the release of the "Kavalan Artists Series" in collaboration with artist Paul Chiang. Featuring four cask strength whiskies, with each bottle and box featuring one of Paul Chiang's paintings, embodying the elements of Ocean, Sunlight, Air and Mother Earth. More than just a set of whiskies, these are pieces of art in a bottle. Originally, around 200 sets in 700ml format were offerred which quickly sold out (mainly in Taiwan). 4000 one litre bottles have also been released. Of these, 100 sets are allocated for release outside of Taiwan. We have one set only.
The set includes:
1. "OCEAN" – Puncheon. Single Cask Strength 55.6% Alc./vol.
Painting – "Pisilian (Morning Stars over the Coast)"
The indigenous name, Pisilian, refers to a stretch of Taiwan's eastern coastline, connecting Kavalan's home in Yilan County with Taitung County where Paul Chiang is based. Kavalan's story, or dream, starts in the Ocean under a starry sky. From here, moisture rises and eventually condenses above Snow Mountain, creating Kavalan's legendary water source.
Notes from Kavalan... Colour: Dark crimson waves. Flavour: The delicious aroma of freshly roasted almond biscuits brings out the smoothness of vanilla and sweetness of white peach, with a hint of maple syrup to accentuate the fruity aroma. Palate: Smooth vanilla and sweet toffee, accentuated with hints of nutty notes, give way to a rich burst of white peach and tropical fruit – a multilayered flavor with an ocean of depth and complexity, and a smooth finish.
2. "SUNLIGHT" – French Wine Cask Single Cask Strength ABV 61.8
Painting – "Meditation on Eternity"
The golden Sunlight in this piece represent sparks of hope, lighting the path toward the Kavalan dream. The fiery red denotes both the intensity of purpose and the heat of the sun, the same life-giving warmth that uniquely enhances Kavalan's ageing.
Notes from Kavalan... Colour: Final rays of an amber sunset. Flavour: The exquisite yet vibrant scent of berries and black currants form the body of this aroma, mixed with sweet peppers, apples, caramel and ripened fruit for a charming composition. Palate: A full-bodied and multilayered tropical fruity flavor marked by rich and distinctive notes of wild berries and dried fruit for the perfect balance. A dash of soft tannins with subtle hints of spiciness deliver a charming and elegant finish.
3. "AIR" – Virgin Oak Single Cask Strength 52.4% Alc./Vol.
Painting – "On Wings of Song"
Named after a Felix Mendelssohn piano piece, Paul Chiang's circular brushstrokes imagine effervescent air particles and the beating of wings, creating the sensation of air in motion. The Kavalan dream takes flight in Air, and this painting can be seen as an artistic rendition of whisky's maturation process.
Notes from Kavalan... Colour: Sweet Black Cherries. Flavour: Smoked plum and purple grapes mixed with buttery vanilla and rich beeswax gradually give way to crisp floral notes with charming apricot and peach. Palate: A full-bodied and rich texture, with hints of spicy oak and sweet honey, autumn pear and chestnuts. The mellow aroma of ripened fruit, guava and cinnamon come together to form a delicious and lingering finish.
4. "MOTHER EARTH" – Peated Malt Single Cask Strength 54.8% Alc./Vol.
Painting – "Jinzun / Summer"
The final piece in the set is both homecoming and rebirth. The green, yellow, and blue represent Taiwan's East Coast's lushness and the vibrant flavours and scents of Kavalan whisky. This Mother Earth bears the fruits of labour for both Kavalan and Mr Chiang and the seeds for new growth. The Kavalan dream becomes a reality.
Notes from Kavalan... Colour: Plump Golden Rice Ears. Flavour: Rich beeswax, toffee, and coconut aroma complement the unique tropical fruitiness of Kavalan, exuding a deliciously charming and full-bodied sweetness. Palate: A lavish spread of buttered toffee melts away into a peaty aroma with delicious earthy notes. Exquisitely layered and complex, with a balanced texture and remarkable depth of flavor. Lingering notes of red pepper, spice, and the unique aroma of longans create the perfect finish.