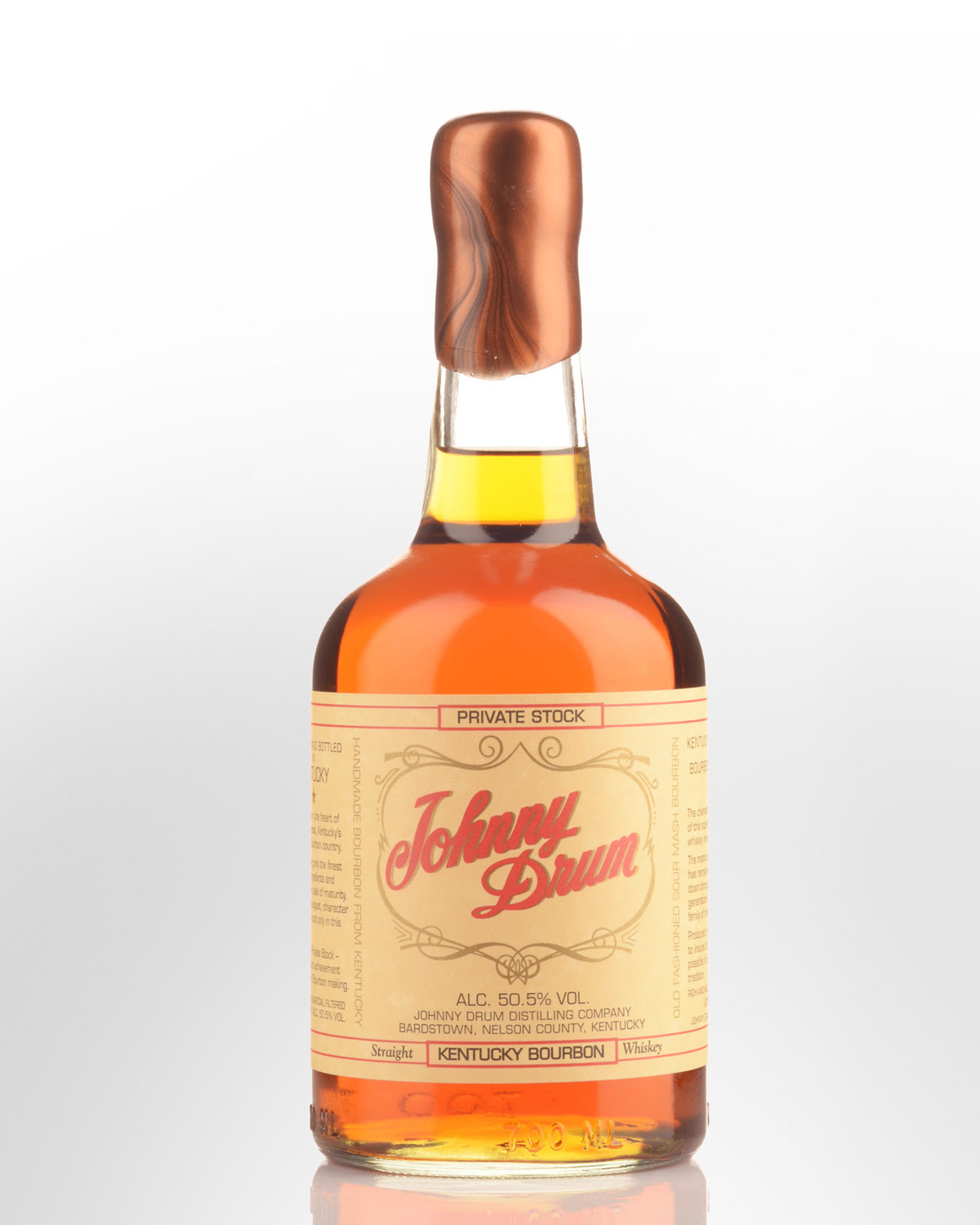 Johnny Drum Private Stock Bourbon Whiskey (700ml)
One of those Bourbons where a single glass is never quite enough.
Great stuff! - Jim Murray
Located on the outskirts of Bardstown, Kentucky, lies the old Willet Distillery. Correspondence is currently pending as to the status of production, but its history dates from shortly after the repeal of prohibition in 1935. The distillery was established by brothers Thompson and Johnny Willett. The 1970s petrol crisis saw Old Willet producing alcohol as an alternate resource for fuel. The distillery closed its doors when the fuel crisis was no longer dire, unfortunately, all the whisky distilling equipment was stripped from the premises.
Enter Evan Kulsveen. Norwegian by descent, Evan married Thompson Willett's daughter, Martha, and endeavoured to bring the family distillery back to life by exporting old stock to Japan and Europe in the late 1980s when the market for Bourbon was starting to boom. The stock eventually ran out and whilst the goal of re-opening the distillery was still in sight, the cost involved made it an unviable proposition at the time. Instead, Evan started purchasing casks from multiple distilleries, masterfully creating his own whiskies, marketed under numerous labels, including 'Old Bardstown', 'Kentucky Vintage', 'Rowans Creek' and 'Johnny Drum', amongst others.
Pages on the Kentucky Bourbon Distiller's website (a subsidiary of the distillery as a premium bottler and vendor of private brands) have indicated that the distillery is undergoing restoration (some twenty years after that promise was made!) Evan continues to operate the facility along with his children, Drew and Brit Kulsveen, continuing the line of prestigious American whiskies. We anxiously await the re-opening of this legendary Kentucky producer.
Tasting note: Copper gold colour with a gold hue. A touch of shellac at first, then the nose reveals aromas of toffee apple, mixed nuts and an enticing array of spices including clove, vanilla, anise and nutmeg over a charry oak base note. A big palate attack yields concentrated flavours of dried fruits, caramel, sweet spices and sandalwood. The mouthfeel is creamy and mildly prickly at the same time, however the whisky maintains excellent balance at this strength. Finishes soft and dry with an aftertaste of vanillan oak, creme caramel and a subtle liquorice strap fade. A big, complex Bourbon experience. 50.5% Alc./Vol.
Other reviews... Plenty of color, and the nose says it ain't lying. Sharp warehouse oak aroma puts an edge on an authoritative nose of honey, Indian pudding, spicy hard candy, and old-fashioned root beer, the not-too-sugary kind. Fiery and bold on the tongue as oak roars from start to finish, but the sweetness builds sip-by-sip: cornbread, buckwheat honey, King syrup, and a teasy bit of citrus peel. Long finish as the oak dies down. At this price, let's keep it our secret. Sourced whiskey. 88 points - www.maltadvocate.com, reviewed by: Lew Bryson (Fall 2015)