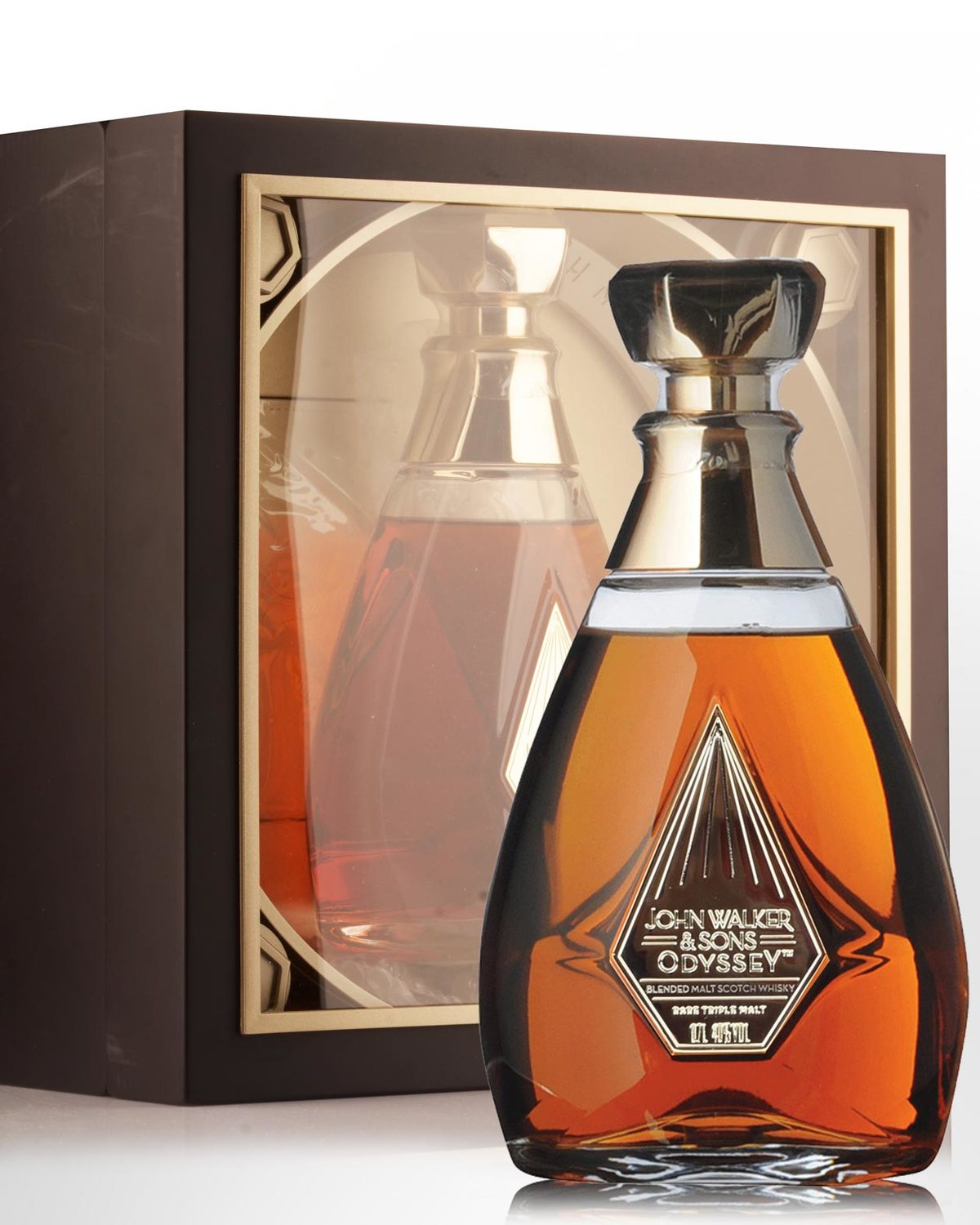 Johnnie Walker Odyssey Triple Malt Blended Malt Scotch Whisky (700ml)
Collector's note: Older bottlings may have scuffing, cellar bloom, scratches or dents to the packaging. We endeavour to describe the condition of the item in the product description text. Minor markings are inevitable with old bottlings, so we request collector's have reasonable expectations in this regard. Not every imperfection can be noted. Refer to the product images or contact us if you have any concerns about the condition of an item on 1800 069 295.
'Odyssey', takes its inspiration from the original notes of Sir Alexander Walker and is housed in a swinging decanter to commemorate the 80th anniversary of Sir Alexander's creation of a whisky vessel capable of staying upright at sea. The whisky itself is a triple malt, blended and married in European oak casks, then housed in a rotating crystal-grade glass decanter.
The product is initially launching in Asia Pacific before being rolled out globally, a move explained by James Thompson, chief marketing officer for Diageo Asia Pacific, who pointed to "an insatiable demand for super deluxe spirits globally and particularly in Asia Pacific".
Asia-Pacific sales of Johnnie Walker now contribute about 12% of the global total and will climb to 20% by 2015. Thailand alone contributes 10% of global Johnnie Walker sales.
"Globally, net sales for Scotch whisky are up 12 percent with most of that growth coming from super deluxe end of the market", he confirmed, adding, "In Asia Pacific, Scotch whisky delivered more than 80% net sales growth, with almost half coming from super deluxe whiskies."
Jim Beveridge, master blender at Johnnie Walker, described how he searched a number of distilleries in Scotland for the perfect three whiskies to blend for John Walker & Sons Odyssey. "They needed to have the right provenance and pedigree to create the aromas, tastes, flavours and sensations that Sir Alexander was looking for when he created the original blend almost 80 years ago.