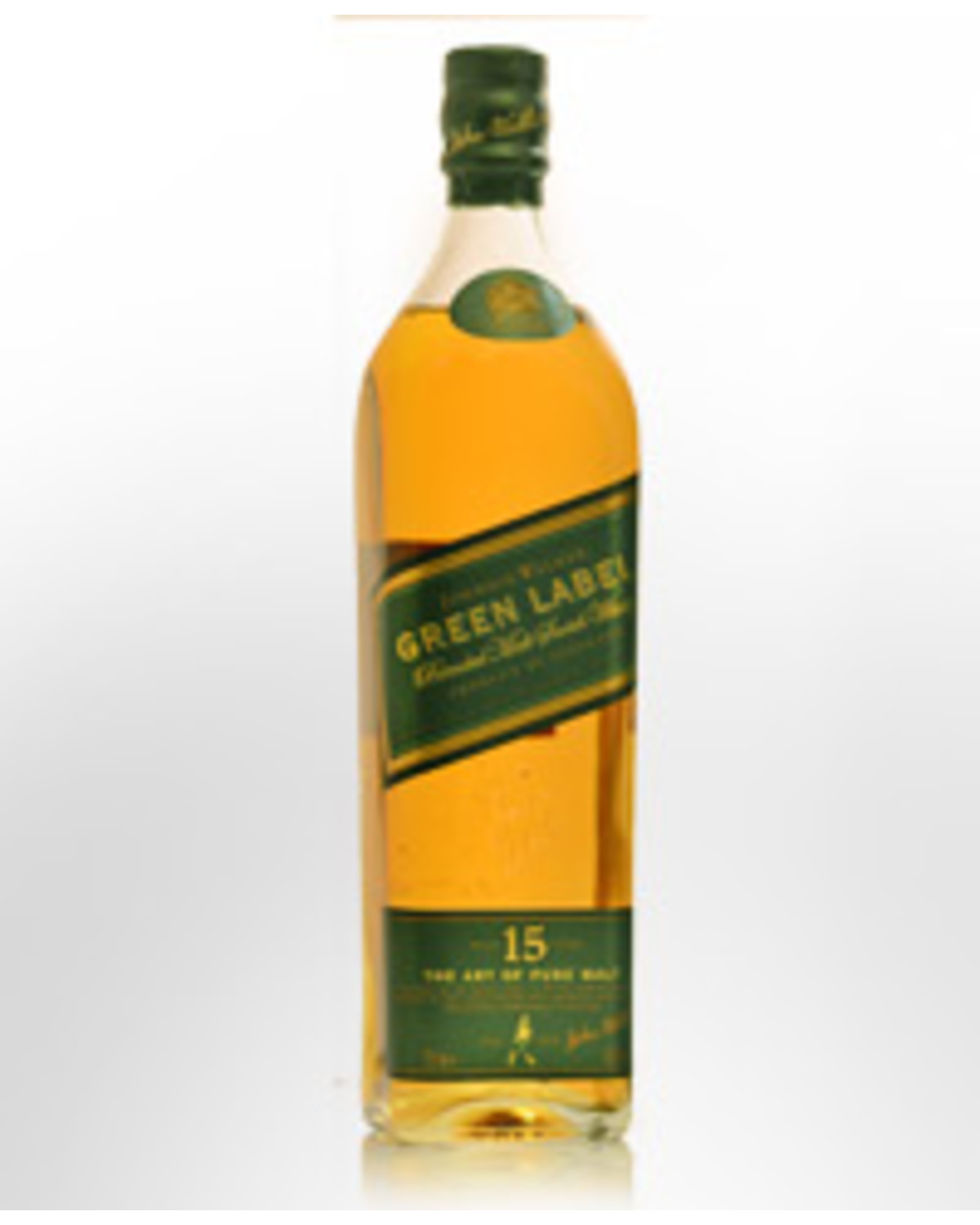 Johnnie Walker Green Label Pure Malt Scotch Whisky (700ml)
Johnnie Walker's origins go back as far as 1820 when Walker blended his original 'Kilmarnock Whisky' and began selling it from his grocery shop. The location of the shop had a great deal to do with Walker's success. Situated on a main trading route near an old poll gate, the shop attracted passing merchants and locals. It was through these travellers that the whisky's fame quickly spread.
The Walker family began buying some of Scotland's finest distilleries over 100 years ago. Now, with over 27 malt whisky distilleries in ownership, the company doesn't have to look too far for the very best Highland malts. They cannot only choose from the cream of the crop, but have also acquired over one hundred years' distilling experience in the process, guaranteeing the quality of their whisky well into the future.
'...I love this stuff... this is exactly how a vatted malt should be and one of the best samples I've come across since its launch.' - 94 Points, 2009 Jim Murray's Whisky Bible.
The now discontinued Johnnie Walker Green Label was the only whisky in the Johnnie Walker range to carry the 'Blended Malt Scotch Whisky' certification. Blended Malt Scotch Whisky is the new certification replacing the older term 'Vatted Malt' which indicates that the whisky has been blended exclusively from single malts, and not blended with inferior, inexpensive grain whisky.
Tasting Notes: Johnnie Walker Green Label is instantly recognisable as a Johnnie Walker blend with a flavour profile reminiscent of the Black Label bottling. The colour is deep gold, indicative of the whiskies age. The nose reveals fresh and slightly fruity aromas with hints of mango and toffee followed by the trademark whiff of peat & sea air that is the heart of most of the Walker blends. The palate is exceptionally smooth, mellow and honeyed; its multi-layered taste gradually reveals a smooth integration of classic Highland flavours, from pine-nuts to honey, dried fruits and then peat. Excellent spicy, warming finish with a distinct echo of peat smoke. 43% Alc./Vol.
Other reviews... Nose: Full, mellow and elegant. It starts quite restrained . Tangerine, soft chewy fruitiness with apricot jam. Smoky seaside aromas and a custard creaminess and baked apple/ginger with water. Phew. Palate: Soft with good silky/waxy mouthfeel. Cooked apple then heathery smoke. Superb balance. Finish: Heathery. Comment: Subtle and beautifully balanced. A sophisticated drink which will ease blend drinkers into malts – and vice-versa.
Rating: 80 - tasting note sourced from David Broom, www.whiskymag.com
*Please note: This stock does not come with a presentation box.