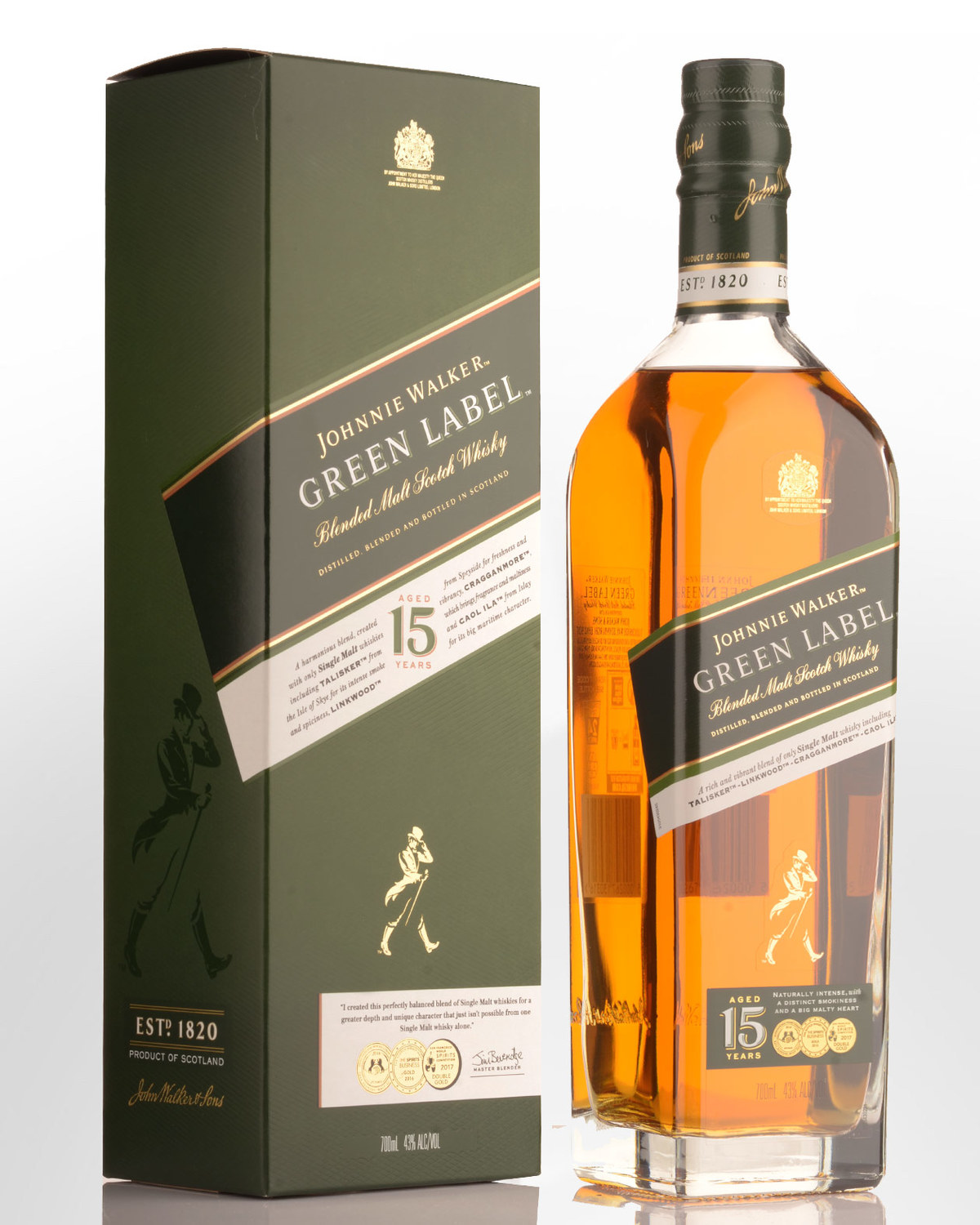 Johnnie Walker Green Label 15 Year Old Blended Malt Scotch Whisky (700ml)
'...God, I love this stuff... this is exactly how a vatted malt should be and one of the best samples I've come across since its launch.'


- 95 points, Jim Murray's Whisky Bible 2017.
Johnnie Walker Green Label is the only whisky in the Walker range to carry the 'Blended Malt Scotch Whisky' certification. It replaces the older term 'Vatted Malt' and indicates that the whisky has been blended exclusively from single malts, and not blended with inexpensive grain whisky.
The Walker family began buying some of Scotland's finest distilleries over 100 years ago. Now, with over 27 malt whisky producers in ownership, the company doesn't have to look too far for the very best material. They can choose from the cream of the crop, and have also acquired over a century of distilling experience in the process, guaranteeing the quality of their whisky well into the future.
Undisputed as one of the all-time classics in its genre, Green label is instantly recognisable as a Walker blend, with a profile of fresh and slightly fruity aromas with hints of mango and toffee followed by the trademark whiff of peat & sea air that distinguishes most of the JW stable.
Tasting note: Brassy gold / impeccable clarity. A sophisticated, expressive nose offers an assemblage of soft, sweet peat, oatmeal biscuit, dried mango / fig, white pepper with good freshness - sustained even after several minutes in the glass. Full and well rounded in the mouth with nipping spices carrying the malty attack, along with flavours of salted crackers, restrained peat and an oily-yet-crisp finish with strong staying power. The vivacious and intensely flavoured character of this vatting will keep you coming back time and again. Forget Blue Label: Green and Gold remain the stars in the JW line up. 43% Alc./Vol.
Other reviews... Just as complex as Johnnie Walker Gold, but fuller and more richly textured. (Not surprising, given that there are no grain whiskies in Johnnie Walker Green.) This is one of the finer vatted malts on the market. Its flavors are well-integrated. You'll find creamy toffee and nougat at its core, which is then layered with notes of vanilla, mint, fresh brine, and even a hint of mustard seed. Excitingly fresh and vibrant on the finish. A whisky for both the blend and single malt drinker. And at the price, it is also fairly valued for an all-malt whisky.
89 points - www.maltadvocate.com (Summer 2005) Reviewed by: John Hansell