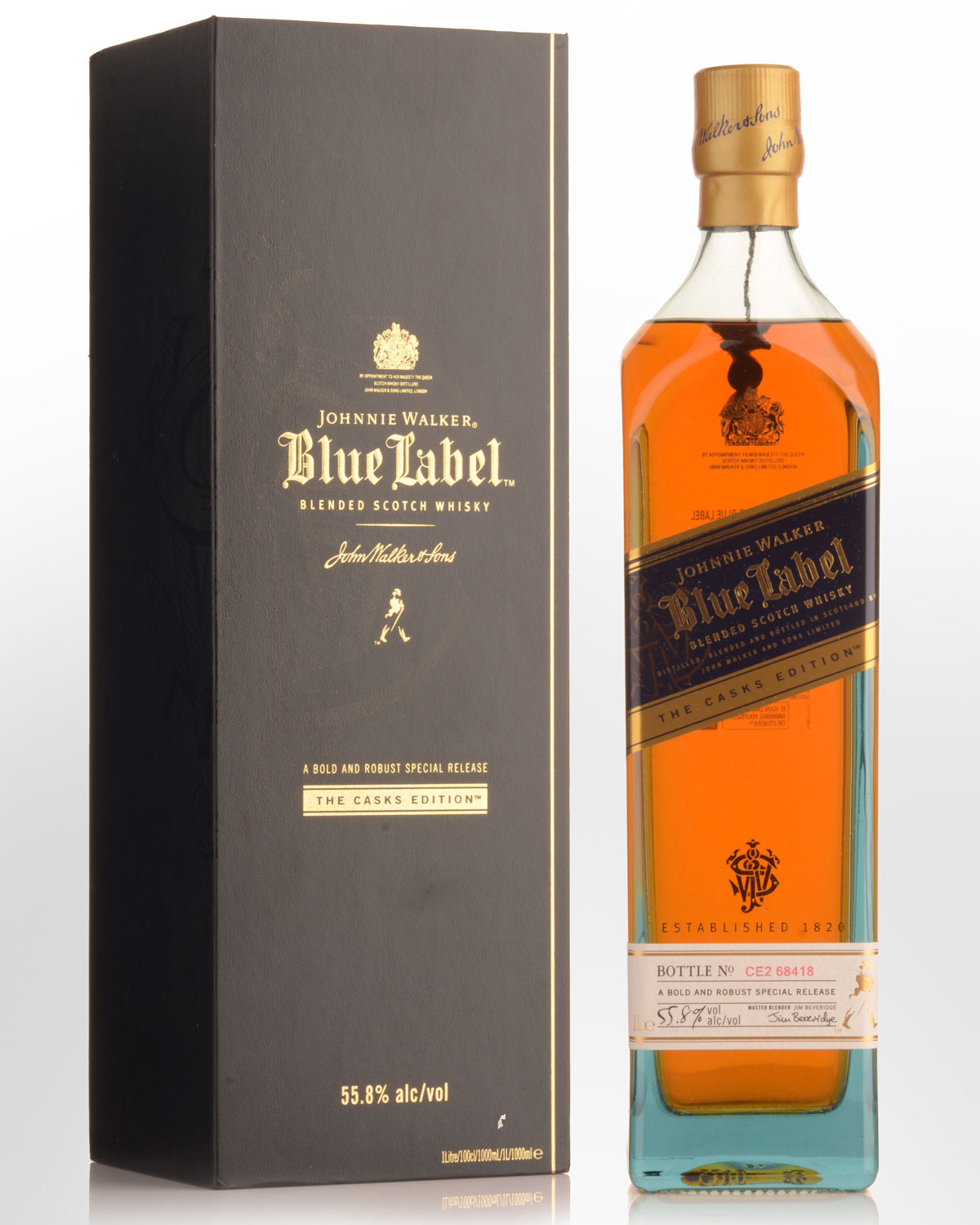 Johnnie Walker Blue Label The Cask Series Special Release Cask Strength Blended Scotch Whisky (1000ml)
Note: Box has come from a private collection and as such has some minor scuffing/scratches/handling marks.
"A triumph of Blending" 97 points.
- Jim Murrays Whisky Bible 2014.
If you've been a little underwhelmed by Johnny Blue of late, this might persuade you to revisit the brand: A super limited natural strength bottling of the world famous super blend. This has been a game changer for more than a few 'malt-only' devotees, however, it's only ever been scheduled for Travel Retail. Named "Blue Label 'The Casks Edition'", it's blended from a small selection of their finest casks that were hand picked by Walker's Master Blender, Jim Beveridge. He comments, "Only one in ten thousand of our casks have sufficient character for Blue Label and in creating this special edition we really wanted to showcase the incredible flavours that come from the casks themselves".
Tasting note: Deep amber gold with considerable legs. Patience is key here as this gradually unfolds over 5-10 minutes, developing from a shy and slightly off-key opening , to toasty grains, smoked almonds, dusty cocoa and soft whispers of smouldering, earthy peat. The later stages offer up dried fig, poached pear and manuka honey plus added sweet spice. So poised and softly spoken you would never believe the ABV.This is light on its feet, yet densely packed and almost impossibly wound up with orchard fruits, honeyed cereals and smoke in such a seamless way that it's difficult to identify individual flavours. Concludes with a delicate earthy, peaty tang. Subtle but long. A little water broadens the profile and expands the fruity-cereal aspect. 55.8% Alc./Vol.
Other reviews... You don't mess with the Johnnie Walker brand name casually, so we expect greatness, and boy, do we get it here. This has a dusty, smoky nose with dried apricot and grape, and the whisky is gossamer-soft on the palate, with sweet pear and honey evolving on top of an oaky rich heart before a tidal wave of pepper and peat, and a delightful spice smoke and oak conclusion. Magnificent. 94 points
- www.maltadvocate.com.au, (Winter 2012) Reviewed by: Dominic Roskrow