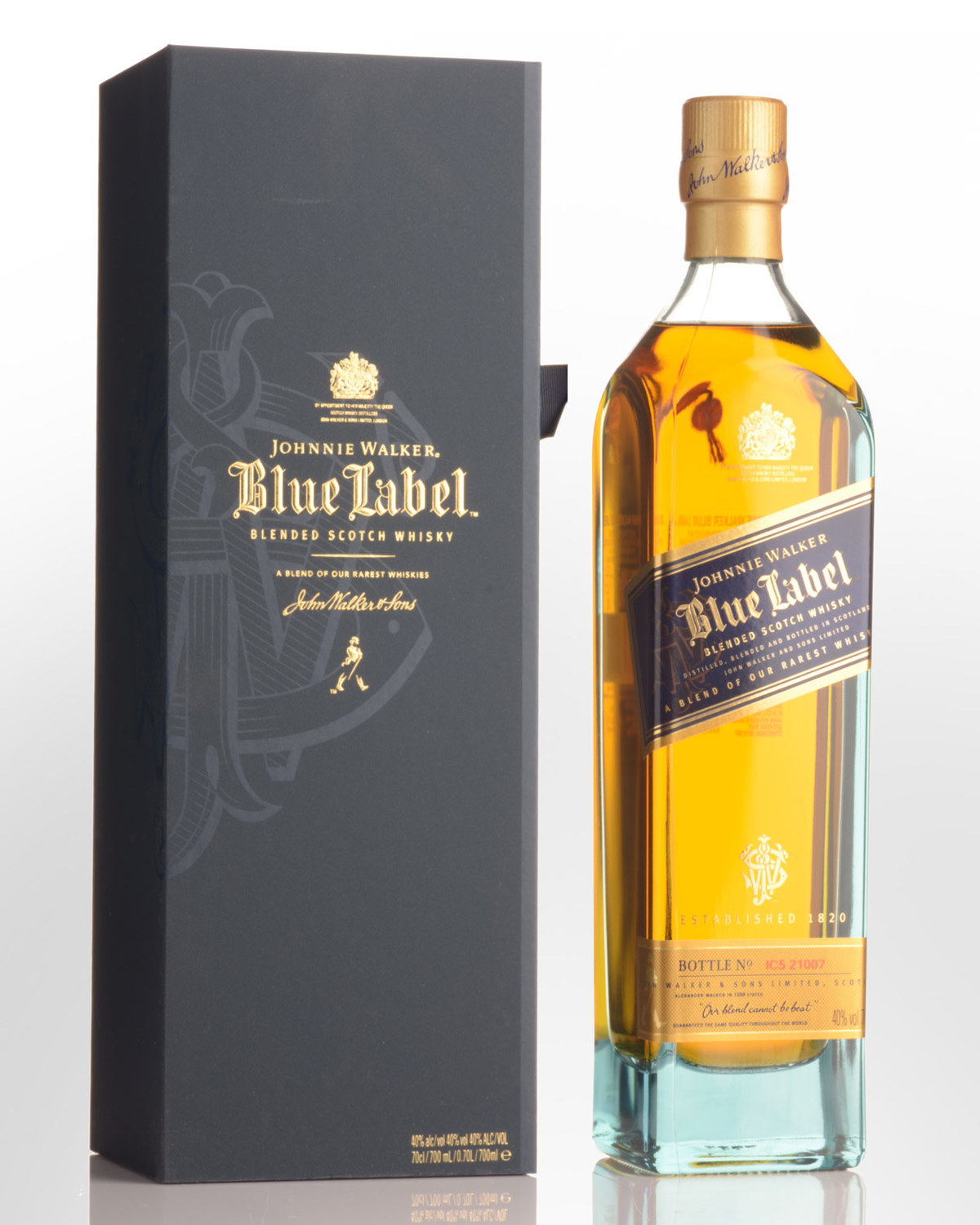 Johnnie Walker Blue Label Blended Scotch Whisky (700ml)
Is this the Holy Grail of blended Scotch Whisky?
The Blue Label blend echoes early pioneering days when Johnnie Walker would select a small number of whiskies in his own local grocery shop in order to create an outstanding blend for the specific tastes of a highly valued customer. John Walker and his son Alexander began their earliest blending experiments using a limited range of whiskies, drawn mainly from the islands, the western and northern Highlands and a few distilleries in Speyside. After rejecting whiskies that didn't meet their standards, they found that the very best were strictly limited in supply. Following their lead, the Johnnie Walker master-blender developed Blue Label as a celebration of the founder's unremitting standards for only the highest quality whisky.The blend is similar to the taste and character of some of the earliest whisky blends created in the 19th century, possessing a traditionally rich peaty taste combined with an exceptionally smooth, deep, distinctly malty flavour. Whiskies of up to 60 years old contribute to its character.
In 1993, a panel of international experts at the International Wine and Spirit Competition awarded Johnnie Walker Blue Label its most prestigious medal, the Gold Medal for the Best Blended Whisky. Indeed this is a venerable whisky and one that would have been much appreciated by Walkers clients. A toasty, sweet aroma is complemented by a peaty and spicy taste that develops into heady flavours of oak, dark-chocolate and rich fruitcake. Comprising 16 of the world's rarest whiskies, Blue Label is dominanted by Islay malt whisky, and balanced by several rich Speyside malts that have undergone exceptional periods of sherry oak maturation.
Other reviews… Nose: Opens very slowly to reveal a mass of aromas: lanolin, smoke, hessian, dried fruit, polished wood floors, oak, liquorice, cake, silky red fruit, cream. Palate: Hold it in the mouth and there's allspice, sultana cake, crisp malt, bung cloth, turfy smoke which builds in intensity as the whisky opens. Finish: Long, smoky, but also fruit pastilles. Comment: This needs time. Right enough at this price you're hardly going to shark it back. Rating: 90 - David Broom, www.whiskymag.com
Nose: Perfumy. Lime skins. Juniper. Slightly sweet spiciness. Tobacco? juicy oak. Palate: Beautifully rounded. Voluptuous. Ginger cake. Marzipan. Nuts. Pears in chocolate. Finish: Flowery dryness. roses. Long, lingering. Comment: A lovely, luxurious whisky. 40% alc./vol.
Rating: 93 - Michael Jackson, www.whiskymag.com
 Click here to learn more about Scotch Whisky