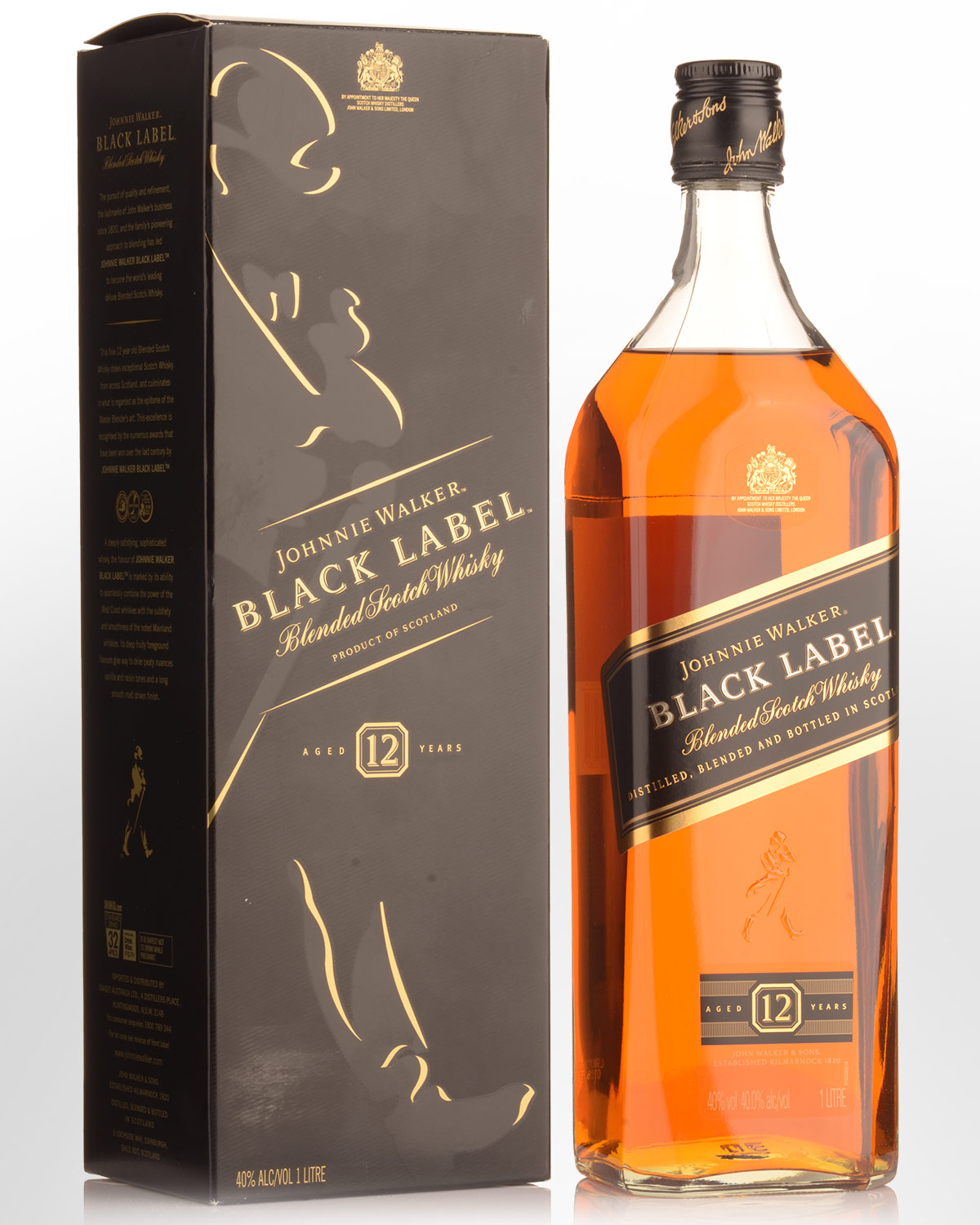 Johnnie Walker Black Label 12 Year Old Blended Scotch Whisky (1000ml)
Black Label was first introduced in 1910 although its origins go back as far as 1820 when Walker blended his original 'Kilmarnock Whisky' and began selling it from his grocery shop. The location of the shop had a great deal to do with Black Labels success. Situated on a main trading route near an old poll gate, the shop attracted passing merchants and locals. It was through these travellers that the whiskys fame quickly spread.
This aged version of the classic Red Label enjoys a similar cult following. Its unique complexity is achieved by expertly blending an extremely diverse, but complementary range of malt whiskies, each of which has been matured for a minimum of 12 years and some for much longer. In total, up to 40 malts and grain whiskies make up the Johnnie Walker Black Label blend. Island and Islay malts deliver spice, richness and lingering peat. Speyside malts make an important contribution to the depth of taste, bringing smoky malt, fruitiness, apple freshness and a rich sherry character to the blend. At the heart of Black Label lies 12 year old Cardhu, an outstanding malt from Speyside, which imparts silkiness, a characteristic which has made it famous as a single malt.
To date, Black Label has won more international awards for excellence than any other deluxe whisky. In the 1880s, Old Highland won medals in Sydney and Paris. Over 100 years later, in 1994, Black Label picked up gold medals at the 1994 Monde Selection Awards and the International Wine and Spirit Competition (IWSC), where it also won a trophy for Best Blended Whisky. In 1996, it won gold again at IWSC for the best deluxe Scotch Whisky.
Black Label has many admirers, but perhaps none so famous or devoted as Sir Winston Churchill, whose still life painting 'Bottlescape' (1932) proudly captures the familiar contours of his whisky of choice. Indeed, the company's old timers recall the Herculean efforts required to keep the British PM supplied with his favourite tipple during wartime rationing!
Other reviews… Nose: Rich. Maple syrup, spices and mustard. Can a whisky have a hint of acidity on the nose? Yes, but rahter the acidity of a Lenny Bruce rather than of vinegar. Palate: Marijuana. Big interplay of smoky dryness, spicy heat and sweetly malty, creamy vanilla. Finish: Rounded with raisiny sherry. At length, mellow. Comment: Is Black Label a great whisky? Was Dizzy Gillespie a great musician? Rating: 90 -Michael Jackson, www.whiskymag.com