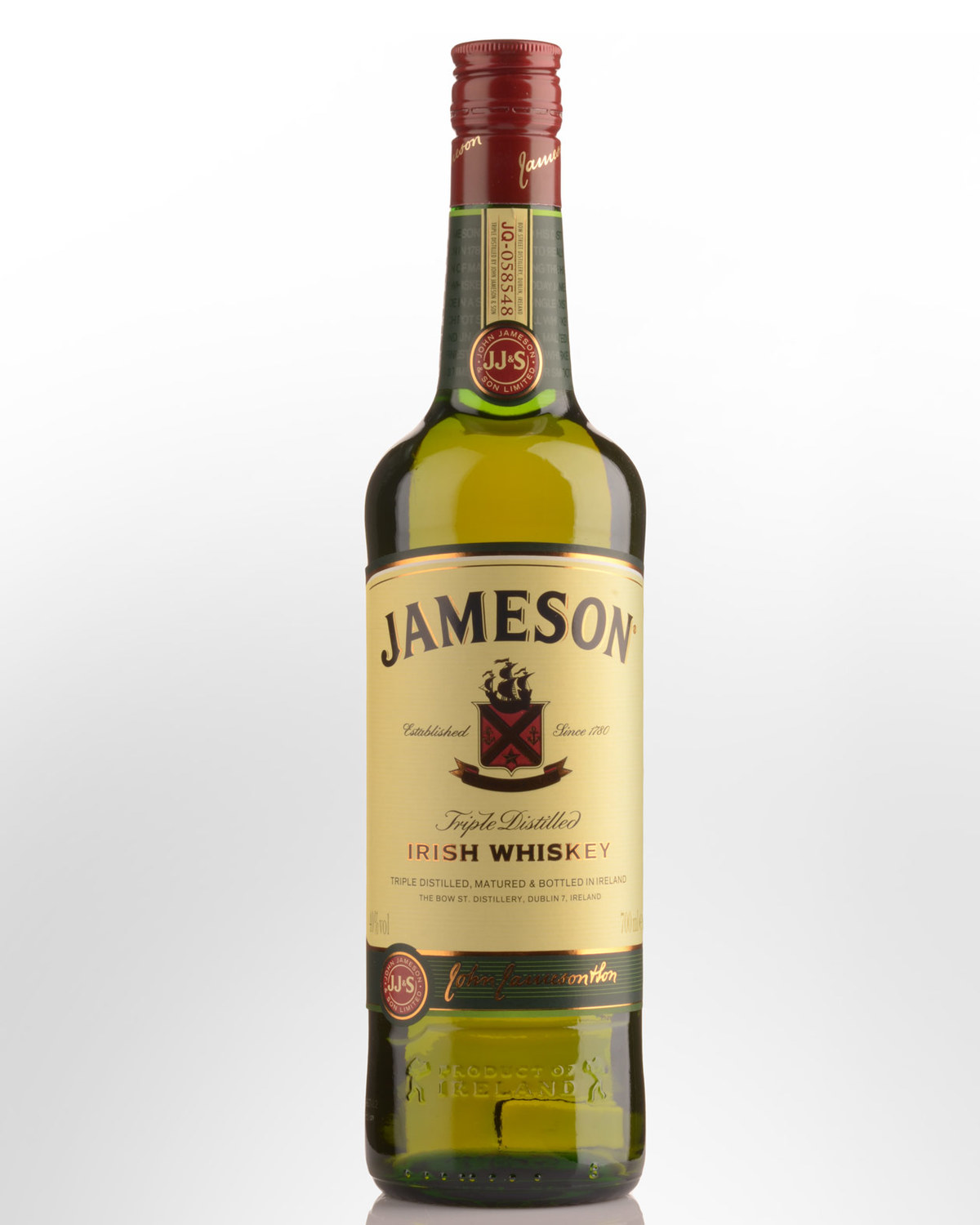 Jameson Blended Irish Whiskey (700ml)
No bar is complete without a bottle of Irish Whisky, and more than likely that whisky will be Jameson's - a timeless spirit combining the ancient traditions of Irish Whisky-making with a contemporary expertise.
In 1780, John Jameson established his distillery in Bow Street, Dublin. Determined that his whisky would be the finest in the world, he laid down rules for quality that have been maintained to this day. John Jameson was fastidious as a whisky maker and patriarchal as an employer. His dedication to quality went through every aspect of the business, from the barley strain, which he encouraged the farmers to grow, to the choice of sherry casks used for maturation.
The growth enjoyed by Jameson Irish Whisky in the 1960s meant that expansion of facilities became necessary. In 1975, production was moved to the Midleton Distillery, Co. Cork. The new Distillery has remained true to the original methods and standards. Today, the Midleton Distillery is acknowledged as one of the finest whisky distilleries in the world with world wide sales of 1.5 million cases a year.
Triple distilled for smoothness, Jameson Irish Whisky's production process differentiates it from Scotch and American whisk(e)ys. Made with pure water and a combination of malted and unmalted barley, the malted barley or malt is dried by warm air. This ensures that smoke does not come into contact with the grain and that the natural taste of the barley shines through in the final whisky. This is unlike the Scotch production process, in which peat smoke is blown through the malt and flavours it.In Ireland, one of the secrets of making whisky lies in the slow, triple distillation in copper pot stills. This method of distilling gives the whisky its remarkable smoothness and round flavour. Other whiskys are distilled only once or twice. Meanwhile, the mellow, sweet taste of Jameson Irish Whisky is attributed to the length of time the spirit is allowed to mature in seasoned American and Sherry oak casks.
Tasting Note: Light gold hue. Floral aromas abound over a grainy background. A typical Irish blend - nutty, sweetish palate, relatively simple and light-bodied but exceptionally smooth and clean. Ends shortish with a sweet grainy aftertaste and a lovely, mild spririt warmth. Almost liqueur like in texture. Excellent value. 40% alc./vol.

Other reviews… Nose: Very aromatic. Waxy orange skins. Linseed oil. Leather. Palate: Big, oily, creamy, sociable. Finish: Delicate. Peppery. More-ish. Comment: A superb Irish for everyday drinking. I love this, though not quite as much as the 1780.
Rating: 75 -  Michael Jackson, www.whiskymag.com
'The inclusion of extra pot still is one thing; getting the balance as fine as this is something else. Truly magnificent: this is the current Irish masterpeice. As classically Irish as someone called Seamus O'Grimmins. '
Rating: 95- Jim Murrays Whisky Bible 2006.


Classic Cocktail: The Irish Coffee

Joe Sherdian, a barman at Foynes 'Flying Boat Terminal' (now known as Shannon International Airport) in Ireland, orignally prepared this drink. Sheridan had a habit of greeting weary travellers sneaking into war-torn Europe on seaplanes from the United States with hot coffee laced with Irish whisky and topped with lighlty whipped Irish cream.
50ml Irish Whiskey
90ml Fresh Coffee
25ml Brown Sugar Syrup 
2.5cm Whipped Irish Cream
Method:
Combine the whiskey, coffee and syrup in a tody glass. Ladle 2.5cm of cream on top.
Variations include: Cafe Amore:
Amaretto and brandy.
Calypso Coffee:
Rum and Kahlua
. Jamaican Coffee:
Rum and Tia Maria.
Kioke Coffee:
Brandy and Kahlua.
Mexican Coffee:
Tequila and Kahlua.
- recipe taken from The Craft of the Cocktail, Dale DeGroff 2003
Click here to learn more about Irish Whiskey