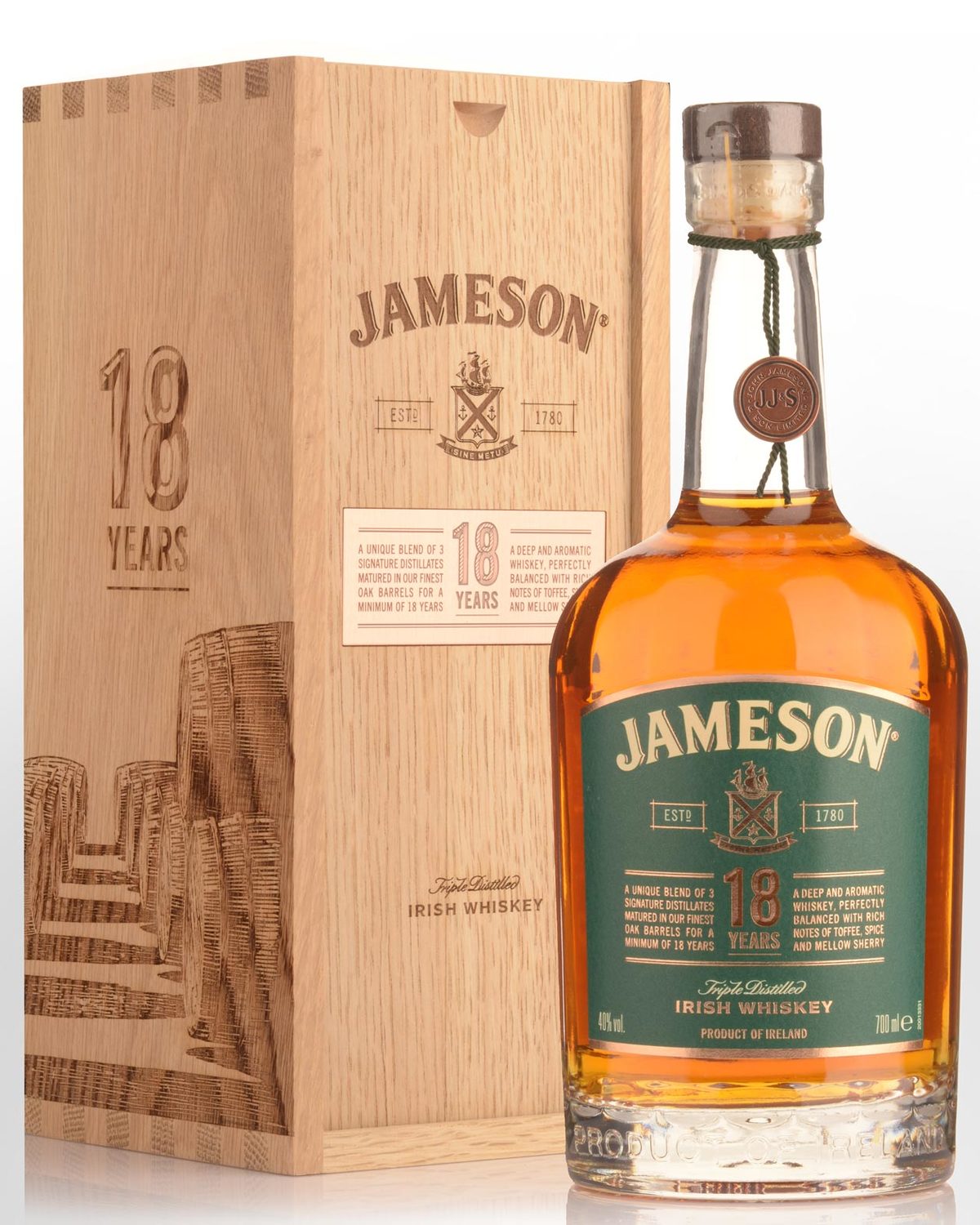 Jameson 18 Year Old Irish Whiskey (700ml)
Other reviews... Unmistakably Jameson on the nose, this is a belter of a whiskey: honey, apple, toasted coconut, creamy vanilla, and sublime pot still spiciness. This offers sweet toffee and caramel, bursting with spices, just a hint of sherry, Brazil nut, vanilla, creamy oak, and a caressing mouthfeel. A triumph that exemplifies the glories of pot still blending, and its sherry influence makes for a rich ending. 92 points - whiskyadvocate.com, reviewed by: Jonny McCormick (Summer 2018)
DOUBLE GOLD MEDAL - San Francisco World Spirit Awards 2019 & 2017.
In 1780, John Jameson established his distillery in Bow Street, Dublin. Determined that his whisky would be the finest in the world, he laid down rules for quality that have been maintained to this day. John Jameson was fastidious as a whisky maker and patriarchal as an employer. His dedication to quality went through every aspect of the business, from the barley strain, which he encouraged the farmers to grow, to the choice of sherry casks used for maturation. Jameson Irish Whisky's production process differentiates it from Scotch and American whisk(e)ys in two main ways: Firstly, a combination of malted and unmalted barley is dried by warm air. This ensures that smoke does not come into contact with the grain and that the natural taste of the barley shines through in the final whisky. This is unlike the Scotch production process in which peat smoke is blown through the malt flavouring it. Secondly, the Irish place great emphasis on slow, triple distillation in copper pot stills. This method of distillation gives the whisky its remarkable smoothness and round flavour. Other whiskys are distilled only once or twice. Meanwhile, the mellow, sweet taste of Jameson Irish Whisky is attributed to the length of time the spirit is allowed to mature in seasoned American and Sherry oak casks. Jameson 18 Year Old is the supreme expression of this production process - matured in Spanish Oloroso Sherry casks for 18 years, then left to marry and settle in small American Bourbon barrels imparting additional maturity and complexity.
Notes from Jameson... The nose displays muted sherry notes, aromatic oils, a touch of wood, spice & toffee. The palate is wonderfully mellow, smooth and full of complex flavours - toffee, spice, hints of wood, a gentle sherry nuttiness, vanilla...a long lingering finish draws the theme of wood, toffee and spice to its conclusion.