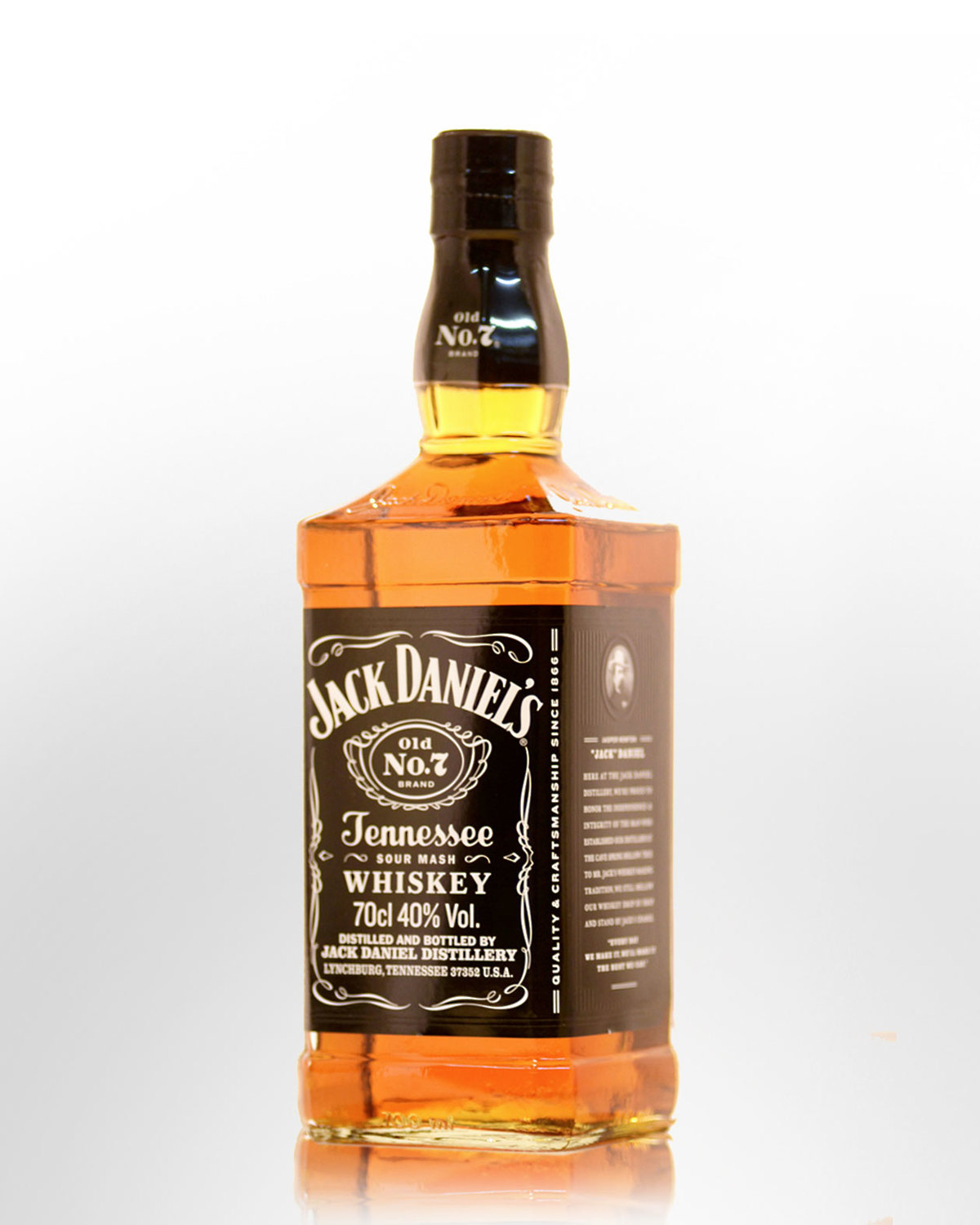 Jack Daniels Tennessee Whiskey (700ml)
Bourbon holds a special place in American culture. Its origins are linked to the beginnings of the country. In the late 1700's , settlers streamed westward taking their household arts with them including the art of distilling. They found Kentucky to be ideal for the production of whiskey. Corn was plentiful and pure water gushed from deep underground limestone springs. It is an interesting twist of history then, that the oldest and most well known name in American whiskey production, Jack Daniel's, actually had it's inception in Lynchburg, Tennessee (pop.351) (what'smore, Lynchburg is designated a dry area!)
Jack Daniels, born in 1846, purchased his own still at the age of 13 and by the time he was twenty, owned his own distillery. His full name was Jasper Newton Daniel, born to a large family (he was the tenth child). Nicknamed 'Jack,' he left home at an early age and learned his craft in whiskey making from Dan Call, a Lutheran preacher In 1904, he entered his whisky in the World Fair in St.Louis and was awarded first prize. Mr. Daniel never married but was seldom without female companionship. Known to be a very kind and generous man, he donated plenty of money to the local churches and charities (and also paid for the musical instruments to start the Original Silver Cornet Band ). When Jack Daniels died after kicking a safe door and contracting gangrene in his foot, the business was successfully carried on by his nephew, Lem Motlow.
Aged four to six years, the distinctive pungent nose and powerful flavour of Jack Daniel's have made it a favourite around the world; and although some find it too assertive, there can be no denying its quality. Mr.Daniel's promise that 'Every day we make it, we'll make it the best we can' is perpetuated to this day with an almost religious devotion.
Little known fact... Strictly speaking, Jack Daniel's is not considered a bourbon because it is charcoal-mellowed -- slowly, drop by drop, filtered through sugar-maple charcoal -- prior to aging, which many experts say gives it a different character. The process, called the Lincoln County Process, infuses a sweet and sooty character into the distillate as it removes impurities. Up to and after the charcoal filtering however, the Jack Daniel's production is much the same as any other Bourbon. We'll leave it to you to make up your own mind!
Other reviews... Golden amber color. Muted, faintly fruity, burnt caramel nose reveals heat. A brisk entry leads to a light-bodied palate with sharp, charred oak, and toffee notes. Finishes in hot manner with a burnt, ashy character. International Review of Spirits Award: Bronze Medal Rating: 81 - tastings.com... The nose is thick, oily, smoky, dense, corn syrupy... it's Jack Daniels. Sweet, fat, chewy, various types of burnt notes: toffee, toast, etc. etc... Quite a sweet, fat and toffeed finale. A quite unique whiskey, at which many American whiskey connoiseurs turn up their noses. I always think it's worth the occasional visit: you can't beat roughing it a little. 40% Alc/Vol. Rating: 87 - Jim Murray's Whiskey Bible, 2006

Click here to learn more about Bourbon Whiskey.