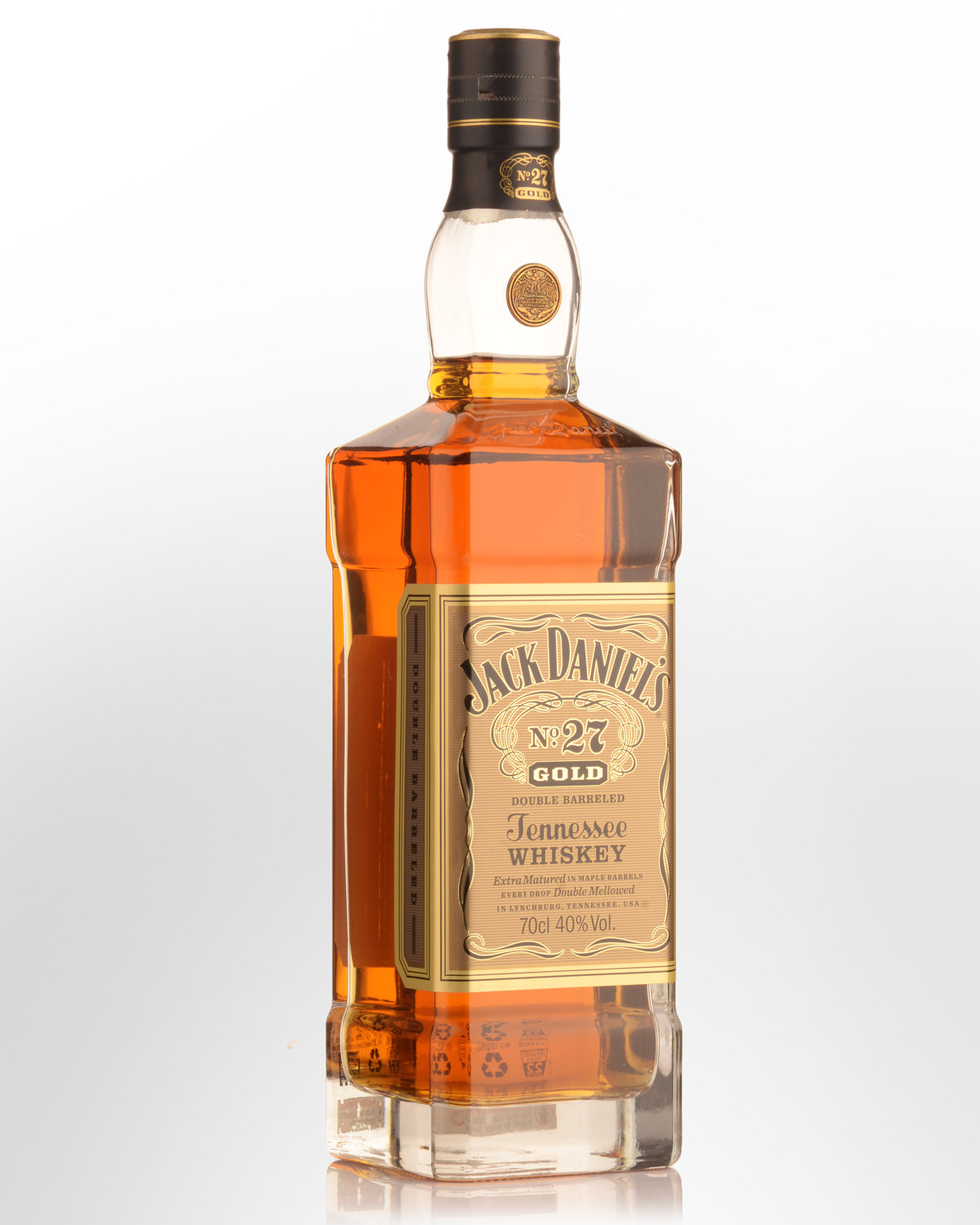 Jack Daniels No. 27 Gold Tennessee Whiskey (700ml)
JD's luxury bottling, finished in charred maple barrels for extra richness.
Originally scheduled for Duty Free release only, No. 27 Gold promises a richer expression of the distillery's original Old No. 7. Crafted to the same standards, 'Gold' earns its name from double barreling and double mellowing. In short, this Jack is extra-matured in golden-hued maple barrels and twice charcoal mellowed. Master Distiller, Jeff Arnett says you should expect "...subtle hints of rich, warm maple and toasted oak on entry giving way to a complex medley of fruit." He added that the double charcoal mellowing process provides an "exceedingly smooth" finish that works especially well with the maple barrels. The extra time and attention required to craft this spirit makes it the perfect dessert whiskey, but means No. 27 is unlikely to remain a permanent addition to the portfolio. If you can find it at the right price, grab one before it disappears for good. 40% Alc./Vol.
Other reviews... Like opening a lunchbox in elementary school: you'll find the distinct aromas of peanut butter sandwich with strawberry jam and a smear of Marshmallow Fluff, plus a Little Debbie Oatmeal Cream Pie, and some apple blossom and tea rose. Soft and sweet in the mouth, with plenty of fruit and flowers: banana split topped with crushed pistachios, rose oil, white chocolate, halva. This whiskey is finished in charred maple barrels and undergoes a second filtration with the Lincoln County Process. 87 points - whiskyadvocate.com, reviewed by: Susannah Skiver Barton 2019
...There's no mistaking that maple barrel. It's aggressive on the nose, offering tons of classic maple syrup and a distinct banana aroma that gives it a strange, almost tiki-like bent. A curious fruity-spicy note underneath invokes notes of raisin bread and maraschino cherries. On the palate, a wave of caramel hits, followed by a load of additional maple character. Spices including nutmeg and cinnamon arrive soon after, followed by waves of overripe fruit. This is a very sweet whiskey, and it only gets stronger and stronger as it develops in the glass and on the tongue. The finish finds notes of milk chocolate and more of that banana character, here becoming almost candylike. Did I mention the maple? The impact of that maple barrel is profound and, frankly, a bit too intense for everyday drinking, culminating in a whiskey that ends up dialed a bit too far to the sweet side of things for may tastes. That said, rabid Gentleman Jack fans may want to pay a bit closer attention to this release. - drinkhacker.com