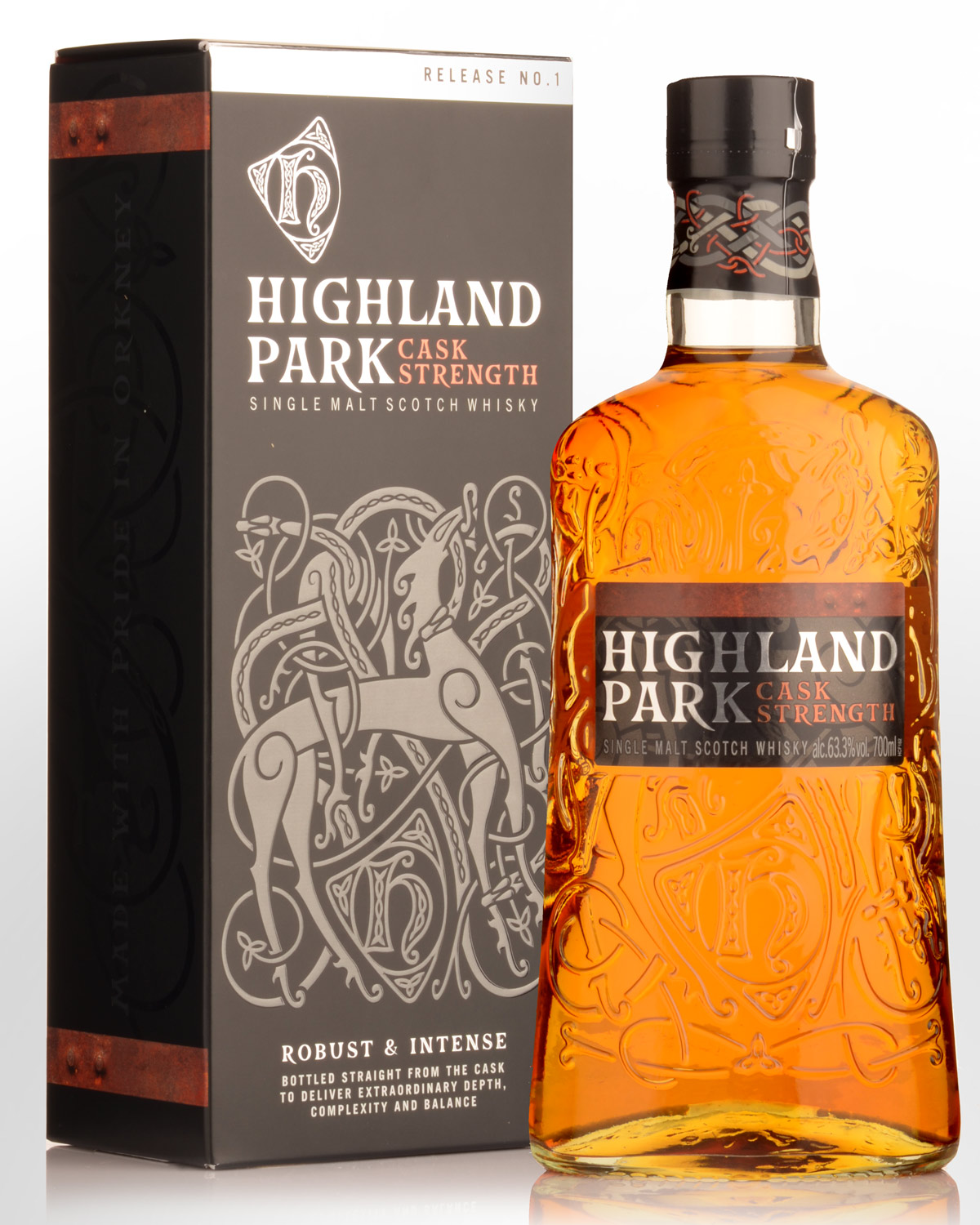 Highland Park Cask Strength Release No.1 Single Malt Scotch Whisky (700ml)
Hats off to Highland Park for releasing this high proof stunner. First edition, so be quick before collector madness kicks in!
Sold out from the distillery website and major UK retailers, this is the Highland Park many have been waiting for: The first ever official core-range cask strength whisky (that excludes private bottlings and international exclusives). Matured for the most part in sherry seasoned American oak and weighing in at a mammoth 63.3% and the good news is, there's more in the pipeline with each edition expected to be slightly different from the rest.
Tasting note: Deep amber gold. Wafts of alcohol resolve into heather honey, new leather, orange spice cake and later, fruit cake. Trace chimney soot but remains more coastal than smokey. The nose plays second fiddle to the delivery, and it's pedal to the metal all the way. A fabulous attack of honeyed cereals followed by bittersweet chocolate, pepper and a tang of coastal freshness. Huge, huge, honeyed distillate, and with none of the sulphur taint found in several recent private bottlings. Moderate sherry sweetness picks up at the finish bringing the merest hint of smoke. Rebounds late and develops with extended air contact. A rare treat. Why it's taken so long for this to surface is anyone's guess. 63.3% Alc./Vol.
Other reviews... Honey, bonfire smoke, orange peel, and a suggestion of treacle on the nose. Sweet and smoky on the palate, with toffee and orchard fruits turning more citric in time. The finish yields sweet spices, more honey, dark chocolate, black pepper, and bonfire embers. Classic Highland Park—turned up to 11! Editors' Choice. 92 points - whiskyadvocate.com, reviewed by: Gavin Smith (Winter 2020)
NAS and exclusively ex-sherry, not obligatorily the best of news. But this is HP… Colour: gold. Nose: a bit brutal, leafy and leathery, a tad sour, but also pleasantly coastal. Some vanilla, some raisins – apparently. But then again, 63.5% vol. The jury's out and far away… With water: some menthol and some kelp, some liquorice, tobacco, a little kirschwasser perhaps, some fresh bread… Looks like we're getting there indeed. Mouth (neat): this is huge and extremely sweet, rather bizarrely and contrastingly. I do detect some great signs of Highlandparkness, but I've decided that I would need my palate for the next twenty years. So… With water: yep, salty wine and earthy breads, that's all things we like. The sherry's a tad too noticeable to me, but that's me. Finish: long, salty, with some menthol and many breads. Lemon in the aftertaste. Comments: what a distillate! It even survived a full-sherry treatment, at such young age! Even if that was probably mainly refill. 86 points - whiskyfun.com
Notes from the producers... It is at once sweet and smoky on the nose, with aromas of violets and ripe vanilla pods amidst waves of aromatic peat smoke. On the palate, it is rich and full-bodied, with soft toffee, heather honey, freshly grated nutmeg, and sun-ripened citrus fruits that give way to an exotically spiced crème brûlée finish. Master Whisky Maker, Gordon Motion adds, "... its full flavour allows you the control to discover the taste and strength that appeals to your palate by adding ice or water according to your preference."