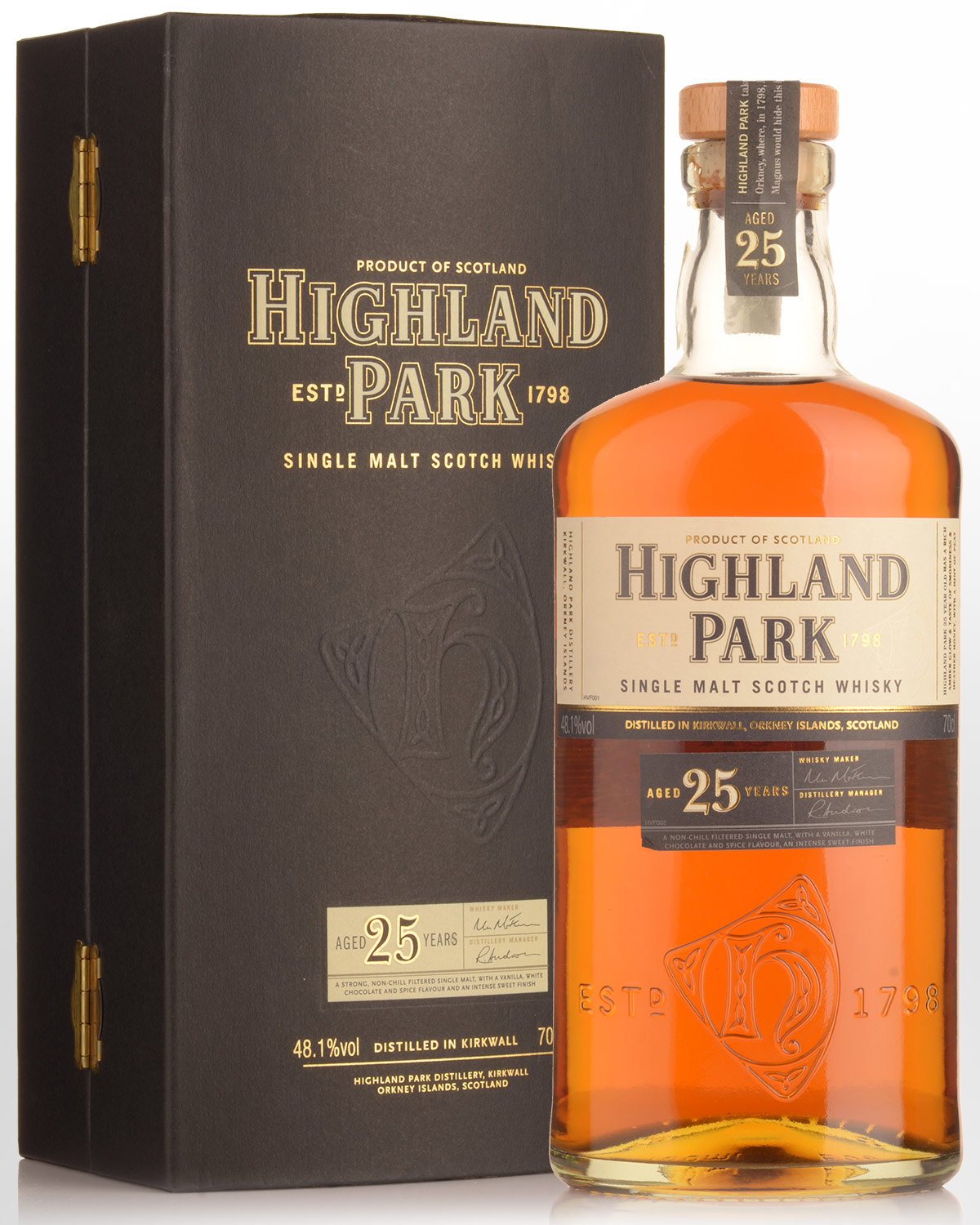 Highland Park 25 Year Old Single Malt Scotch Whisky (700ml)
Note: Product has come from a private collection and as such has some minor scuffing/scratches/handling marks. Actual product pictured. Old-style paper seal, no plastic.
Awarded: 'Best Single Malt Aged 22-27 Years (Multiple Casks)'- Jim Murray's Whisky Bible 2013.
Boasting 'the northernmost Scotch whisky Distillery in the World' in Kirkwall, Orkney, the Highland Park Distillery has an intriguing history of illicit distilling and smuggling. Known as Kirkwall distillery until 1876, the name 'Highland Park' derives from the hill where the distillery stands, 'High Park'. The location was thought to be chosen for its water source and as a lookout against approaching exsicemen.
The distillery's glory days came in 1895-1897 when the Grant family came to into control, replacing the two existing stills with larger ones, and installing a further two in 1897. The sudden growth was however, short lived as a result of the closure of Pattisons Blending Co (one of the major blending companies at the time) in 1898, becoming the catalyst for a massive slow down within the Scotch whisky industry that lasted for close to 50 years. It is over this time that Highland Park dedicated their focus to building whiksy supplies, a move that would be rewarded In 1997 and 1998 with a succession new releases that set to become permanent members in the distillery portfolio. Highland Park 18 and Highland Park 25 year old are some of the oldest regularly supplied releases available in Scotch Whisky, a triumph in a time of desperity that is paying dividends.
Other reviews: (96 Points) - (n24) big aged oak amid the smoke and honey: it appears something a lot older has gotten in there....; uniquely complex and back to its very best; (t24) - silky and confident, every usual box is ticked - or even double ticked. Much more honey and smoke than i have seen here for a while and it's not all about quantity. What quality! (f24) - long with amazing degrees of oil, almost of the bourbony-corn variety! Helps keep those mind bending honeys coming! (b24) - i am a relieved man: the finest HP 25 for a number of years which displays the distillery's unmistakable fingerprints with a pride bordering on arrogance. One of the most improved bottlings of the year: an emperor of a dram. - Jim Murray Whisky Bible 2013