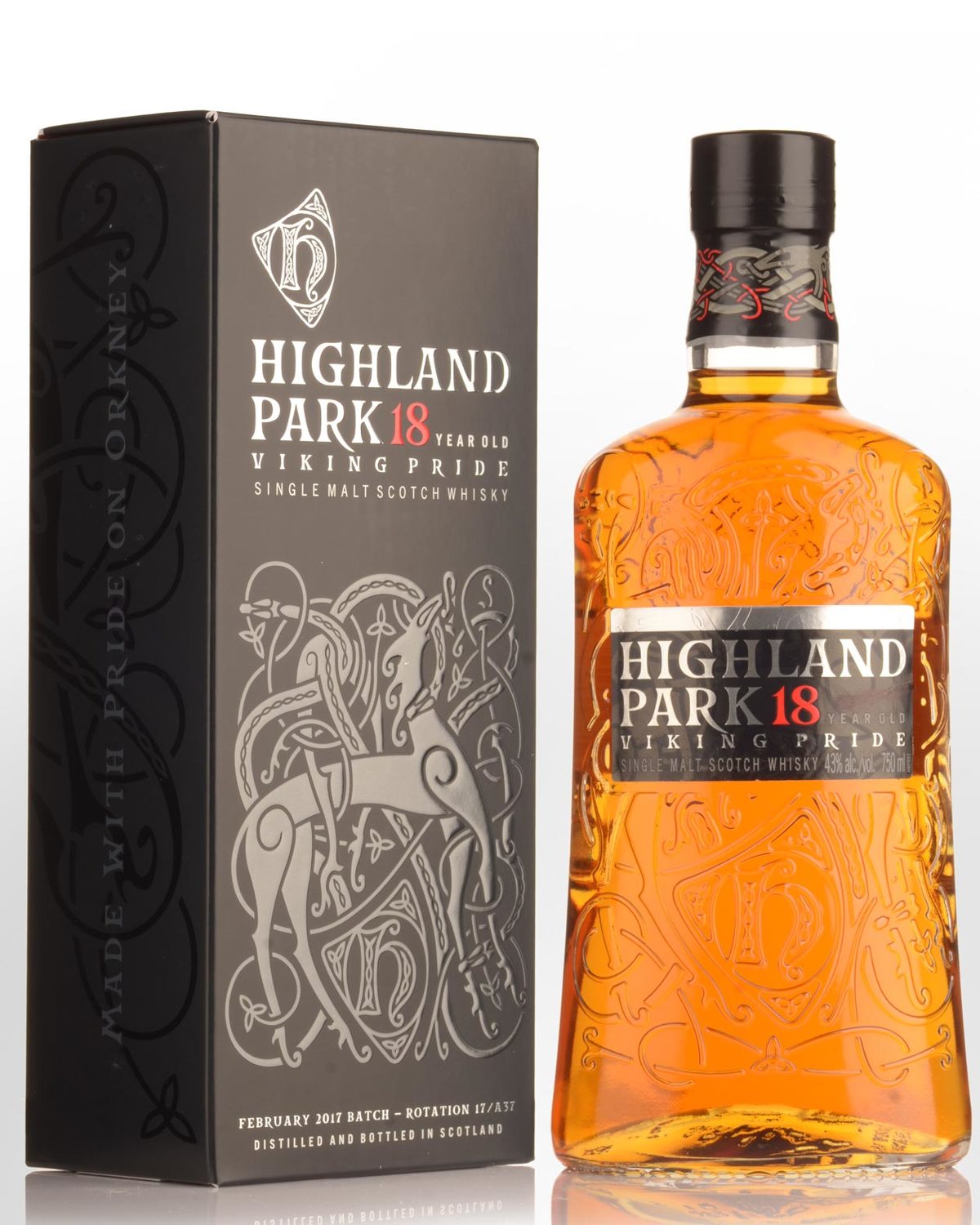 Highland Park 18 Year Old Single Malt Scotch Whisky (700ml)
"The very latest bottlings have been astonishing...a glass of something honeyed and dazzling awaits!"
95.5 points - Jim Murray's Whisky Bible
Perhaps more than standing stones, Neolithic settlements, a Viking Cathedral and Norse sagas, Orkney is famous for two distillieries: Scapa and Highland Park. The latter at 18 years of age has earned a place in the Scotch Whisky pantheon as one of the 'classics'. In short, a whisky every one should experience. Or, in the words of spirits writer, F.Paul Pacault,
"It fits my profile of what makes a perfect whisky. Which is to say it's totally in harmony. There are no rough edges and everything is melded together brilliantly".
Slow-burning, aromatic peat from Hobbister Moor and Sherry seasoned European oak casks result in a style that was once evocatively described as
"...An empty honey jar which once held peaty embers."
Tasting note:
Deep amber gold. A sophisticated sniff evoking nuances of dried fruits (fig, dates), honey, gristy malt and delicate brush strokes of sweet smoke. Later inhalations hint at waxy apple, orange spice cake, choc ripple cookie and cinnamon. After 5-10 minutes the nose drops off leaving dark chocolate and trace sulphur. Honeyed barley and sherry notes beautifully harmonise with earthy peat; the sweetness balanced by orange zest and a touch of salt...rebounds in the aftertaste. Almost full circle round the flavour wheel, and for that reason, one of the most quintessential of all Scotch single malts. Some tasters found the Sherry input slightly less than years gone by, but otherwise, about as good as it's been since the inaugural 1997.
43% Alc./Vol.
Other reviews... Gentle peat, soft toffee, floral notes, and honey on the beautifully fragrant nose. Superbly balanced on the velvety palate, with brittle toffee, stewed fruits, peat, honey, and a hint of coffee. Smoke and more toffee mingle in the long, elegant finish. 94 points - maltadvocate.com, reviewed by: Gavin Smith (Spring 2012)
… Nose: An empty honey jar which once held peaty embers. An enormous nose which seems to improve with each bottle I sample, though the characterstic salted butter is always present. Fabulous. Palate: Beautifully sweet: even sweeter than the 12 year old with peat on the back of the palate. Beautifully chewy, oily and substantial. Finish: Still peaty and now a little oaky. Cocoa and toffee cream compexity. Comment: This has to be my favourite Highland Park of them all, and each new bottle I taste (this was my sixth sample) seems to underline the overall class and consistency of this distillery. Brilliant..
95.5 points - Jim Murray's Whisky Bible.
...Copper. Rich roasted walnuts, caramel and spice on the nose. A soft, satiny entry leads to a dryish full-bodied palate of dried fruits, burnt caramel, peat, and heather. Finishes with a long fade of peat and honey with choice wood spice notes in support. Fantastically balanced. 95 points (Exceptional) - www.tastings.com
...An old favourite, haven't try the 18 since a good six years though. Loved it in 2011 (WF 88). Colour: pale gold. Nose: so typically HP! There's that heather honey that wasn't quite to be found in the 15 and Valkyrie, more roundness, more dried fruits (figs, dates, pears, raisins) and earth rather than smoke. Orange blossom, dandelions, honeysuckle, and some nice whiffs of humus and garden peat. In short his baby's more refined, and perhaps more civilised. Not quite Viking stuff this time, if you like. Mouth: indeed, a different world. Superb dried fruits mingled with some herbal syrup (Chartreuse, genepy, eucalyptus) and the expected honey, with a feeling of charred wood in the background. Rather a gentleman's HP, if you will. Finish: medium, a tad rougher and grassier, but still quite wonderful. Ah our good old HP 18!… Comments: a little less fan of the finish, but Highland Park 18 years old remains a classy classic. 2016 tasting.
88 points - Serge Valentin, www.whiskyfun.com
'...deep, smoky flavors, vanilla notes and lovely texture through the long finish. It's a wonderful whisky for a winter's evening.' - Gerald D. Boyd, San Francisco Chronicle.
'...nothing short of an aromatic miracle..' - The Spirit Journal, USA