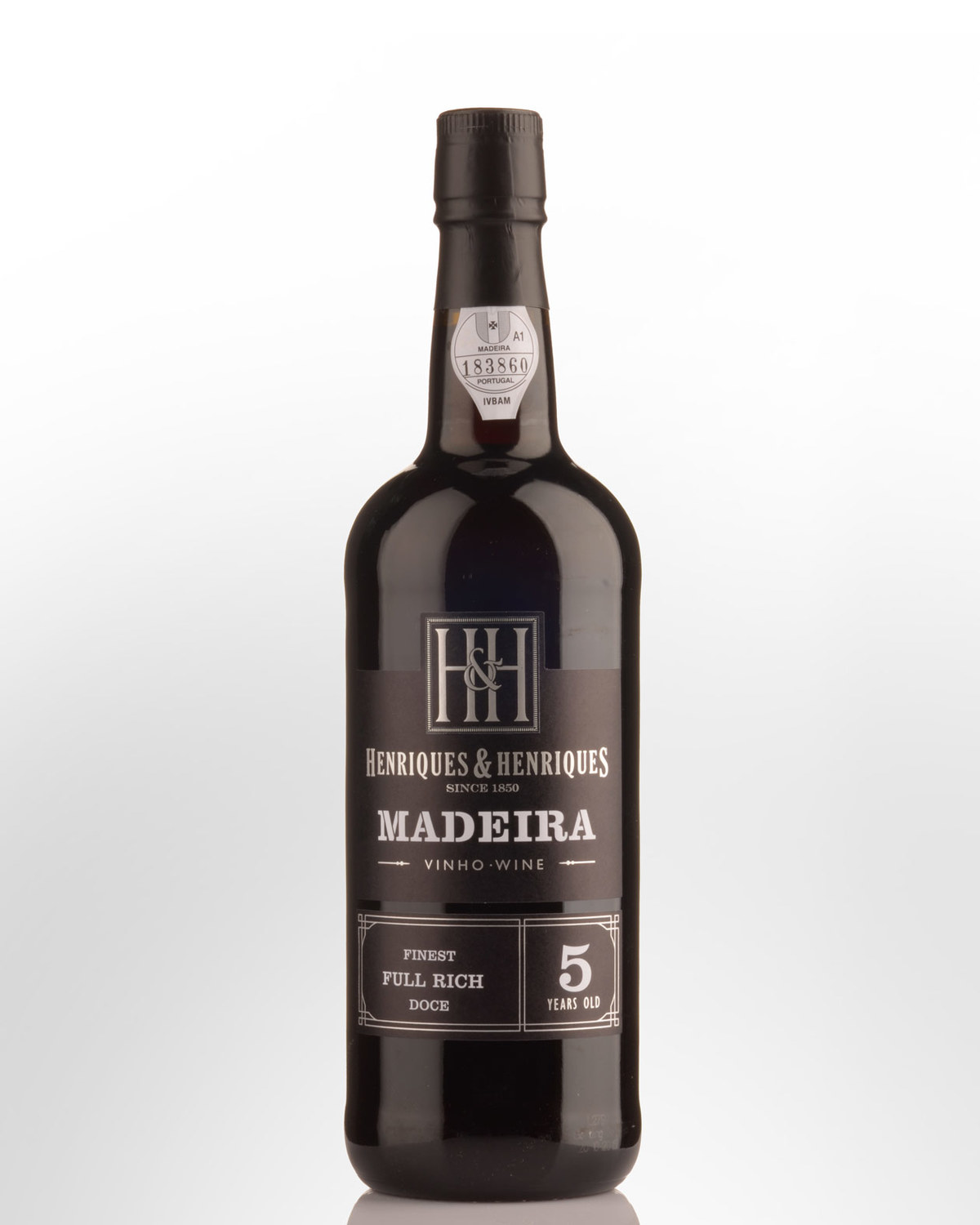 Henriques & Henriques Finest Full Rich 5 Year Old Madeira (500ml)
BACKGROUND
Madeira is produced on the Portuguese island of Madeira. Henriques and Henriques is the largest independent shipper on the island. The company is focused on the premium end of the Madeira market and enjoys a 15% market share. The company takes its name from the two sons of Joao Joaquim Henriques, a descendent of the first King of Portugal.
LAND HOLDINGS
Vineyard holdings on the island are small, with 4000 growers owning an average 0.5ha each - which by local standards is extensive. Henriques and Henriques also have their own vineyards, 6 hectares at Camara de Lobos (located on the south coast). The company also has 10 hectares at Quista Grande.
SOIL TYPES
The soils of Madeira are basically volcanic, however, the best soils are a stony decomposed red tufa which is known locally as SAIBRO. The vineyards are planted on very steep terraced slopes.
GRAPE VARIETIES
The grape varieties are unusual for Australians and include TINTA NEGRA MOLE, TERRANTEL BASTARDO, and either SERCIAL, VERDELHO BUAL or MALVASIA.
VINIFICATION
The vintage on the Island of Madeira is said to be the longest in the world, starting in mid August with the Malvasia grapes being picked on the lower slopes and slowly progressing through the other grape varieties of BUAL, VERDELHO and SERCIAL. Vintage in the highest vineyards is completed in early November.
The fermentation takes place in temperature controlled, stainless steel tanks. Malvasia and Bual are fermented with limited skin contact, whilst for Verdelho and Sercial, only the pressed juice is used. Fortification takes place with the addition of grape brandy, the amount used and the timing of the fortification depends on the style of Madeira that is being produced.
The majority of young Madeira undergo the "EUSTUFAGEM". This process consists of storing the wine for 3 months in hot conditions with temperatures 45°C. The effect is to mimic the long sea voyages that were a part of the traditional aging process. The best wines are left to age 10 years and more in warm cellars which creates that unique "Maderised" fruit quality.
TASTING NOTE:This is the 'biggest' of the 5 year old Madeira's. Deep onion brown colour, with olive green hue. Aroma of orange rind, toffee and caramel followed by a strong rancio end note. The palate if full bodied, with pronounced rancio flavours. Warm, spicy spirit, perfectly balanced with very long aftertaste of hazelnut, spice, orange rind and rancio.
Drink (2005)
Alc/Vol: 19.0%