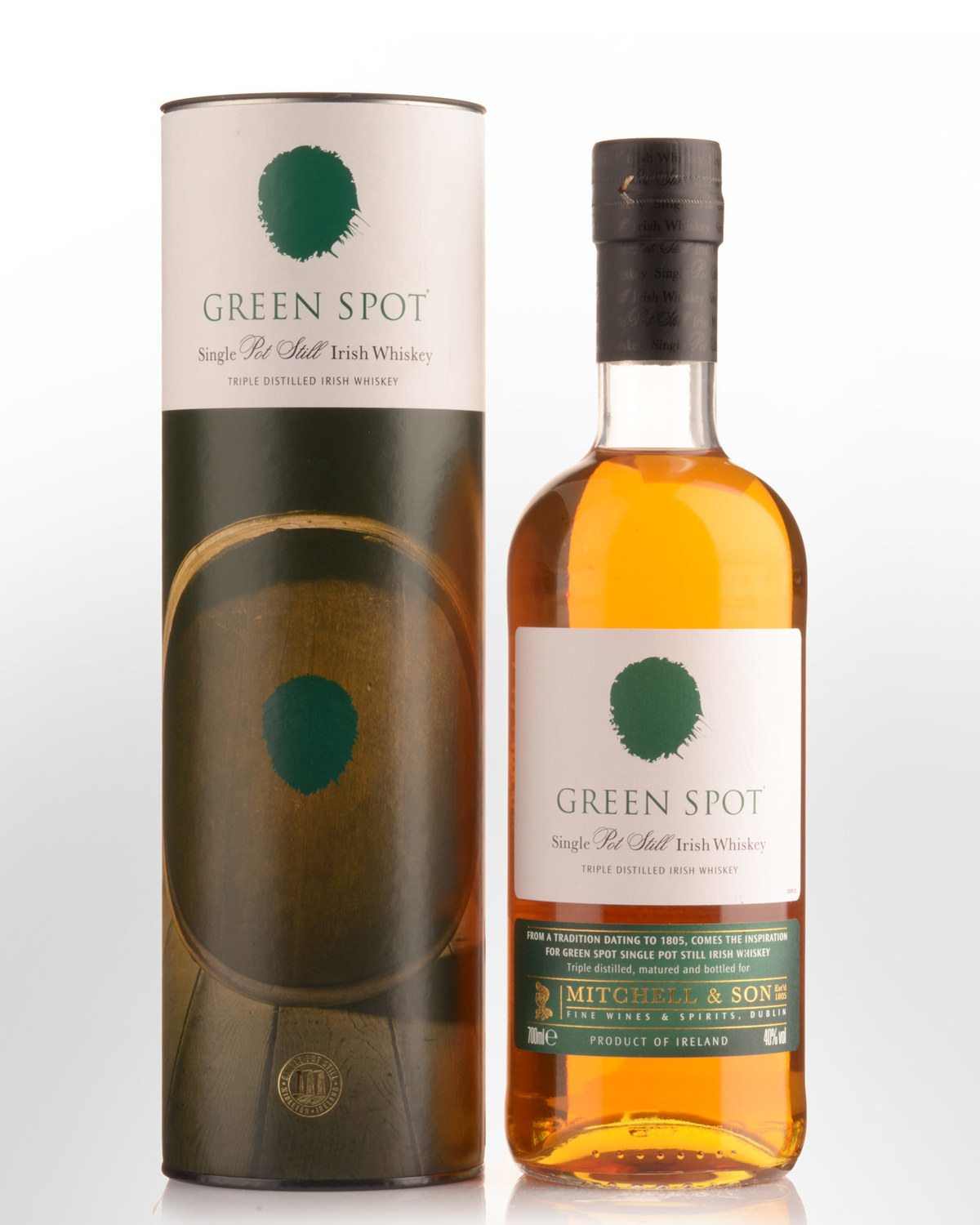 Limit Two per customer

Reduced
Green Spot (Greenspot) Irish Whiskey (700ml)
IRELAND
"One of the world's Rarest Whiskies. If you see it, grab it. It's too much of a high class one-off to ignore... an essay in complex and understated layering." - Jim Murray.
Once upon a time in Ireland, many hundreds of wine merchants would fill their own casks with the spirit from their local distilleries and sell it under their own brand name, occasionally giving mention to the stills where it first bubbled into life. But all that changed when distillers became proprietorial and wished, often with good reason, due to the dubious practises of some merchants, to have complete control over any whiskey which bore their name. As businesses closed or merged, brands were lost. Others decided not to compete with the ever more powerful distillers. Some distillers simply refused to supply the whiskey. In the end there was only one left which can still be found today. That sole survivor is Green Spot. There are no exact records as to when the brand first hit the streets, but certainly by the early 1920s the long-established wine merchants of Mitchell and Son of Kildare Street, Dublin, were annually putting aside 100 sherry hogsheads to be filled at Jameson's Bow Street distillery. So that the whiskey would not be too overpowered by the wine, half the casks used had held oloroso and other dark sherries; the other half were the former homes of lighter finos.
The Jameson pot still would mature for five years in those casks before being vatted together and then allowed to blend and mature for a further five years in those same butts in Mitchell's old bonded warehouses in Fitzwilliam Lane. The brand was originally known as Pat Whiskey, with a man looking very much the worse for wear apparently bursting through the label. Behind him was dark green shading. From this image grew the name Green Spot. The popularity of this type of whiskey spread to a seven year old Blue Spot, a Yellow Spot (12) and Red Spot (15). As the costs involved in maturing expensive sherry casks became heavier and heavier, Mitchells reverted to vatting just the single and the original Green version. However, when Jameson switched production from Bow Street to Johns Lane, the make-up of the whiskey altered for the first time in living memory. Mitchell's maturing stocks were running low, and having no intention of losing their famous brand, the company entered into an agreement with Irish Distillers to produce the whiskey. A stipulation was that the whiskey supplied had to be matured in Midleton's own casks, but IDG were able to guarantee the future of the brand as pure pot still whiskey.
The current Green Spot is made entirely from seven and eight year old Midleton pot still, a healthy 25% coming from sherry cask, which is quite evident in its aroma and taste. With Irish Distillers producing their own 12 year old pot still, Redbreast, it was understandable they were not willing to produce an older vatting for Mitchell's. But when Redbreast was taken off the market, Green Spot enjoyed the distinction of being the only and very last, pure Irish Pot Still in existence. Now with Midleton back on the shelves it can no longer claim that, but it does remain the longest running pot still whiskey to continuously remain on the shelves. Only 500 cases are made each year, all for the home market, with most of this sold through Mitchell's shop at 21, Kildare Street, Dublin. Those 6000 bottles represent a very small part of the total Mitchell operation. But for a seventh generation family company which dates back to 1805, it is one they cherish as a vital part of their own history and Ireland's whiskey heritage.
Tasting note: Wonderfully soft on the nose in a floral-fruity way - stewed apples and cream, developing with light vanilla and trace peppermint freshness. Semi-sweet and mildly oily in the mouth, though never confected, with an effortless grace and elegance. The warm wave of dried apple and stone fruit flavours gets juicier and juicier, tempered by balancing oak, spice and a cooling peppermint note late in the finish. A few drops of water and it's almost sublime the way this rolls around your tongue. Vanilla malt, rock candy and hints of sweet spice carry the aftertaste. The sweetness is perfectly controlled in this off-dry, debonair, and quite beautiful Irish. 40% Alc./Vol.
Other reviews... The blend of over-ripe gooseberry, intense malt and sandalwood is mesmerising; a little toffee too, which dulls things slightly; an essay in complex and understated layering... what a beautiful whiskey. If they could cut down on the pointless over-emphasis on the caramel and up the strength, they'd have a contender for World Whiskey of the Year.
95 points - Jim Murray's Whisky Bible 2022
Nose: The first thing to strike you is the density of the nose; nothing light and flowery here. The pot still appears older than its eight years thanks to a pleasant dustiness (something similar to old Redbreast), and the influence of the sherry. All this is mixed with a curious menthol sub-stratum. Some evidence of bourbon wood around too, but rather overshadowed by this highly unusual cough-sweet, malty effect. Taste: Sweet, rich and full bodied from the very start. It quickly fills the mouth with a glorious spiciness. All the time it somehow remains soft, though the taste buds are constantly tweaked by a harder pot still maltiness. Wonderfully complex and busy. Finish: Very long, dry and malty to start then sweetens and some late spice adds to all the fun. The very last, dying rays are rather cool on the throat, as if the menthol on the nose has returned. Comments: This is a tremendous whiskey, sometimes giving a sweet-honey feel more associated with Perthshire malts from Scotland. But the pot still is confident enough to confirm this as Irish with a maturity greater than the age of the whiskey used. If you see it, grab it. It's too much of a high class one-off to ignore. - 'Classic Irish Whiskey' by Jim Murray 1994-1997 courtesy of Mitchell and Son Wine Merchants.