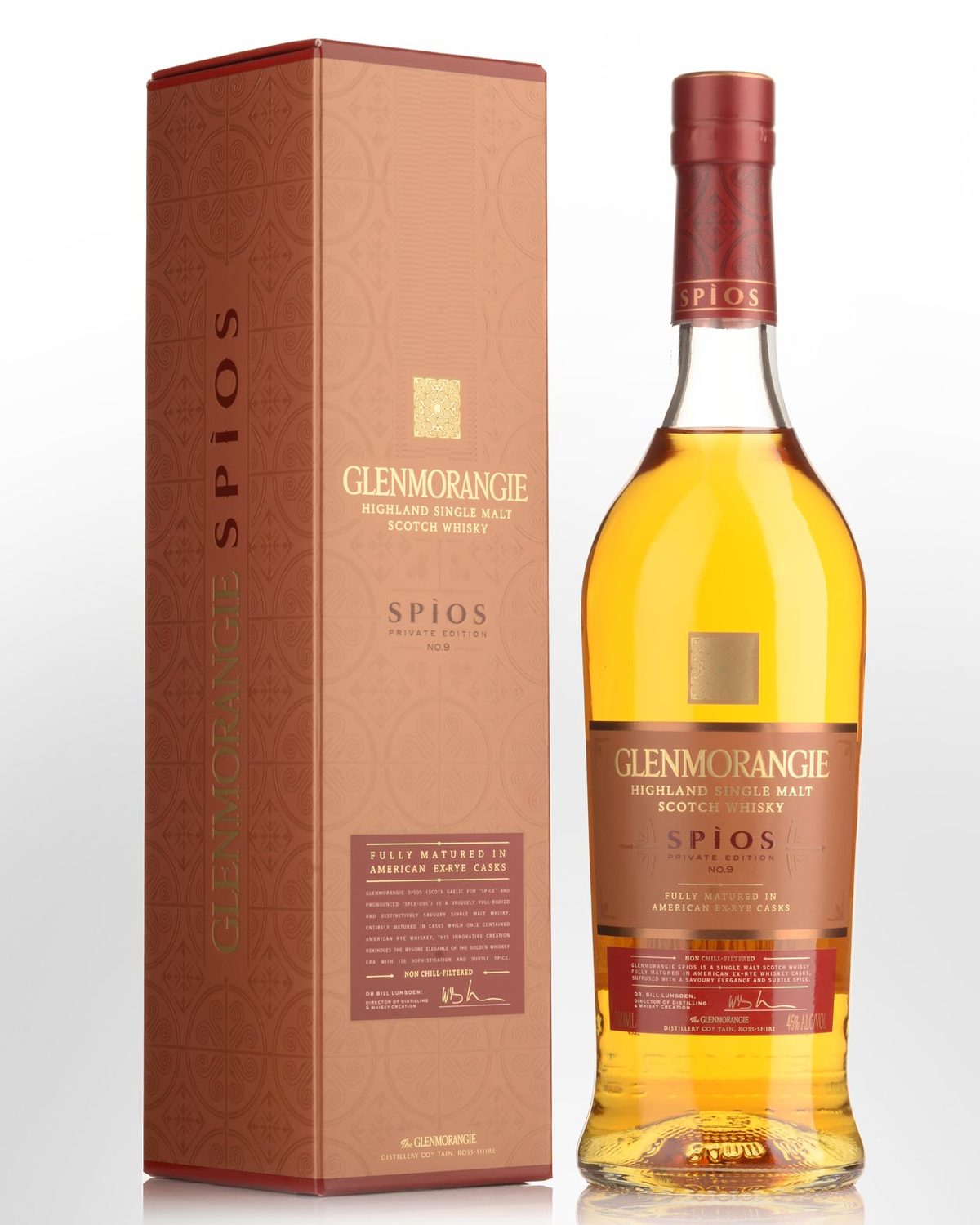 Glenmorangie Spios Private Edition Single Malt Scotch Whisky (700ml)
The first single malt Scotch Whisky fully matured in American ex-rye whiskey casks.
Glenmorangie routinely introduce new twists on the Original, and the Private editions are prime examples. Spios brings us to the ninth annual PE release and is the first Single Malt Scotch Whisky ever to be fully matured in American rye whiskey casks. The step towards rye coincides with a popular resurgence in this drier, spicier style of whiskey. It's a project that's been on Bill Lumsden's mind for some time.
"Back in the late 90s, when I was introduced to rye, I found it was a style of whiskey on life support,"
he explains.
"But I believed our smooth house style would complement the nuances of ex-rye casks. So, 10 years on from my first involvement with it, the challenge was finding the right casks."
Lumsden's interest piqued when famed Whisky & Beer writer, Michael Jackson visited him with a sample of the then obscure American whiskey. It was Lumsden's first time (in the 90's rye whiskey was next to impossible to get your hands on). It took him a decade to secure x Rye casks for this edition which is limited to around 5000 cases.
Tasting note:
'Spìos' is Scots Gaelic for 'spice and this lives up to its name. Bright gold. Aromas of oak shavings and hints of mint chocolate with just enough latent malt shining through the peppery heat. Creamy in the middle stages before a climatic flare of sharp-rye spices, fresh-sawn oak and peppermint. Dovetails into sweeter notes of vanilla fudge with distinct rye late in the aftertaste. A fascinating experiment in harmonising the flavours of two very different whisky styles.
46% Alc./Vol. Non chill filtered.
Other reviews... 4.5 Stars
- www.diffordsguide.com
...NAS and a rye finish, that's the thing these days. The Spice Girls have been a thing as well. Hold on, it is not a rye finish, it was fully matured in rye casks! But 100% rye, or just 'American rye whiskey'? Not too sure… Never mind… Colour: straw. Nose: relatively light, bready, pastry-like, with touches of menthol and caraway. Hints of broken branches as well. I had thought this would be much bigger, but it's rather whispering, which isn't obligatorily a bad thing in my little book. Mouth: it's coherent, sweet, certainly not 'spicy' as such – but we'll check that in the aftertaste – and rather on maple syrup and mirabelle liqueur. The Nectar d'Or was rather bigger, to give you an example. I find it easy and indeed, well made. Finish: medium, rounded, with a little caramel, more mirabelle jam, and a very discreet spiciness. Comments: frankly, I like this. It's uncomplicated, it's not quite my style, but its got this huge drinkability that's clearly an asset. In Alsatian we would say that it's very 'süffig'. A draw.
85 points
- Serge Valentin, www.whiskyfun.com
Notes from Glenmorangie...
The nose entices with its fresh and herbal nose, hinting at cherry, clove and mint toffee, followed by scents of green grass. A splash of water releases more perfumed notes, both crisp and clean – and an inviting complexity of herbal tones. Taste: Then, rye's characteristic spice bursts forth, as tastes of toffee, clove and cinnamon mingle with nutmeg and sweet, buttery vanilla. Finish: The finish is rich, sweet and lingering, with toffee and Brazil nut emerging alongside a citrus tang.