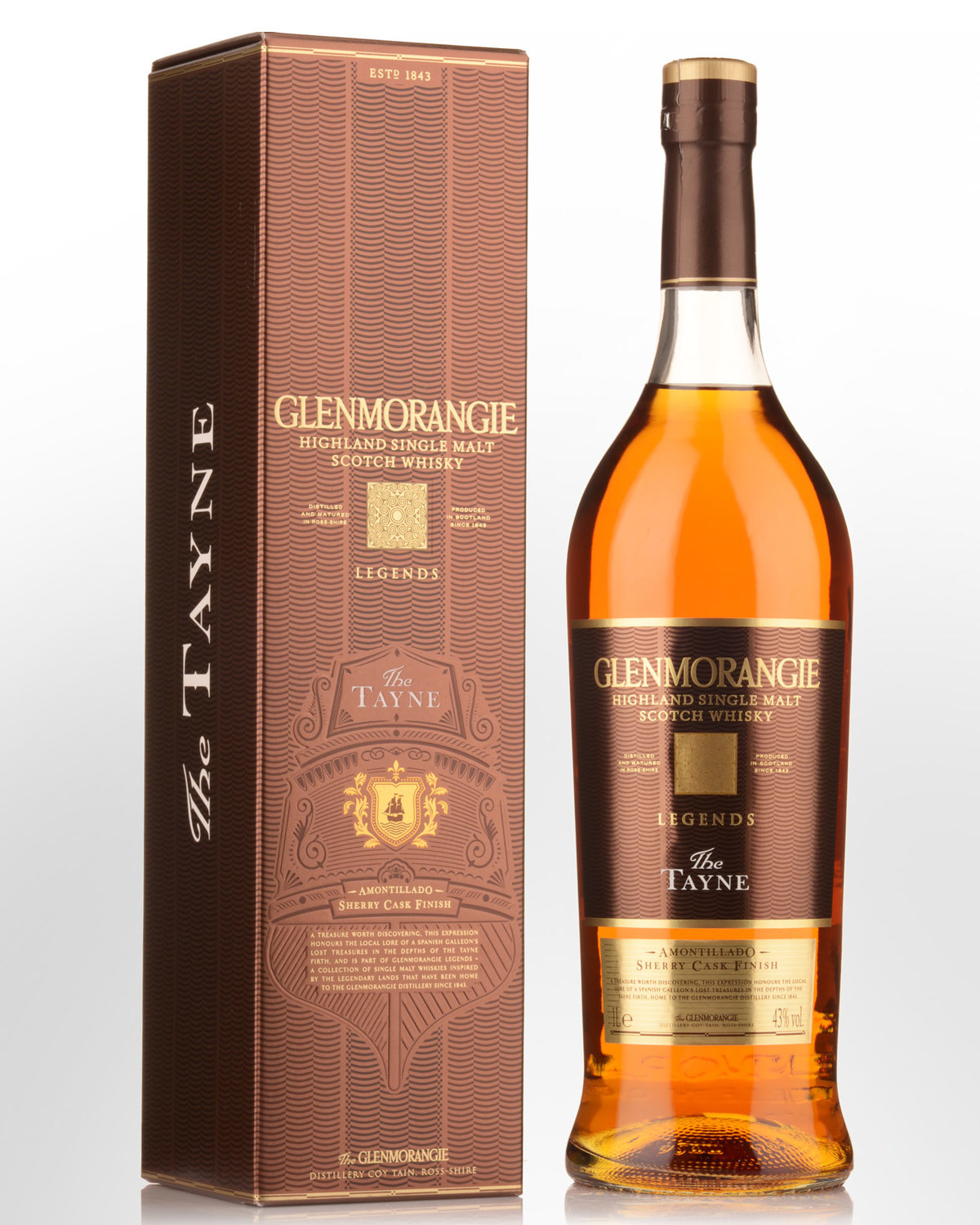 Glenmorangie Legends The Tayne Single Malt Scotch Whisky (1000ml)
Extremely limited one litre format.
The Tayne is the second release in the Travel Retail Legends collection, that, like the Private Editions will be added to over the coming years. Each expression is packaged in honour of a Highland legend. Tayne refers to the local lore of a Spanish galleon's lost treasures in the depths of the Tayne Firth (now known as Dornoch). This NAS whisky has been finished in selected Amontillado Sherry casks.
Tasting note: Deep brassy gold. Heavier than most 'Morangies on the nose: orange zest mingles with plum tart and vanilla. Later walnut fudge and hints of white pepper. Possibly one of the silkiest deliveries on record from this distillery - glides over the tongue with satiny, off-dry flavours of orange spice cake and pear tart. Juicy date, almond and walnut with trace salinity in the aftertaste. Lumsden has said that the lightness of Glenmorangie's spirit doesn't lend itself to Sherry casks as it's too easily overwhelmed. The balance here seems close to right. 43% Alc./Vol.
Other reviews... Tangy back story. But also a curious early combination between butterscotch and Werther's Original candy. The malt, topped with a splash of double cream - in the centre ground, though, is the star showing. 43% Alc./Vol. 87 points - Jim Murrays Whisky Bible 2017
This one was finished in amontillado sherry casks (obligatorily 'carefully selected' ones). Colour: a darker gold. Nose: nuts! I mean, dried and roasted walnuts, plus a little wood smoke and a touch of mustard, which does indeed recall a good glass of amontillado. Very nice bitter chocolate and tobacco as well, some cinnamon and cloves, and a pleasant muddy/earthy side. Old wine cellar – or a genuine bodega down there. Mouth: Glenmorangie tangos very well with dry oxidative wines, Madeira, amontillado, oloroso… So more walnuts, bitter oranges, bitter caramel, some leather, some tobacco, and a very spicy/leafy side that's working very well. Finish: long, with even more dry roasted nuts. Pecans. All-spice mix, black pepper… Comments: I would have liked to try that amontillado! What's sure is that this rather dry Tayne was my favourite today. 84 points -www.whiskyfun.com