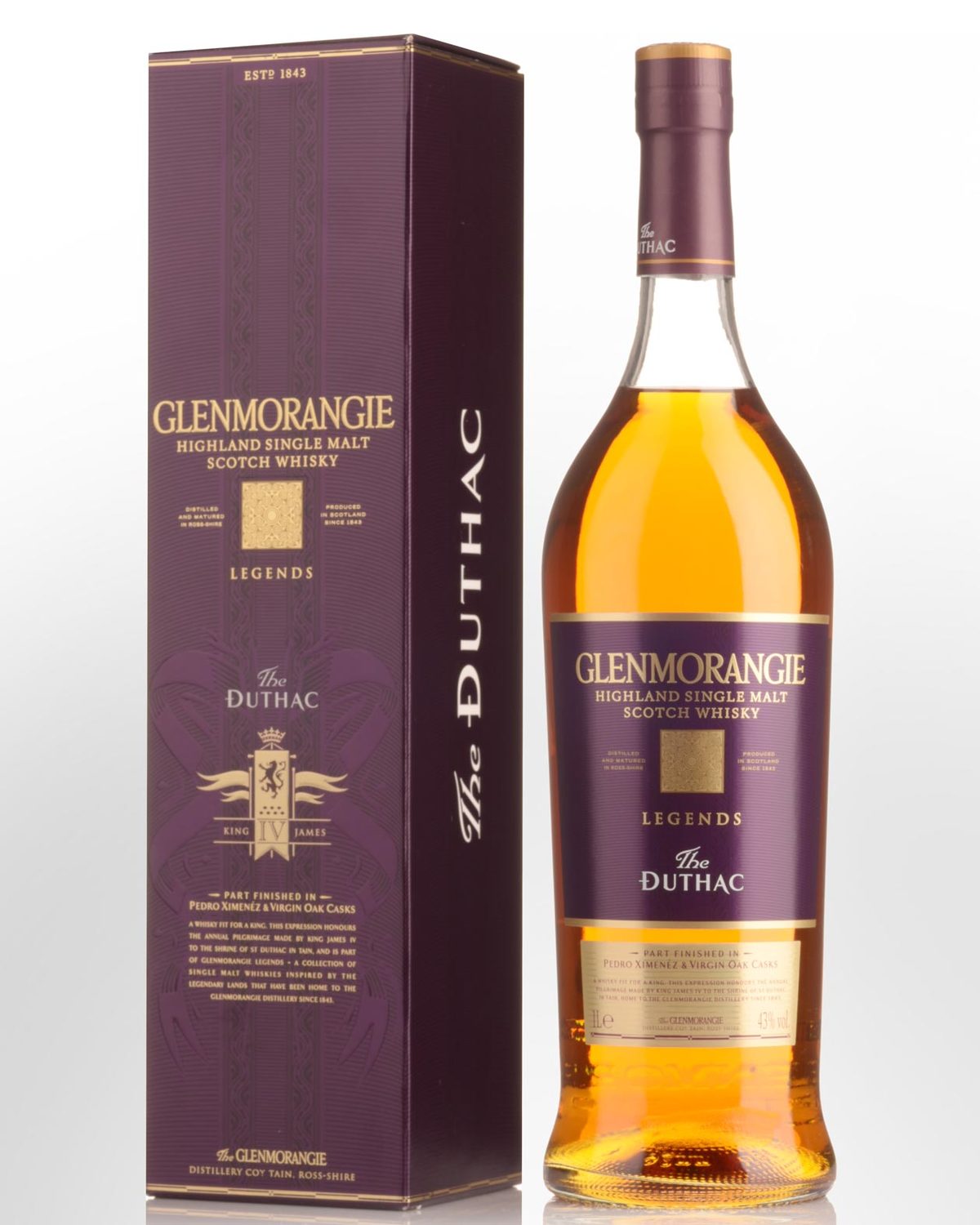 Glenmorangie Legends Duthac Single Malt Scotch Whisky (1000ml)
One of our all-time favourites from the Legends series returns (probably for the last time). Stock up!
Glenmorangie have been prolific when it comes to releasing new NAS bottlings, including Artisan, Dornoch, Finealta, Artein, Companta, Milsean, Sonnalta, Tusail, Taghta, Astar and Bacalta - just to name a few. Thankfully, the quality has been good to very good with Master Blenders rising to the challenge of creating a great assemblage from a restricted inventory. Duthac is the first release in the Travel Retail 'Legends' collection, that, like the Private Editions will be added to over the coming years. Each expression is packaged in honour of a Highland legend. According to Glenmorangie, this is
"A whisky fit for a King"
. It honours the annual pilgrimage made by King James IV to the shrine of St Duthac in Tain. At the centre of the Royal Burgh of Tain, Ross-shire, in the far north of Scotland where the Glenmorangie Distillery has stood proudly since 1843 lies the resting place of St Duthac. During the Middle Ages, the legends of his workings drew travellers from far and wide on pilgrimages to the ancient burgh.
Tasting note:
Pours an eyecatching orange-gold showing considerable legs. Bouquet is ultra pure, soft and a sheer delight with a fresh dried fruit focus underscored by vanilla and citrus zest. Likewise in the mouth, but with gently nipping spices adding buzz; citrusy malt dovetails into late dried fruits and cocoa. Almost a lightness to the finish which is vanilla-oak heavy, mildly acidic, fresh, medium long. Late gingerbread in the fade? The various oak inputs are well defined but kept in check. Engaging and skillfully composed.
43% Alc./Vol.
Other reviews...
...Educated guess: some kind of finish involving virgin oak, or at least first fill bourbon, and sherry. probably PX on account of the intensity of the crisp sugar.
91.5 points
- Jim Murray's Whisky Bible 2016.
...This Travel Retail-exclusive from Glenmorangie is the inaugural expression in the distiller's new Legends series. Glenmorangie Duthac is matured in a mix of charred virgin oak and Pedro Ximénez sherry casks. Peaches, tangerines, cloves, vanilla, and toffee bonbons on the nose. Silky on the palate, with warm spices, honey, intense tropical fruit, and fresh ginger. Relatively long and creamy in the finish, with nutmeg, marzipan, and milk chocolate.
86 points
- whiskyadvocate.com, Reviewed by: Gavin Smith (Fall 2015)