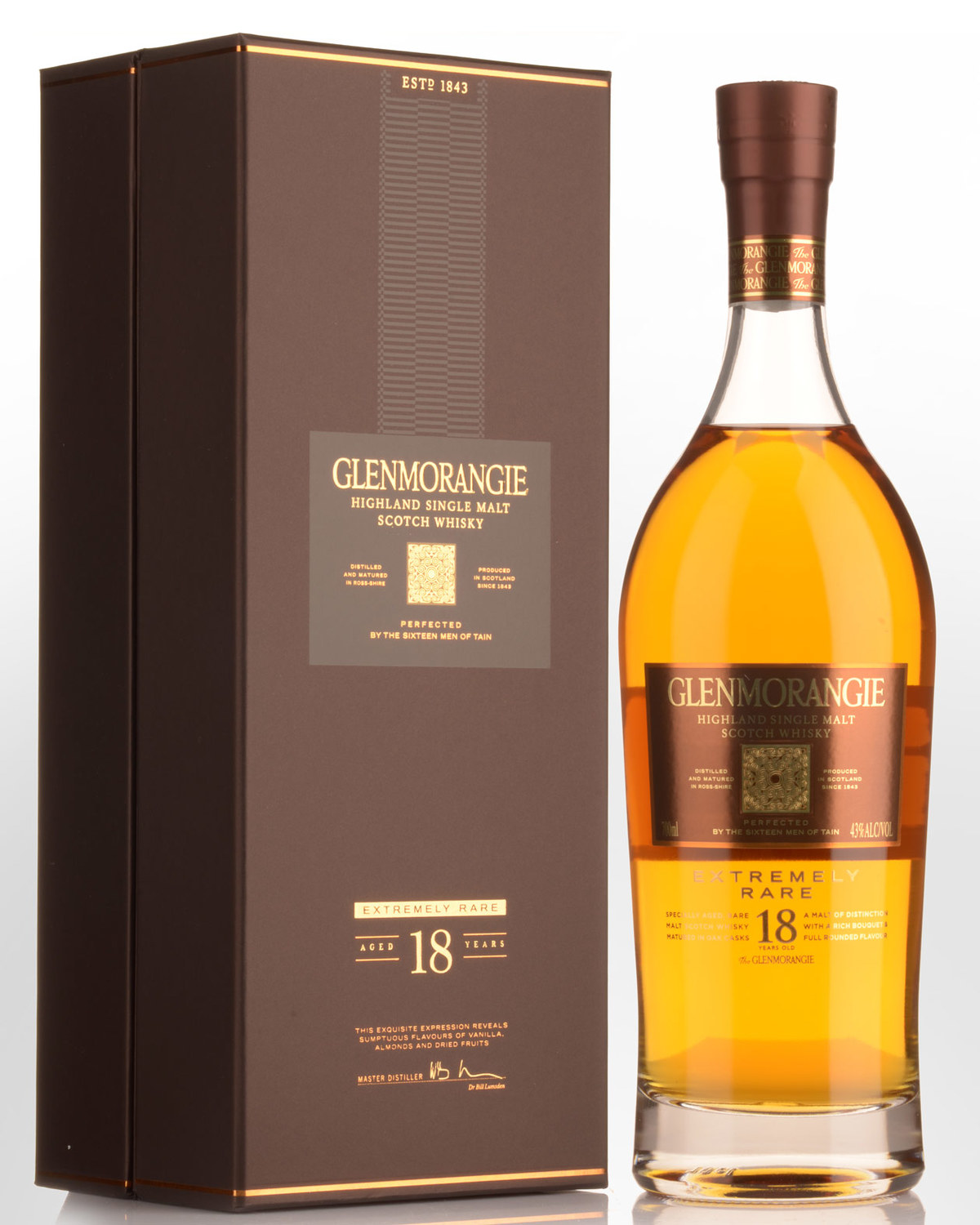 Glenmorangie Extremely Rare 18 Year Old Single Malt Scotch Whisky (700ml)
A classic Glenmorangie with a character that appeals to almost any whisky drinker. Matured for 15 years in ex-bourbon casks, and transferred into Spanish Oloroso casks for a final three years of maturation, the mature aged statement is matched by super-premium presentation.
Tasting note: Pale gold colour. Moderate aromatics offer seamlessly integrated floral scents of sweet, delicately peated(?) cereals, subtle citrus notes (mandarine, grape fruit) followed by a touch of applemint. Concentrated and mouthfilling, the palate is perfectly poised delivering flavours of mandarine peel, grape fruit, toasty oak, vanilla and honey. Long biscuity, orange cake-like aftertaste rounds off a wonderfully fresh 'Morangie expression.43% Alc/Vol.
Other reviews... sharp, eywatering mix of mainly fruit and honeyed barley; nutty and, with the confident vanillas forming a breakfast cereal completeness...Cocoa crispies... The perfect start to the day whisky. 91 points- Jim Murray's Whisky Bible 2019
This is part of the distiller's Extremely Rare range, and has been matured in bourbon casks for 15 years, before a third is transferred to oloroso sherry casks for 3 years. Dried fruits, icing sugar, honey, lemon cheesecake, and floral aromas on the nutty nose. The palate offers figs, crème brûlée, cinnamon, more honey, and citrus fruit. The finish sees citrus fruit and oak merge nicely.
89 points- whiskyadvocate.com, reviewed by: Gavin Smith (Spring 2019)
Of course not 'extremely rare', but pretty good according to my notes for earlier batches. The price is similar to that of the new NAS, and it's partly a finishing as well (30% have been finished for three years in oloroso). Colour: pale gold. Nose: cleaner and fresher, more 'natural' than the Bacalta, more floral as well, with lovely whiffs of acacia flowers, orange blossom, and simply all-flower honey. Some orange cake, and brioche flavoured with orange blossom water. Mouth: really much brighter and more citrusy than Bacalta, with tangerines, honey, and more 'oriental' brioche. Some figs, dried pears and apricots, and then vanilla. Good body at just 43% vol. Finish: medium, honeyed, with dried fruits again and always this citrusy/floral side. Comments: a very easy, approachable, and consensual malt whisky. Really enjoy it. - Serge Valentin, whiskyfun.com