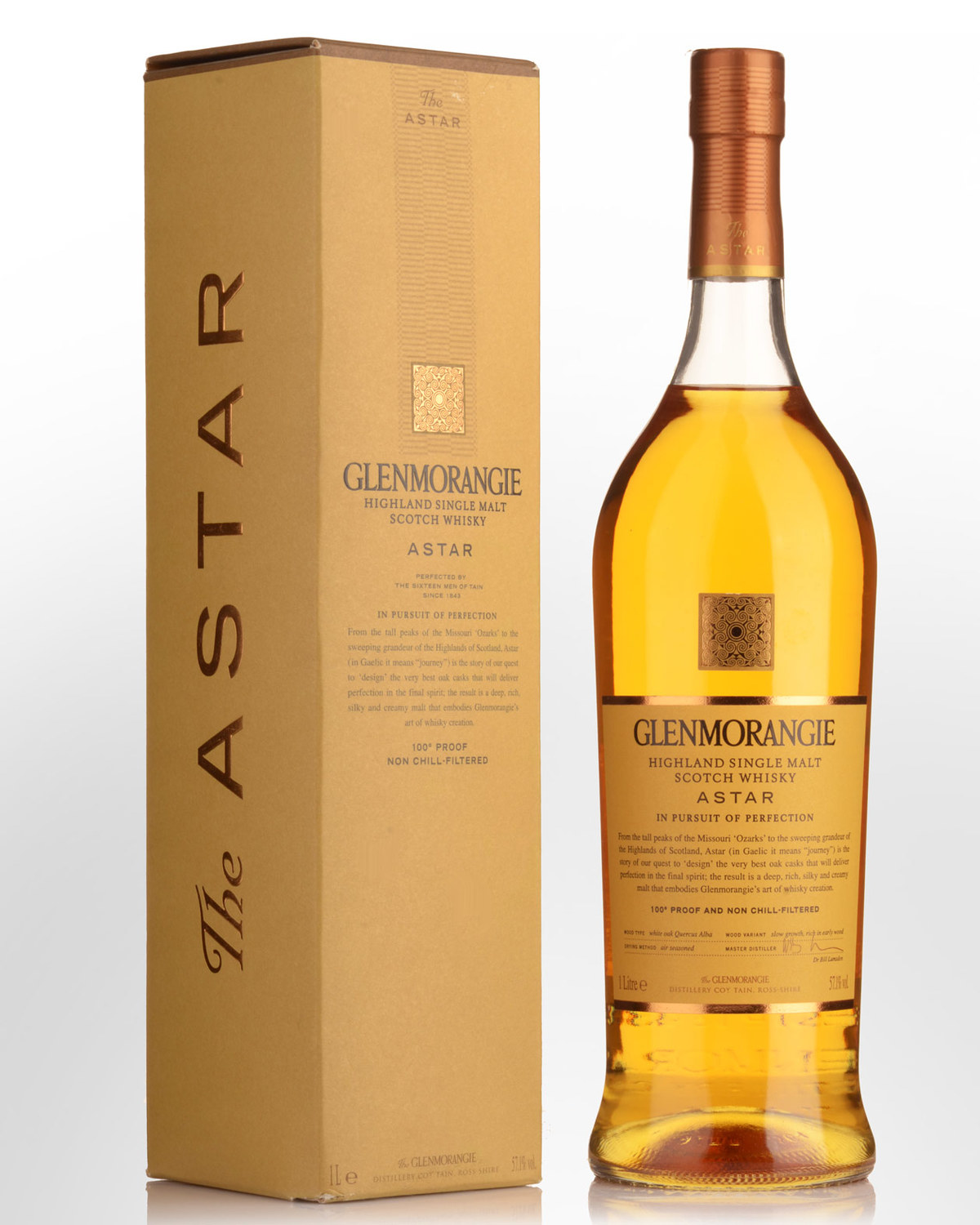 Glenmorangie Astar Single Malt Scotch Whisky (1000ml)
Rare 1000ml Duty Free exclusive bottling!

Note: Box has come from a private collection and as such may have some minor scuffing/scratches/handling marks.

'Astar' is Gaelic for 'journey'. In this latest Glenmorangie release, Master Distiller Dr. Bill Lumsden has changed the typical wood regime employing a number of white oak barrels originating from the Ozark Mountains in Missouri. These barrels have had a lengthened curing time from three months or kiln-style drying, to two full years' air seasoning. Toasting time has also changed from two minutes to thirty seconds to ensure that wood sugars in the new barrels are not burnt, imparting a bitter taste to the whisky. These barrels are first filled with new spirit and matured for three years at the Jack Daniel's Distillery, then emptied and shipped to Scotland whole to preserve their integrity, rather than being broken down which is the general practice. They are then filled with Glenmorangie new make spirit and matured for approximately ten years.

Tasting notes: Straw colour with water like hue. Superb nose of ripe pear, apple, vanilla, nutmeg, cinnamon and toffee. The richly textured palate is dominated initially by intense ripe pear, which gives way to apple and cinnamon over vanilla. This whisky has very good grip and a creamy structure. Vanilla and toffee back palate, very long aftertaste reminiscent of apple crumble, subtle spearmint finale after 30 seconds. Excellent balance. A very flavoursome, appealing whisky that offers a level of intensity rarely seen at the price point.

Bottled at cask strength 57.1%. Non chill-filtered.