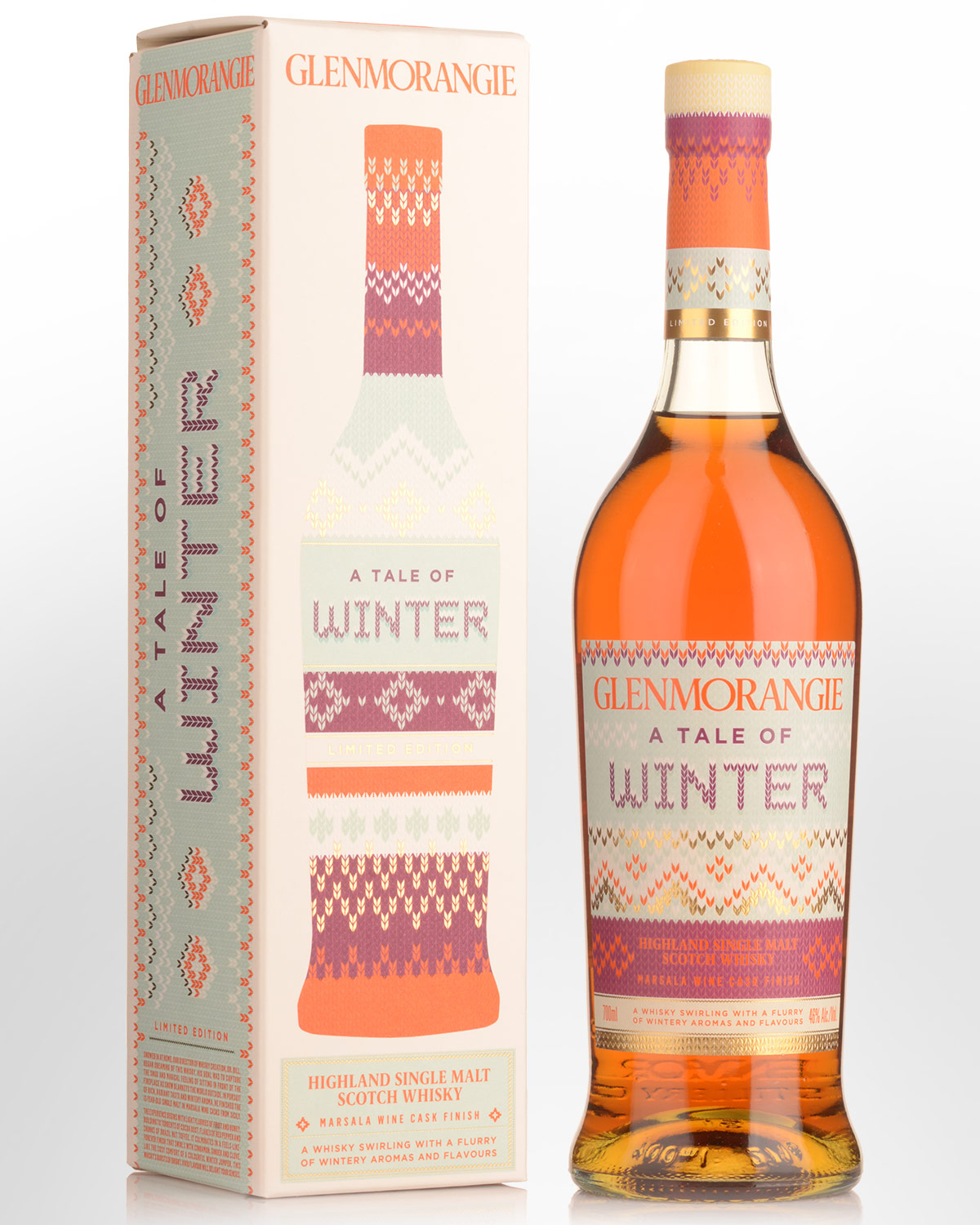 Glenmorangie A Tale of Winter Limited Edition Single Malt Scotch Whisky (700ml)
Released in the UK in 2021, 'A Tale Of Winter' is the latest annual limited edition from Glenmorangie to arrive in Australia, coinciding with the approaching Winter season and World Whisky Day (Saturday the 21st of May). Like its predecessor, "A Tale of Cake', this is a concept whisky from the inside out. Bill Lumsden has used 13 year old (plus) x-Bourbon matured single malt and finished it in Sicilian Marsala wine casks. The flavours of Marsala typically hint at apricot, vanilla and brown sugar and range from dry to very sweet. Evidently Lumsden felt these casks were perfectly suited to provide the profile he was looking for. The marketing team have responded with an eye catching knit-sweater-patterned presentation to evoke the feeling of the season. As for the whisky itself, it kind of reminds you of mulled wine or spiced rum. The colour is deeper and the nose heavier and richer than most 'Morangies to date; Festive spices feature, with cinnamon and nutmeg over ginger snaps and hints of orange cake and boiled confectionary. The palate is more full bodied again with a deliberate spice theme: Ginger beer, fruit cake and persistent warming spices ricochet around the drying finish. Ultimately, it's a whisky that achieves exactly what the label suggests - a genuine Winter warmer. Besides sipping straight, Glenmorangie recommend it in a Winter Old Fashioned (recipe below). 46% Alc./Vol. Non chill filtered.
Other reviews... Rustic and wild on the nose, with barrel char, burnt-rubber smokiness, and raspberry and green banana emerging. Rich, full, and honey-textured on a palate of milk chocolate, almond nuttiness, and spice, with notes of dried leaves and old oak. Dark rather than bright, with the cask influence lending a certain profundity. Spice and tobacco leaf accent a finish of dried dark fruits and more chocolate, with cherry and spice at the end. 90 points - whiskyadvocate.com, Reviewed by: David Fleming 2022
Notes from Glenmorangie... Curious and slightly sharp, with the classic Marsala top-note of slightly oxidised fruits. Hints of orange toffee intermingles with a fragrant top note of lavender honey and sweet rose. A juicy viscous, but slightly peppery mouthfeel, leads in to a burst of sweet, nutty flavours – coco powder, red pepper, brazil nut toffee and sweet barley malt. Sweet demerara sugar and a long lingering spicy aftertaste of clove, ginger and cinnamon.
Glenmorangie's Winter Old Fashioned
Ingredients
50 ml Glenmorangie A Tale of Winter
1 tsp Demerara sugar
3 dashes Bitters
Cinnamon stick and Orange twist to garnish.
Method: Pour ingredients into an Old Fashioned glass. Stir to dissolve the sugar, then fill with cubed ice. Stir to chill, then garnish with cinnamon stick and orange twist.