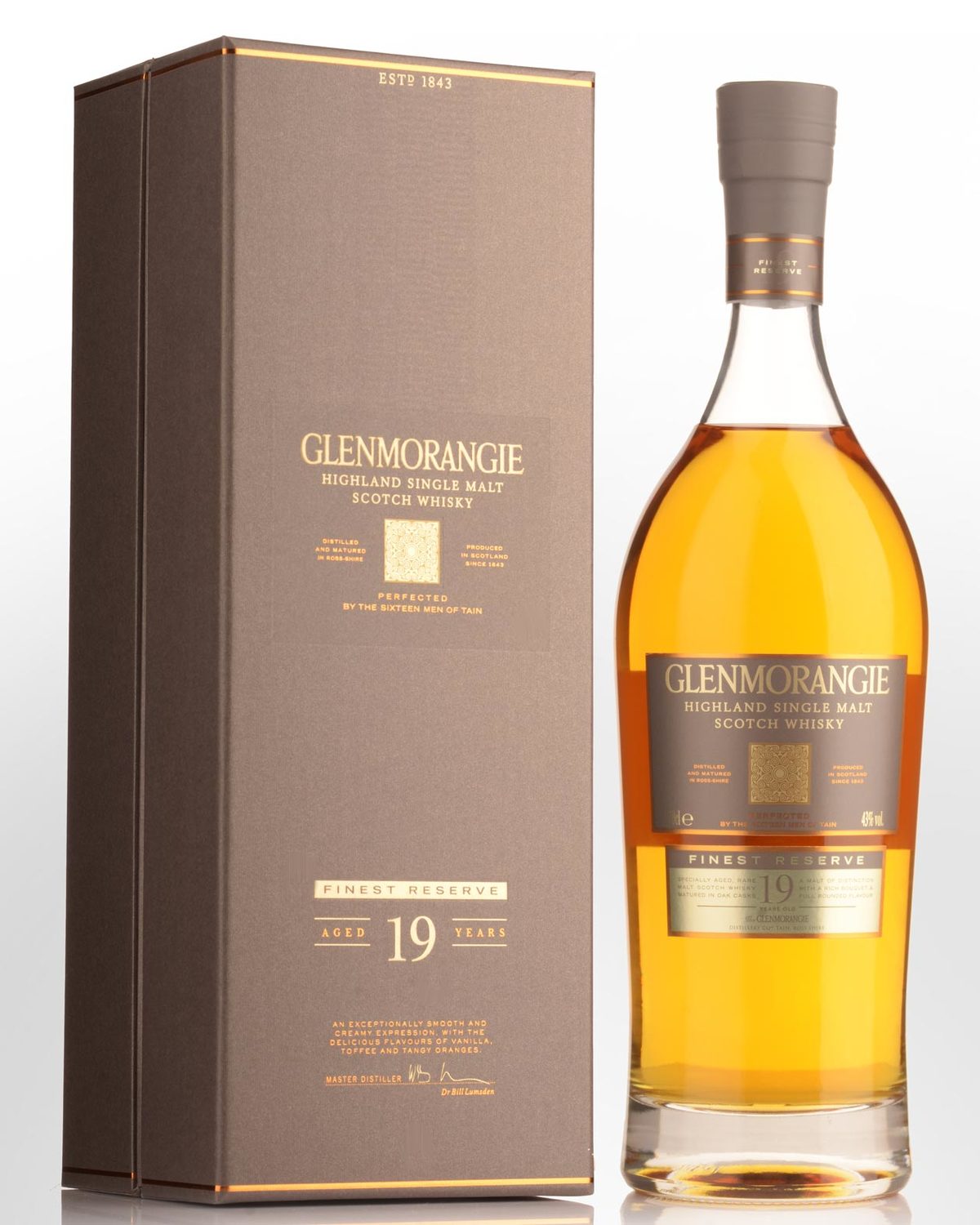 Glenmorangie 19 Year Old Single Malt Scotch Whisky (700ml)
Superb malt, in a style that's unique to this distillery.
Awarded Best Single Malt Scotch 19-24 Year Old Category at the International Whisky Competition 2019
A duty free edition that references the award winning Glenmorangie Ealanta (both being 19 year olds matured exclusively in slow-growth American oak barrels). Chosen in part by Brendan McCarron, Glenmorangie's Head of Maturing Stocks, the whisky showcases the soft, smooth character for which the distillery is renowned while preserving a surprising liveliness. "Often, a longer maturation will tone down a spirit's more perfumed notes," said McCarron, "But this retains a wonderful vibrancy and zest."
If you're a 'Morangie fan, you need to try this. In Jim Murray's words, it's "fresh, subtle and sophisticated" (full review below). We have one parcel at this dramatic discount, so take advantage!
Tasting note: Flawless bright gold / dazzles in the glass. Draws you in with a sultry bouquet that's floral soft, creamy and fruity-yet-fresh, developing with hints of straw, honey, citrus oils and toasted grains. Five minutes of swirling and air contact releases delightful scents of poached pear, pastry and vanilla. The superb aroma is matched by a wonderful delicacy in the mouth: A super-pure malty entry that dovetails into bitter dark chocolate and hints of orange curacao. Oily to finish then deceptively long. Multifaceted and very polished. Classic. 43% Alc./Vol.
Other reviews… Light fruit ensures an ethereal feel totally making a mockery of nearly two decades in the cask: fresh, subtle and sophisticated; the most brittle and vulnerable malt I have experienced from this distillery. Every note is gossamer thin, the grist can fracture at any moment; the delicate fruit shatter into millions of pieces if you chew too hard…bitters…? Fruit or malty…? I can't decide …but then I don't think for a moment that you're supposed to be able to.
94 points- Jim Murrays Whisky Bible 2018
2017 Gold Award - The Spirits Business.