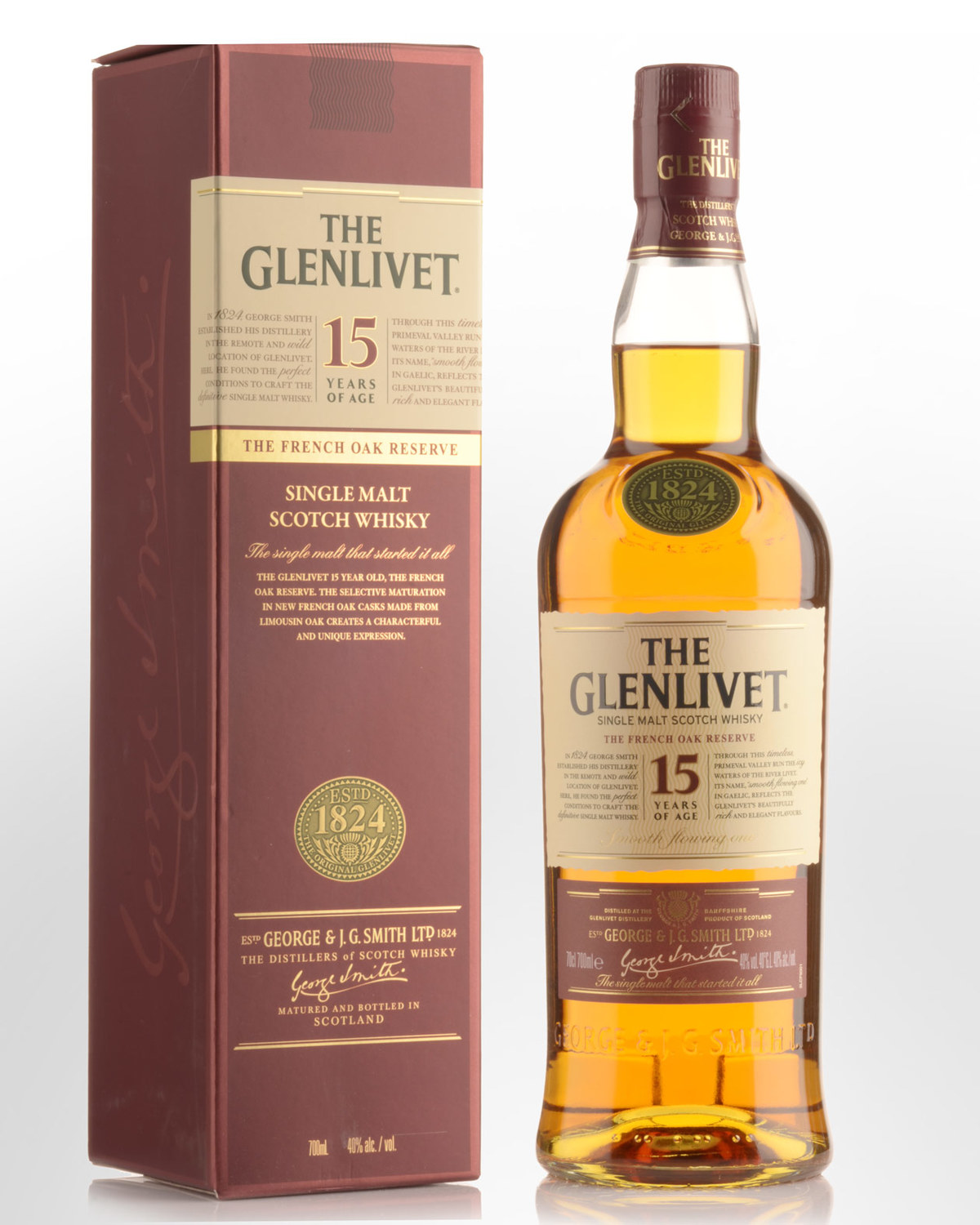 Glenlivet 15 Year Old French Oak Reserve Single Malt Scotch Whisky (700ml)
Speyside, Highlands,
SCOTLAND
The French Oak Reserve is generally considered one of the better values in the Glenlivet stable. Jim Murray certainly thinks so, giving this budget malt a strong recommendation!
Other reviews… Many years ago when this first came out it wasn't very good, to be honest. Then it was re-shaped, upped a gear and became a very enjoyable dram, indeed. Now having been steered on a slightly different course again it is just excellent... An expression that has evolved slowly, but quite beautifully. 93 points - Jim Murrays Whisky Bible 2021
First whiffs pick up scents of fresh pineapple, cedar, and paraffin; later sniffings detect subtle notes of baked pear and sweet oak. Palate entry features a firm, moderately oily, and velvety texture; by midpalate, integrated flavors of ripe peach, pear drops and bran delight the taste buds. Finish is extended, semisweet and coconut-like. Replaces the 12-year-old French Oak Finish. Best Buy. Rating: 90-95
- - wineenthusiast.com
Nose: Strawberries and cream. Vanilla. Heady. Palate: Firm, slippery-smooth, cookie-like maltiness, spicy middle. Lots of flavour development. Finish: Creamy, fruity. Like a Slavic sour cream pancake laced with Maraschino cherry brandy. Comment: Complex. Entrancing. RATED: 8.75 /10
- www.whiskymag.com
What Grande Champagne is to Cognac, the glen of the river Livet is to Speyside. And as with fine wine, the location of each single malt distillery plays a key role in determining the character of the whisky. It is the combination of air, water, and other natural forces that influence the taste, flavour, and aroma. The glen on the river Livet is also one of the most scenic and romantic glens in the Scottish Highlands. As you savor The Glenlivet you can almost picture the rolling hills and laughing waters. Part of the Glenlivet's complexity comes from a combination of lightly and heavily peated malt as well as both soft and hard water.