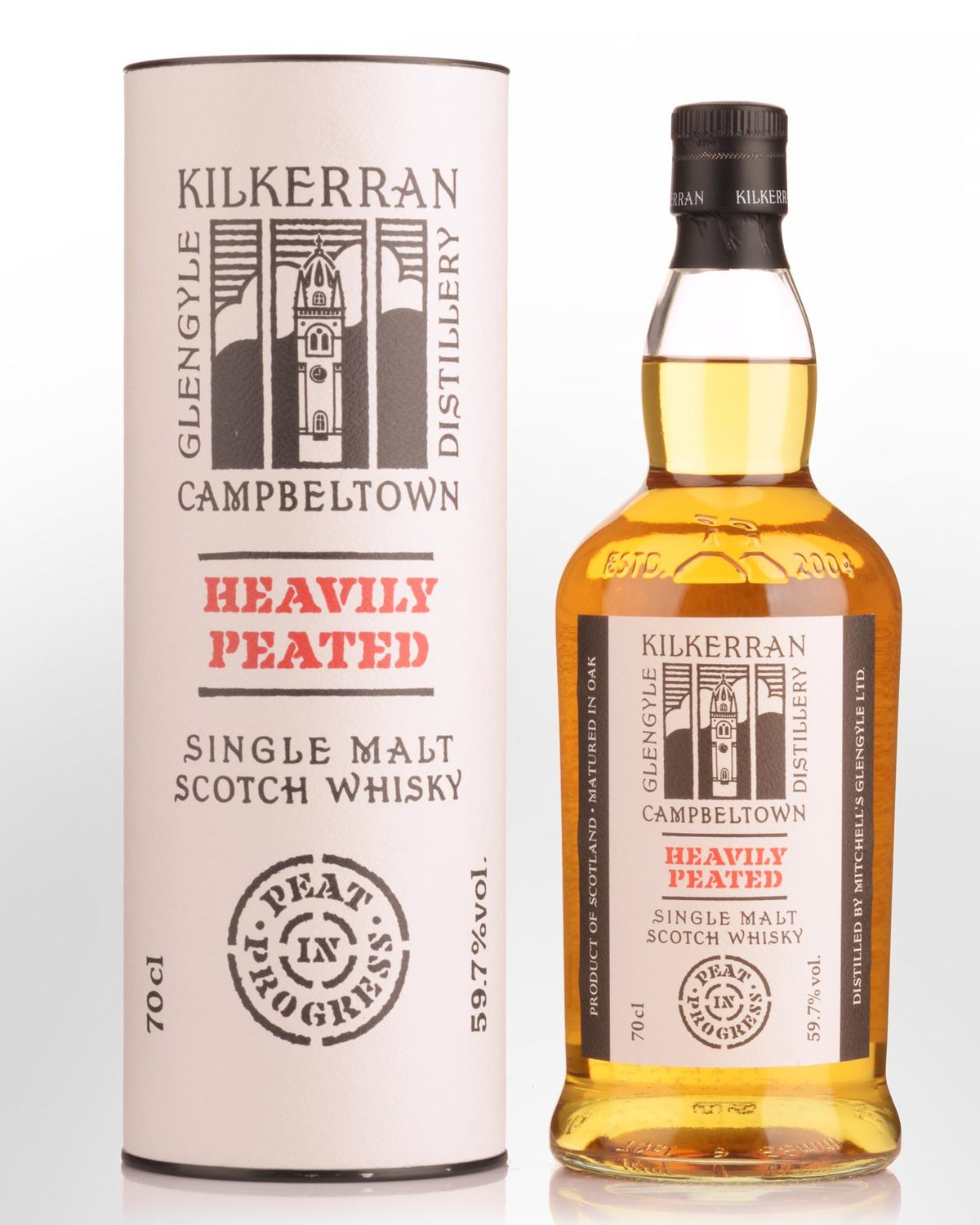 Glengyle Distillery Kilkerran Heavily Peated Cask Strength Single Malt Scotch Whisky (700ml) - Batch 3
Limited to two bottles per customer.
Given the creative forces behind this project it's no surprise Glengyle already has a minor cult following both at home and in several international markets. Major UK retailers routinely sell out. Keepers of the realm, J&A Mitchell purchased the site in 2000. Springbank's former production director, Frank McHardy supervised a modern, single level distillery design. After an 80 year hiatus, Glengyle re-commenced distilling in 2004 marketing their malt under the 'Kilkerran' label (naming rights to 'Glengyle' belong to Loch Lomond Distillers). If you're partial to the uber-peaty, invigorating coastal blast that comes with Longrow at its finest, this will be for you. Subtitled 'Peat in Progress', the third edition tweaks the maturation in favour of bourbon casks (20% is from sherry). Weighing in at a whopping 59.7% ABV and bottled six months later than Batch #2, according to at least one blogger, Batch 3 jumps out of the glass offering
"a little more alcohol nip... Everything is a little brighter and punchier. The peat is more present, the dark fruit is fresher and there's more wood presence..."
In short, think of it as Longrow mark II.
If you consider what a 'work in progress' Ardbeg would fetch at auction today, this series promises the same kind of collectible progression.
9000 bottles are available worldwide. Australian allocations are expected to sell fast.
If you missed this, stay tuned for Batch 4.
Notes from Kilkerran...
Nose: Roasted apples and poached pears, dusty oak furniture, a hint of espresso and some dried peels, vanilla cheesecake, rhubarb and custard sweets with delicate peat smoke.. Palate: Opens up with salted caramel sweetness, before smoke and oatcakes develop. There's a bit of flaky pastry dipped in coffee, sweet salted caramel, and another helping of cooked orchard fruit. The peat is prolific yet well integrated. Finish: Long and creamy. Sweet, drying smoke remains on the finish.
Non chill filtered. Glengyle's roots extend deep into Campbeltown culture. It was originally built by a local farmer, William Mitchell, who was part owner of the famous Springbank distillery. Mitchell operated Glengyle until 1919, then sold the distillery to Highland Malt Distilleries Ltd, who operated Glengyle for just five years. In 1924 Glengyle suffered a fate similar to many of Campbeltown's distilleries, unable to survive the economic downturn following World War One. Sir Maurice Bloch, of the Bloch Brothers purchased the distillery in 1940, which had been used by the Campbeltown Miniature Rifle club and prepared to again produce whisky. With the outbreak of World War Two, his plans were abandoned. Another attempted revival came in 1957, when Campbell Henderson Ltd applied for planning permission to restore and reopen Glengyle, but for reasons unexplained this venture also failed. In 2000, Mitchell's Glengyle Limited was formed, in yet another effort to restore the now gutted distillery. At the chair of the company is, Mr Hedley Wright, great great nephew of William Mitchell. Wright is also the chairman of J & A Mitchell & Co. owners of the nearby Springbank. Two years were spent restoring the buildings that had been stripped of almost every trace of distilling equipment. A Frankenstein-like effort resulted in the stills being sourced from the former Ben Wyvis distillery before being modified to suit Glengyle. Renovations at Craigellachie also resulted in a suitable mill becoming available. Washbacks were custom built on site. The first spirit flowed in 2004. Three years later it was legally whisky and a large party ensued. Glengyle uses mainly bourbon and sherry casks, but occasionally also port, Madeira or rum casks. When the casks have been filled and labelled, they're transported to Springbank's warehouses for maturation.