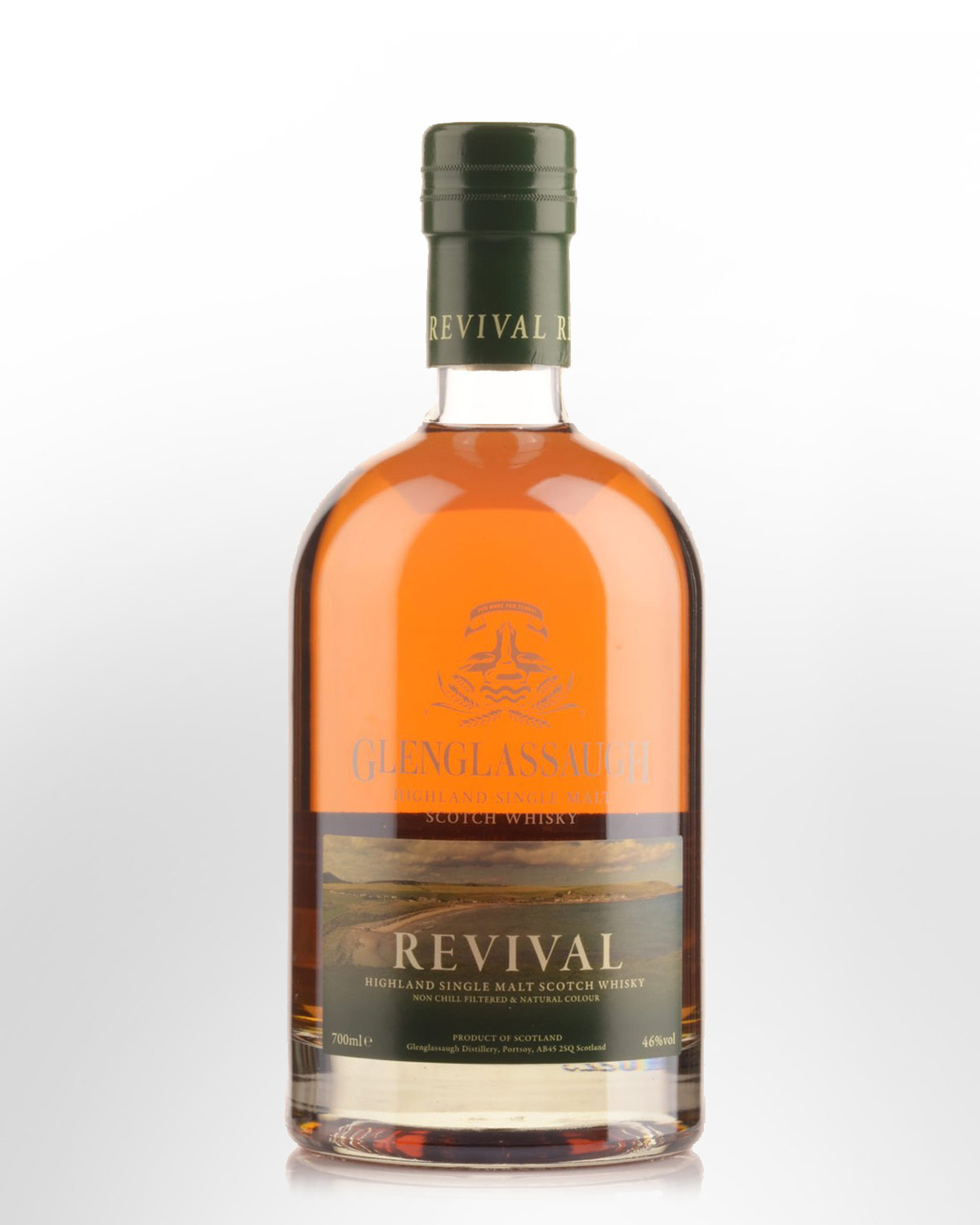 Glenglassaugh Revival Single Malt Scotch Whisky (700ml)
Speyside, Highlands,
SCOTLAND
Glenglassaugh has been described as a 'coastal' distillery, being located on the north coast of Speyside near Glen Deveron and Banff. Founded in 1875, between 1960 and 1986 it produced malt whiskies for the blending market, in particular the Cutty Sark and Famous Grouse blends. However, it suffered from the recession riddled decline that plagued the Scotch whisky industry in the early 1980's and was mothballed in 1986. It restarted production in November 2008 after being acquired by independent investors, the Edrington Group, following a complete refurbishment by the new owners.
The malt has always been popular with blenders so few official distillery bottlings have ever made it to market. Until recently, that is. In 2009 the new company released some of the old stocks with outstanding success. At the 2009 International Wine and Spirit Competition Awards the 30 Year Old expression was awarded a Gold Medal (Best in Class) and the trophy for Best Cask Strength Scotch Whisky and the 40 Year Old was awarded Gold Medal (Best in Class) and the trophy for Best 40 Year Old Scotch Whisky. The 40 year old was also awarded Best 40 Year Old Scotch Whisky and 96 points in Jim Murray's 2010 Whisky Bible.
In 2009 the company also introduced two new innovative products which are produced using the same process as that used for making single malt scotch whisky but without the ageing process. "The Spirit Drink that dare not speak its name" is the result of 1 mash of malted barley, fermented and distilled twice. The product is bottled without ageing at 50% abv.
"The Spirit Drink that blushes to speak its name" is also produced in the same way but is allowed to age for 6 months in casks that have previously held red wine. The result is a spirit with a rich rose hue and a flavour of soft fruits and spices and is ideal as a cocktail base or for making long drinks.
Glenglassaugh 'Revival' is the first widely-available single malt from the 'new' distillery and was matured in both first and refill casks and finished in first-fill oloroso sherry butts for a period of six months. Non chill filtered.
Retasted April 2018...
Bright gold. A teasing bouquet that rewards patience; gradually developing with sponge cake, vanilla, cream biscuits and fresh oak…deliciously crisp delivery, evoking caramelised fruits and cream tea biscuits, balanced by suggestions of lemon tart and straw at the finish. Beautiful purity and poise. Massively improved over its first incarnation.
46% Alc./Vol.
First tasted January 2013:
[from a 10 ml sample].
Pale gold. Scents of flat ginger beer and vague cereals present in the initial pass, gaining sweetness and definition with subsequent sniffs. Opens light and lively in the mouth though a tad sulphury followed by bittersweet spices at mid palate. Warming spirit. Thins out, tailing off to a delicate and rather fleeting conclusion.
86 points
Other reviews...
Initially a little mashy, with beer-like aromas. Quite sweet and mildly sherried, with developing roasted malt notes, ginger, hazelnuts, and caramel. Leather and insistent spice on the palate, majoring in nutmeg and cinnamon. Straightforward in the finish; spicy and nutty. Probably a crackerjack in another dozen years!
46% Alc./Vol.
82 points
- www.maltadvocate.com (Vol. 21, #3) Reviewed by: Gavin Smith