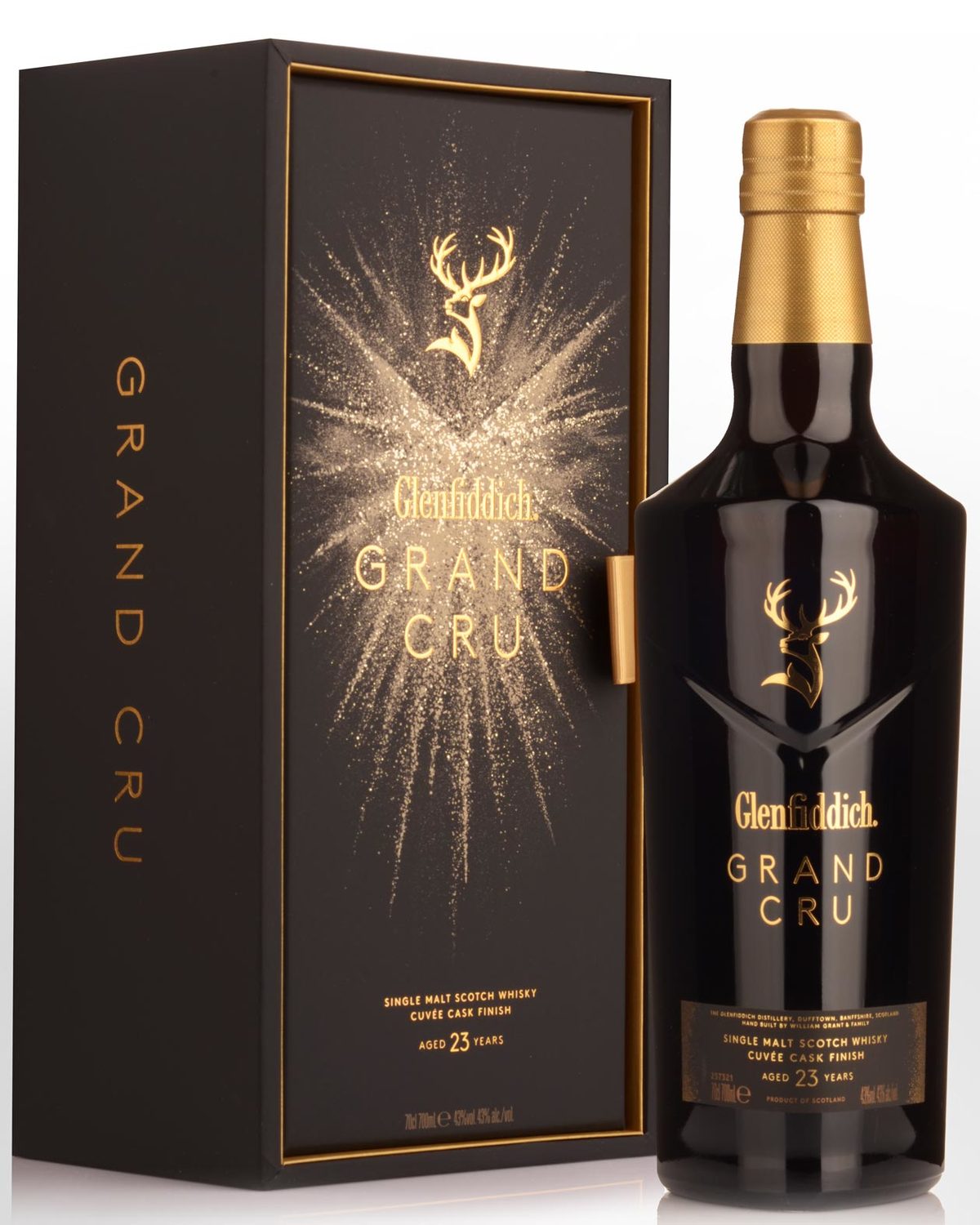 Glenfiddich Grand Cru 23 Year Old Single Malt Scotch Whisky (700ml)
Speyside, Highlands,
SCOTLAND
Matured in French Cuvee casks. Pay $500+ elsewhere.
When it comes to maturing whiskies, Glenfiddich have always been keen to explore different cask types. 'Grand Cru' was initially aged in American and European oak casks before being moved over to rare French 'cuvée oak' casks that previously held still wine from the Champagne region. Reports have it there were only 900 bottles in the first release. This is definitely one of the better looking Glenfiddichs of the last decade. The sleek black glass bottle comes with a striking gold Grand Cru print and opulent black box featuring an exploding firework design. This should appeal to collectors.
Very limited stocks.
Other reviews...
This one was finished in Champagne casks, although they would not say so on the labels, as the Champenois have rather got fast-draw holsters. I guess they have double-checked everything, but if I may, anything in a cask is not Champagne yet, hence possibly not Grand Cru, obviously, even if a Grand Cru in Champagne does not mean the same thing as, say in Burgundy (it's rather a whole village, and it's related to the grapes themselves). The wine becomes 'Champagne' or 'Champagne Grand Cru' (or Champagne Premier Cru for that matter) only after it's finished its second fermentation in bottle. There cannot be any Champagne straight from the cask, even if that used to exist before WWII. But I'm quibbling here, I'm sure they're within their rights, and I love Glenfiddich – and Champagne. Plus, I guess the appellation 'grand cru' is not regulated at all in Scotchland anyway, is it? Colour: gold. Nose: it's really fine, starting with nice fermentary notes, not winey notes, and going on with some bread, brioche, apple pie, and even notes of natural wine (vin nature). I enjoy anything fermentary anyway. A little chalk as well. Mouth: j'aime bien! I mean, I rather enjoy this indeed, it's got quite a lot of breads, brioches, croissants, cider and ale, honeysuckle, mullein syrup, white peaches… It's really very good, even at those slightly greedy 40% vol. Finish: a tad short, but never oaky, and pretty natural again. Very well done. Comments: why not 43%, if not 45 or 46? The juice is really worth it! Some top-notch Glenfiddich nonetheless. But please, a slightly higher voltage next time, 40% makes it all look a tad avare. I mean, stingy.
43% Alc./Vol.
87 points
- Serge Valentin, whiskyfun.com