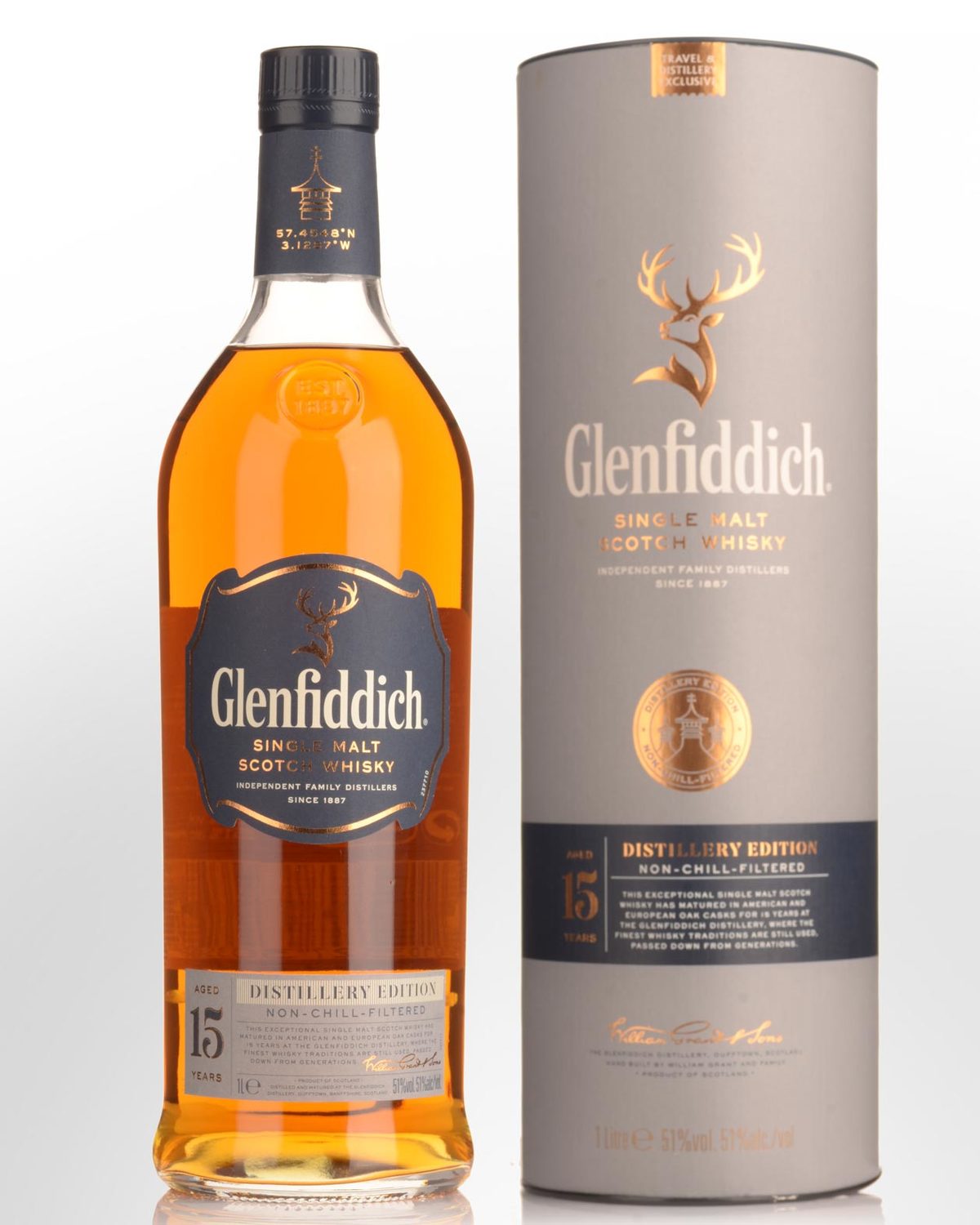 Glenfiddich Distillery Edition 15 Year Old Cask Strength Single Malt Scotch Whisky (1000ml)
Speyside, Highlands,
SCOTLAND
"Long, lingering, layering and lush... Big, muscular... but, deep down, a bit of a pussycat, too... Brilliant".
- Jim Murray's Whisky Bible 2021
Glenfiddich has captured the hearts of whisky fans who don't want intense, overproof, or polarising expressions - possibly why we've never been too swayed by the house style as it's too homogenous and predictable. The 12, 15, 18 and 21-year olds generally rate well, but middle age continues to be this distillery's sweet spot (15 especially), unless you have thousands to blow on luxury lines.
The 'Distillery Edition' breaks the mould. Maturation is standard in American and European oak. The departure here is zero chill filtration and an ABV close enough to call cask strength. Familiar characteristics remain, only they're amplified, so if you're used to 'Fiddich's sedate, easy-drinking style, this may bruise your tongue a little. But by the third or fourth taste, you'll be begging for more (a few drops of water is transformative). Released in 2012 to capitalise on the burgeoning duty free market, glowing reviews, 51%, and a very generous, one litre format make for seriously good single malt buying. If you have a Glenfiddich stigma, now is a good reason to drop it and enjoy what is just really, really good Scotch.
Tasting note: Brilliant amber / perfect clarity. Vapoury alcohol yields to strawberry sponge cake, custard tart, almond flan. 2-3 minutes exposure draws out beeswax, peppered pears. A drop of water removes the alcoholic whiff and sweetens the nose. Full bodied, black pepper-laced attack; builds with flavours of vanilla, oatmeal and subdued orchard fruitiness. Creamier at the finish; flashes of bittersweet oak threaten the balance, but the tangy, juicy malt doesn't let up. What started off as slightly astringent gets better with every taste... integrated and deceptively complex - perhaps only as this distillery can be. Dried fruits and a thread of sooty peat to close? Almost compromised by the length. Adding several drops of water enhances the orchard fruit characteristics and extends the finish making for an utterly delicious dram. Glenfiddich as you may never experience it again. 51% Alc./Vol.
Other reviews... All kinds of chocolate and raisin fingerprints everywhere; some freewheeling sugary notes promise riches. Full bodied and chewy from the very start. Something of a Maryland cookie feel to this, which a wonderful interplay between buoyant spices and maple syrup only adds positively too; Long, lingering, layering and lush. More molasses than maple now but I love the late chorus of barley and Old Jamaica plain chocolate; a late serenade plays us out. A rumbustious malt which comes at you full throttle. Big, muscular... but, deep down, a bit of a pussycat, too... Brilliant.
95.5 points - Jim Murray's Whisky Bible 2021
Had this exceptional whisky been able to maintain pace through to the finish, this would have been a single malt of the year contender - at least. 93.5 points- Jim Murrays Whisky Bible 2017
First tasted June 2012 from a 20ml sample... Bright gold appearance. Rich, soft aromatics...a superb creamy, juicy malt crescendo with great balance for a cask strength whisky. Like several other of Glenfiddich's limited releases, this teases with some sublime moments but doesn't quite follow through. 51% Alc./Vol. 91 points