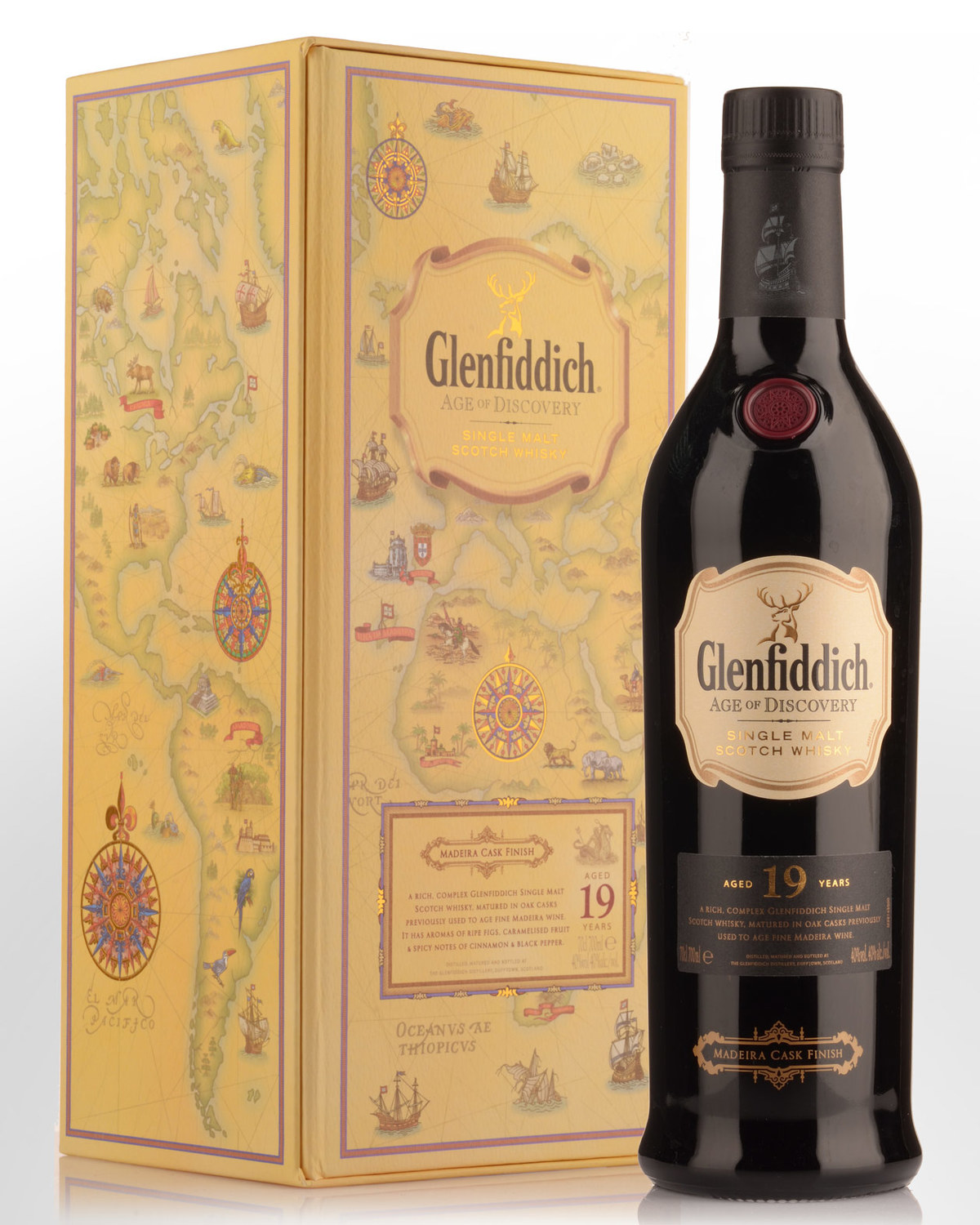 Glenfiddich Age of Discovery 19 Year Old Madeira Finish Single Malt Scotch Whisky (700ml)
Speyside, Highlands,
SCOTLAND
Note: This has come from a private collection and as such has some minor scuffing/scratches/handling marks plus a small tear on the rear of the box.
Glenfiddich remains the best selling Single Malt in the world and is the brand that took the unprecendented step of launching Single Malts as a unique category back in the early 1960's. It's now ubiquitous. And while all distiller's desire their products are popular, success has to be managed. The shine and allure that comes with small batch, 'impossible to find' whiskies from obscure distilleries disappeared from Glenfiddich a long time ago. And while their core products, 12, 15 and 18 year olds, make for clean, accessible, uncomplicated everyday drinking, they also possess a degree of sameness and conservatism that's frankly boring.
However, there's more to Glenfiddich than meets the eye. Importantly, it remains one of only a handful of family owned distilleries in Scotland, and the proprietors, William Grant & Sons, do retain extensive stocks of older material for those consumers at the 'high end' of the passion scale. Those who were lucky enough to snap up last year's "Snow Pheonix" release will know the Grant's are capable of some truly adventurous whiskies. Here is one of them that was up until recently only available for travel retail.
The 'Age of Discovery' celebrates the Portuguese explorers of the 15th century who discovered the islands of Porto Santo and Madeira. The islands together with the Azores became vital ports supplying ships with food and water for the many pioneering sea voyages that lay ahead, so launching the 'Age of Discovery'.
This whisky has been matured in traditional American Oak and Spanish Oak casks for an undisclosed period of time. A final maturation took place in x-Madeira casks from the notable producer Henrique & Henrique.
Since the 17th century, the Portuguese island of Madeira has produced some of the world's most famous fortified wines, commercially known all over the world as 'Madeira'. Its versatility and degrees of sweetness combined with its easy storing and incredible longevity have made it a collectible for many wine lovers. Its robust nature is partly due to the unique process of heating the wine in cask to temperatures as high as 60 degrees, creating the remarkably rich, intensely complex wine. You can read more about this fascinating drink here.
Tasting note: Gold with a pale straw hue. Considerable depth is evident here, even at the initial pass when the aroma is shy. The bouquet expands nicely with honey quite salient at first, developing notes of pastry, cocoa and vanilla. Gorgeous, pure, soft entry. Vanilla and dried fruits marry at mid palate. Plush mouth feel. Perfectly balanced. Some sweet spices and hints of barley sugar emerge. Subtle, drying aftertaste of honey and toasty malt, however, the aftertaste is slightly short, but this is distinctive by Glenfiddich standards. 40% Alc./Vol.
Other reviews... almost a breakfast malt, it is uncommonly soft and light yet carries a real jam and marmalade character. 88.5 points - Jim Murray's Whisky Bible 2012

Click here to learn more about Scotch Whisky.