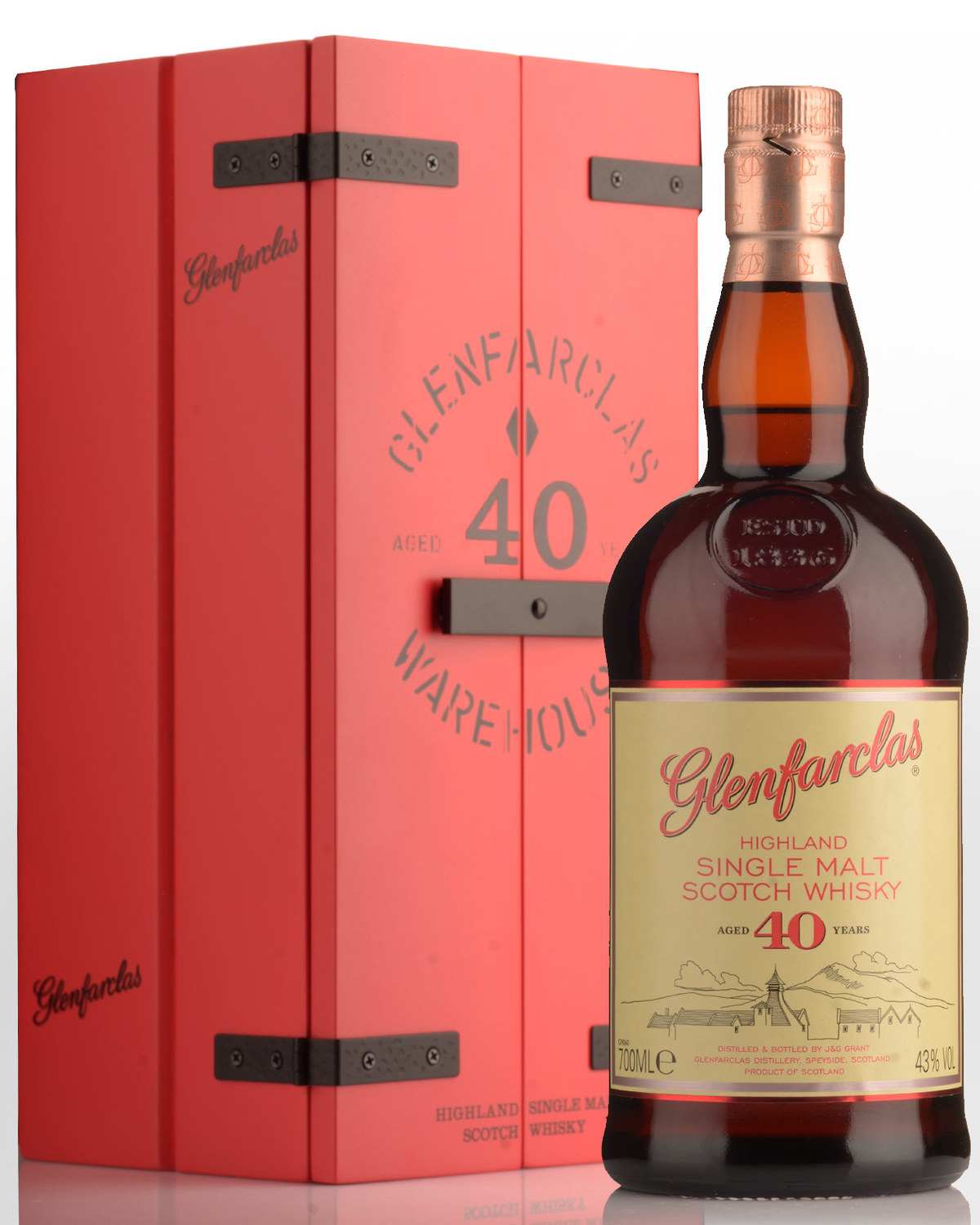 Glenfarclas 40 Year Old Warehouse Edition Single Malt Scotch Whisky (700ml)
Speyside, Highlands,
SCOTLAND
Glenfarclas has recently upped the ante when it comes to paying a premium for their ultra matured whiskies. Yet the latest 40 year old expression remains a relative value in rare Scotch malt. It's not just the age statement that distinguishes this whisky. In a world where big maturation means bigger dollars and often even greater disappointment, this independent distillery delivers on balance, depth and richness with a sherry matured classic.
Retasted May 2017: Deep burnished copper. Seductive opening wafts of date cake, walnut fudge and shortbread. Ten minutes exposure amplifies the dried fruit aspect adding orange zest, muscat-like sugars and rancio. Quite stunning length as this expands across the tongue. A slow motion saturation of orange cake, fig slice, aged muscat, rancio and late oak delivering cognac-like finesse and vitality in reserve. One expects it could easily take another decade. Remains a high point in the range. 46% Alc./Vol.
First tasted 20011: Pours a deep copper / mahogony colour. The Sherry influenced aroma offers profound depth and includes scents of dried fruits, roasted nuts and cocoa along side flashes of confectionary and brown sugar that are not dissimilar to very old rum. The palate offers a perfect bitter/sweet juxtaposition delivering mouthfilling flavours of honeyed malt, dried fruit and rancio supported by fine, drying tannins and a spicy warmth. A faint sulphury note emerges on the finish. Concludes long and dry with cocoa and delicate spices persisting. Vibrant and exciting even at this extraordinary age. 95 points
Other reviews... Glenfarclas has a proven track record for aging very well. I've enjoyed some amazing 25 and 30 year old expressions, in addition to some older vintage offerings. Does this new 40 year old follow suit? Absolutely! It's complex and well-rounded, with great depth and no excessive oak. Lush, candied citrus (especially orange), old pot still rum, maple syrup, fig, roasted nuts, and polished leather, with hints of mocha, candied ginger, and tobacco. A bit oily in texture (which I find soothing) with good tannic grip on the finish. A classic, well-matured Glenfarclas — and a very good value for its age. (Editor's Choice)
95 points- www.maltadvocate.com, Reviewed by: John Hansell (Fall 2010)
...This is the rather fairly priced (when compared to other 40yo officials by other distillers) new wonder! Colour: dark amber with red hues. Nose: ultra-typical old sherried Glenfarclas, full of chocolate, raisins, prunes and then touches of mint, liquorice and varnish/pine resin. Also hints of blackcurrant buds, blackberry jam and finally a little coffee, smoked ham and toasted bread. Also a little walnut stain and maybe poppy seeds. In short, a classic. Mouth: excellent attack, with a flavourful oakiness (black pepper sauce alike) and various liqueur-filled chocolates. Chocolate-covered prunes. Goes on with fresh and clean notes of blood oranges, raspberry liqueur and just a few herbal notes that may hint at well-aged chartreuse. Hints of cough syrup. Finish: long, more on fruit skins and jams. Very pleasant fruity and resinous bitterness. Faint tannicity and liquorice in the aftertaste. Comments: I think it's a good example of an old malt where an obvious oakiness brings more substance and complexity. Very well composed and worth its fair price, no doubt about that. 91 points - www.whiskyfun.com