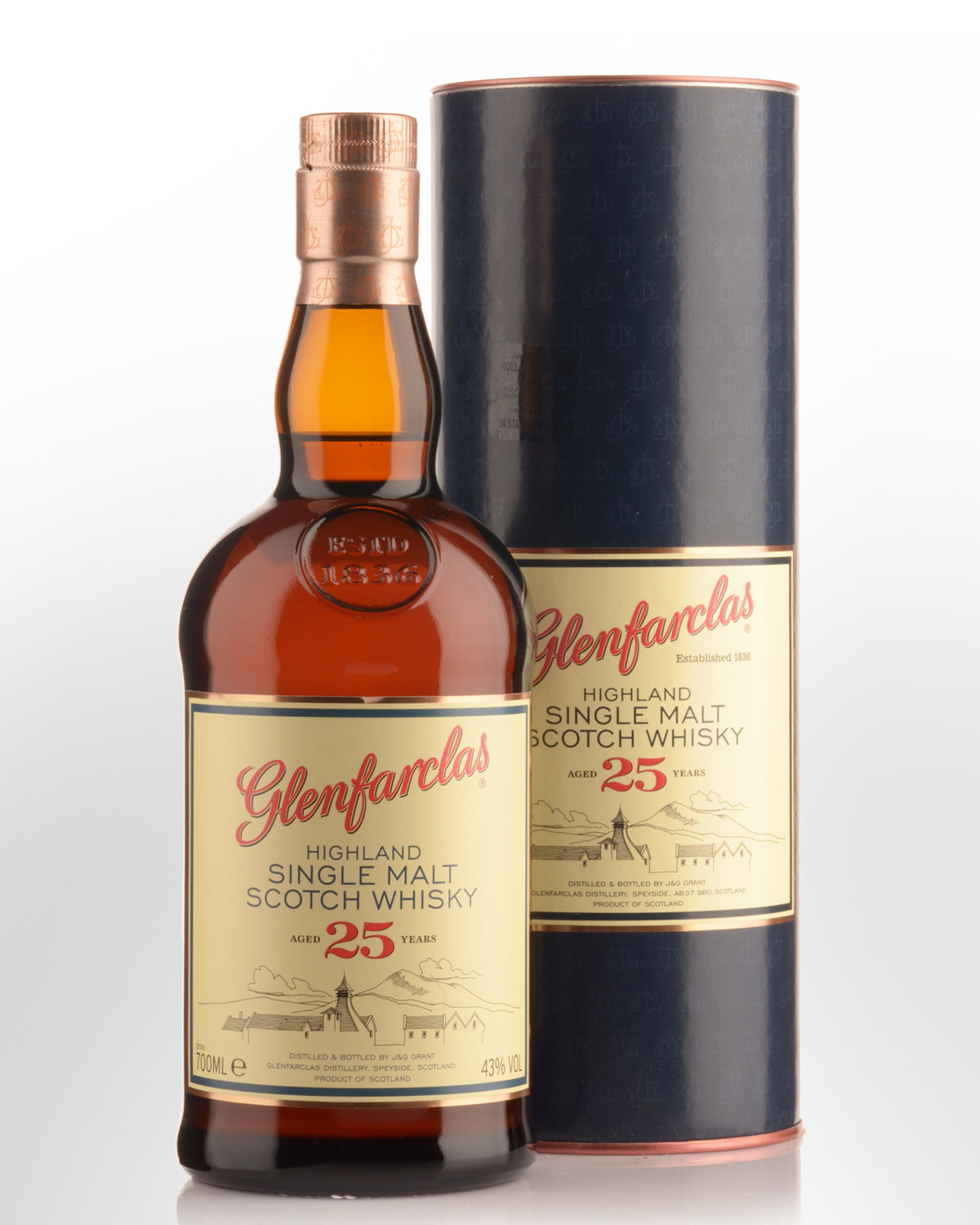 Glenfarclas 25 Year Old Single Malt Scotch Whisky (700ml)
Speyside, Highlands,
SCOTLAND
Over two decades in Oloroso Sherry Casks:
A rare bargain from an ever dwindling category.
With the Edrington group having priced extra-aged Macallans well beyond the reach of the average wallet, (pay $2000+ for the 25YO) Sherry enthusiasts searching for that something special have few options left. Enter Glenfarclas: When you buy a bottle of this you not only support one of Scotland's only independent family-owned distilleries, you get a first rate whisky at a more than fair price. Add in 100% Oloroso Sherry cask maturation, and the deal gets even sweeter with this direct import 25 year old.
"Shows some staggering age - seemingly way beyond the 25-year age statement." - Jim Murray.
Tasting note:
Bright gold with a pale straw hue. Some real class and depth to the nose which offers powerful aromas of prune, roasted nuts, honey and freshly polished floorboards. Smells expensive. Mouthfilling, and with an unexpected degree of 'tingle' for whisky of this age. Glorious at mid palate, serving up delicious honey and dried fruit flavours over rich, spicy, sugar-laced malt. Medium long with a delicate aftertaste of dried fruit and sweet leather. Aristocratic. Would make a perfect after dinner malt. Some tasters drew comparisons with Macallan 18.
43% Alc./Vol.
Other reviews...
Double Gold Medal at the San Francisco World Spirits Competition in 2009.
The roar of the direct fired stills, the gleam of the sunbeams reflecting on the polished copper, and the sight of the largest pot stills on Speyside... This is the Glenfarclas distillery, home to some of the Highland's finest (and most robust) malt whiskies. Distilling twice, the six traditional direct-fired pot stills, three 'wash' stills for the first distillation and three spirit stills for the second, work their magic.
Once the precious new spirit is collected, it's filled into the finest Spanish sherry casks. The casks, from Seville in Spain have previously held Oloroso and Fino Sherry, and just like his ancestors, John Grant, the present Chairman, selects the casks himself as part of the rigorous quality control program.